Fenton USA Presents. . . Dave Fetty "Mosaic" Vases Online Special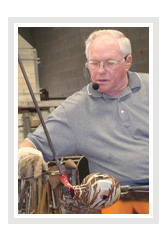 We continue our Online Specials by offering a selection of unique offhand mosaic glass creations by artisan Dave Fetty. The contemporary look of these handcrafted vases is on trend for today's styles. Click here to learn more about Dave Fetty.
These pieces, some of which are very limited in quantity, are slightly irregular production samples and the sizes may vary somewhat from the dimensions given below. These Mosaic vases are being offered at special prices while supplies last.
Mosaic glass begins with a solid color glass, such as Black or Cobalt, that is covered in brightly colored glass chips, called frit, and then the piece is reheated. Due to the random nature of the chip application, no two pieces will be the same, making each piece a unique example of the glassmakers' artistry.

054561NHM
8-1/2'' Mosaic Vase
$88.50, Buy Now!


078171NHM 9'' Mosaic Vase
$117.00, Buy Now!

0897324HM 10'' Mosaic Vase, $88.20, Buy Now!























I48613Z1
7-1/2'' Marigold Carnival Vase
$119.50, Buy Now!

Internet Special: Marigold Carnival Optic Vase
Shimmering metallic paints complement the red gold brilliance of Marigold iridescence on this 7-1/2'' Flip Vase, bringing Stacy Williams' handpainted scene to life. The vase is handcrafted in Marigold Satin Carnival glass.

In October 1907, Fenton Art Glass Company introduced an exciting new line of glassware called ''iridescent ware'' which featured vivid, changing metallic hues on highly-patterned pressed glassware. Stories about how this glassware was used as midway game prizes resulted in the phrase ''Carnival glass.'' When Fenton resumed production of their iridescent glass in 1970, it was called "Carnival glass.'' The secret, both in 1907 of Fenton Carnival glass is the special spray of metallic salts on the glass while it is very hot. We continue to make Carnival glass the ''old fashioned'' way, and we never cease to marvel at the rainbow of colors and the interesting hues.

Just 19 were handpainted as an Internet Special, so once they're gone, they're gone! Limited to one per customer. Each handpainted vase is signed and numbered by the artist who completed it.
Fenton's Summer 2012 Jewelry Collection Available Online This Weekend!
The 2012 Summer Jewelry Collection will be available to order through the Fenton web site this weekend! Watch for a special newsletter introducing our latest collection.
Fenton Dealer Locator
Can't find it online? Contact your local Fenton dealer! Authorized Fenton dealers still have large selections of Fenton glass available with new pieces from our remaining factory inventory recently shipped. Click here to find a Fenton dealer near you!
Fenton eBay Auctions
Own a unique Fenton creation, including rare, one-of-a-kinds, through our weekly ebay Auctions!
Items featured this week...
HOT LINKS. . .
Find beautiful glass selections and gift ideas with these special offerings. . .
---