Fenton USA Presents. . . A Fenton Figurine Frenzy!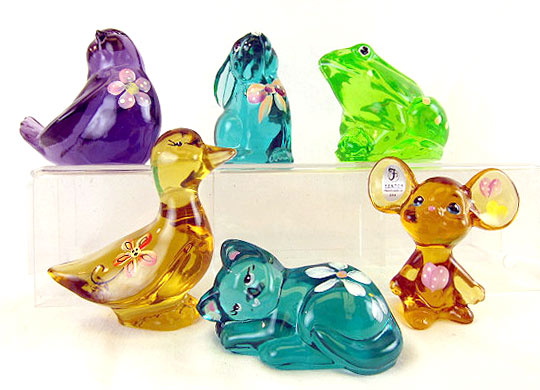 We are having a Figurine Frenzy! These adorable figurines, handcrafted in a rainbow of Fenton colors, will make nice additions to any figurine collection! OR. . . Stock up now for Christmas stocking stuffers or keep for unique Thank You, Just Because, or birthday gifts! You'll receive the Fenton Figurine Frenzy special price of $29.50 on each figurine. The Violet Songbird and Autumn Gold Mouse figurines feature a handpainted design by Kim Barley. The Mini-Bunny and Kitten in Robin's Egg Blue, the Key Lime Frog and the Autumn Gold Duck all feature handpainted designs by Stacy Williams. Each figurine is signed by the talented Fenton artist who completed it. Click on each figurine image to place your order. . . while supplies last!

New ''Precious Metals'' Beads from Fenton . . . Now Shipping to Dealers!
Fenton is proud to introduce new Precious Metals bead designs by award-winning jewelry designer
Terry Henry. The 2012 Summer Jewelry Collection, now shipping to Fenton dealers, includes the beautiful Precious Metals handcrafted glass beads shown above. These beads were designed by Terry Henry and Jena Lane Blair designed the Ancient Wonders bead. Contact your local Fenton dealer to see these exciting new designs! Precious Metal beads add a new dimension to glass beads. They are used in two forms, as glass containing dissolved silver and other metallic oxides in its formula, or as pure metal applied directly to the bead during the forming process. Click here to view the currently available Fenton Made in America jewelry collection. The 2012 Summer beads should be available to order online within the next week.
Fenton Dealer Locator
Can't find it online? Contact your local Fenton dealer! Authorized Fenton dealers still have large selections of Fenton glass available with new pieces from our remaining factory inventory recently shipped. Click here to find a Fenton dealer near you!
Fenton eBay Auctions
Own a unique Fenton creation, including rare, one-of-a-kinds, through our weekly ebay Auctions!
Items featured this week...
HOT LINKS. . .
Find beautiful glass selections and gift ideas with these special offerings. . .
---