Fenton USA Celebrates Offhand Glassblowing. . .
Dave Fetty and Frank Workman Online Specials


HP003N8 Aubergine Opalescent
Dave Fetty Drapery Pitcher
$113.75, Buy Now!


M25169T Robin's Egg Blue/Black
Hanging Hearts Vase
$117.00, Buy Now!
Fenton celebrates the art of offhand glassblowing with this offering of unique glass creations by artisans Dave Fetty
and Frank Workman. Offhand glassblowing involves gathering a gob of fused glass on the end of a blowpipe. The molten glass is then fashioned into its final form by various techniques of blowing and shaping with hand tools and moulds. These pieces, some of which are very limited in quantity, are slightly irregular samples, and are being offered at special prices while supplies last.
Dave Fetty
Dave Fetty began his glassmaking career
at age 19, when he worked at the Blenko Glass Company in Milton, West Virginia. Dave's mentor at Blenko was glassworker ''Shorty'' Finley, who taught him some of
the skills for making glass offhand.

Dave joined Fenton Art Glass in 1965,
and he worked closely with artisan Robert Barber in the mid-1970s, designing and making some of Fenton's first limited edition pieces. Later, as a production supervisor
and trainer, Dave helped other Fenton
glassworkers develop special skills.
Although he ''officially'' retired in 1998,
Dave continued to contribute his design
and glassmaking talents to Fenton, producing unique items that are tributes
to American art glass.
Frank Workman

M4344R2
Frank Workman
Ruby and Black Vase
$87.00, Buy Now!


M2545B6
Frank Workman Vase
$111.00, Buy Now!
Visitors at Fenton Art Glass would watch in awe as glass artisan Frank Workman sat at his finisher's bench and carefully applied a molten thread of glass to a vase. Within a few minutes, Frank deftly fashioned the thread into an intricate zigzag pattern whose bright color contrasts perfectly with the hue of the vase. Frank mastered all the traditional skills of the glassmaker since joining Fenton in 1996.
In recent years, he worked closely with master glass artisan Dave Fetty and had taken on so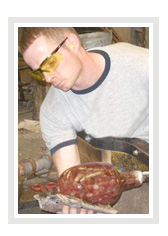 me of the most challenging jobs in our factory. Frank most enjoys working "off hand," producing vases and similar objects with a basic mould and creating vivid decorative motifs ranging from hanging hearts and thin threads to amazing swirls, twists and exaggerated geometric various techniques of blowing and shaping with hand tools or moulds.
Internet Special:
Cobalt Satin Turtle Figurine
Handcrafted in Cobalt Satin, our whimsical 4'' long Turtle figurine is sure to delight one and all! This figurine features
a bright handpainted design by Kim Barley. The mould was designed by scupltor Jon Saffel and added to the Fenton line in 2002. Fewer than two dozen were handpainted as an Internet Special, so once they're gone, they're gone! Limited to one per customer. Each handpainted figurine is signed and numbered by the artist who completed it. I5266KN1 Cobalt Satin Turtle Figurine, $39.50, Buy Now!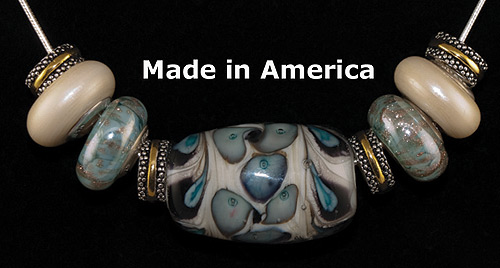 Fenton's Summer 2012
Jewelry Collection
Now Shipping to Dealers!
The 2012 Summer Jewelry Collection is now shipping to Fenton dealers throughout the country. Contact your local Fenton dealer to see what's new! Shown here are a few selections from our latest collection: a new larger-sized Focal bead. This Glacier Focal bead was designed by Jena Lane Blair. She learned this unique beadmaking technique from visiting jewelry designer Terry Henry. The Focal bead measures approximately 1'' in length. The icy blue pools in Glacier are formed from inclusions of pure copper. Shown with Glacier on the necklace are the new Natural Pearl Pearlized Sea Treasures beads and Aquamarine beads. Accessories are currently not available through the Fenton web site. Click here to view the entire jewelry collection.
Fenton Dealer Locator
Can't find it online? Contact your local Fenton dealer! Authorized Fenton dealers still have large selections of Fenton glass available with new pieces from our remaining factory inventory recently shipped. Click here to find a Fenton dealer near you!
Fenton eBay Auctions
Own a unique Fenton creation, including rare, one-of-a-kinds, through our weekly ebay Auctions!
Items featured this week...
HOT LINKS. . .
Find beautiful glass selections and gift ideas with these special offerings. . .
---