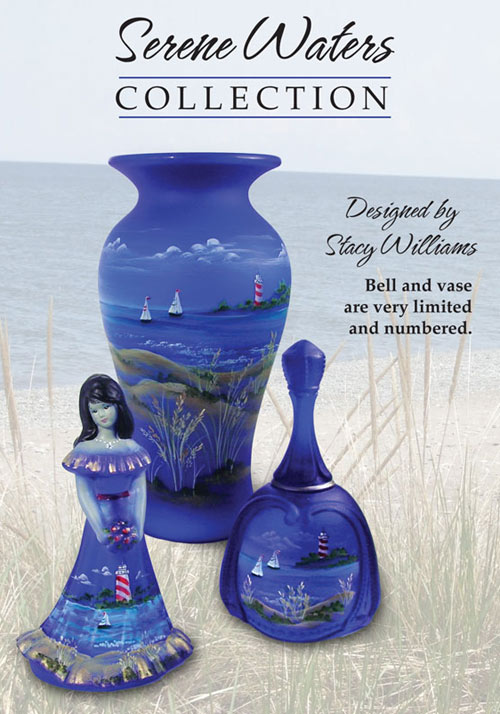 Fenton Presents. . .
Serene Waters Collection
Fenton is pleased to offer a limited quantity
of this Serene Waters Collection... a Bell, Doll figurine and a Vase, each handcrafted in Cobalt Satin glass.

Cobalt glass is a decorating favorite.
There are more than 60 different Blues in the Fenton product line. Cobalt creates a purple blue and copper imparts a green blue.
In combination with each other or with additional coloring agents, cobalt and copper are used for almost all of our blue colors and the lightness/darkness may vary.

Cobalt provides the perfect canvas for Stacy Williams' handpainted scene of sailboats in the waters near a lighthouse. Each piece is signed and numbered. These pieces are very limited in quantity, so don't delay placing your order!
Please click on each item or Buy Now!
for details and to place your order.
NOTE: The Vase and Bell have Sold out!
05228SW
7'' Cobalt Satin Doll Figurine, $145.00, Buy Now!
02955SW
10'' Cobalt Satin Vase. $195.00, Buy Now!
07566SW
7'' Cobalt Satin Bell. $75.00, Buy Now!
Internet Special: Get Ready for Halloween
with a Limited Quantity Pumpkinhead Figurine
Handcrafted in Opal Satin, this new Internet Special Pumpkinhead figurine features a brightly-colored handpainted design by Stacy Williams. The mould for this delightful figurine was designed by sculptor Suzi Whitaker and added to the Fenton line in 2007.

Just 14 were handpainted in this design as an Internet Special, so once they're gone, they're gone! Limited to one per customer. Each meticulously handpainted piece is signed by the artist who completed it and numbered 1/14, 2/14, 3/14, etc.
Sorry, this item has sold out!
I5323MX1 Opal Satin
6'' Pumpkinhead Figurine, $49.50, Buy Now!

Fenton Made in America Beads. . . While Supplies Last Selections
First introduced in 2011, the Fenton Made in America handcrafted glass beads shown above are now "retired.'' Only very limited quantities remain, so don't hesitate, order yours today! Each bead measures approx. 9/16'' in diameter with a sterling silver core embossed with Fenton USA. The distinctive handpainted designs for the Follies, Eclipse, Desert Moons, and Wildflowers beads are by Truda ''TJ'' Mendenhall and the Autumn Frost bead was designed by Jena Lane Blair. Click on each bead for details or click here to view the entire jewelry collection.
Fenton Dealer Locator
Can't find it online? Contact your local Fenton dealer! Authorized Fenton dealers still have large selections of Fenton glass available with new pieces from our remaining factory inventory recently shipped. Click here to find a Fenton dealer near you!
Fenton eBay Auctions
Own a unique Fenton creation, including rare, one-of-a-kinds, through our weekly ebay Auctions!
Items featured this week...
HOT LINKS. . .
Find beautiful glass selections and gift ideas with these special offerings. . .
---