Fenton USA Presents. . .
Made in America Summer 2012 Jewelry Collection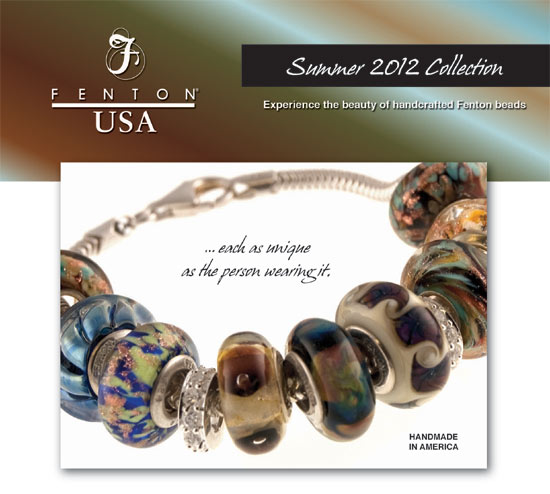 Fenton is pleased to introduce the Summer 2012 Jewelry Collection. This collection will be available at your Fenton dealer and online at the Fenton web site within the next few weeks. This offering includes exciting additions to our bead and Teardrop earring line. Click here to download the complete Summer 2012 Jewelry Collection pdf.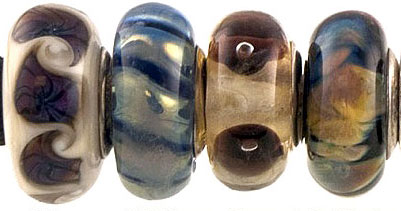 Precious Metal beads by award-winning glass artisan Terry Henry possess a unique beauty that adds a new dimension to glass beads. Terry Henry designs: Twilight (0B350) , Paisley (0B802) and Storm (0B355). Jena Lane Blair designed Ancient Wonders, a beautiful new bead for the Precious Metal grouping.



Focal beads, designed by Jena Lane Blair, are impressive, not only in size (at nearly 1'' in length) but also in their beauty. You'll be amazed at the myriad of color within these beads. The two designs for Summer 2012 are Elven Woods and Glacier.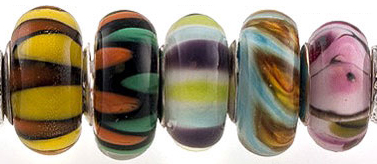 Encased beads have a thick layer of clear glass floating over a design made of multiple colors of glass and are almost prismatic in how they reflect light.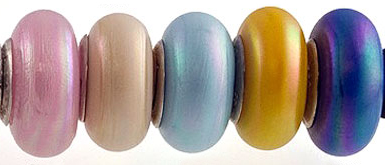 Pearlized Sea Treasures beads, designed by Jena Lane Blair, have a soft, satin luster. Jena's inspiration for these beads was nature's treasures from the ocean.
Also included in the Summer 2012 Jewelry Collection are new styles for Vasa Murrhina, Three Dimensional, and Cubesque beads, as well as new handpainted designs by Truda ''TJ'' Mendenhall (Melancholy Loon, Fenton the Feline, Wild Violets, Chicory, and Feisty to name a few!)

Exciting Additions to Fenton Made in America Teardrop Earring Collection!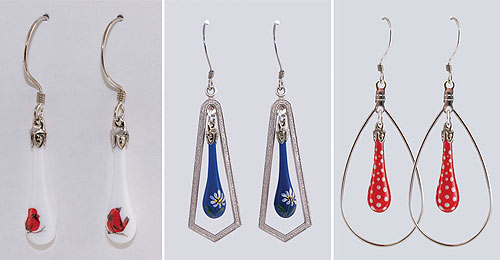 Choose the perfect designs
for any occasion with exciting additions to our Teardrop earring collection! Every one of our colorful glass Teardrop earrings are now offered in three unique styles: Architectural Frame, Oval Hoop, and our original Teardrop design (no frame). Simply choose any Teardrop earring in our collection, then select your earring style(s):
the dressier Architectural Frame, the larger Oval Hoop or the casual original Teardrop earring style. Your favorite colors or handpainted designs can now be purchased in all three styles to suit your mood of the moment! Look for these new handpainted designs by Truda ''TJ'' Mendenhall as well: Baby Cardinal, Don't Eat the Daisies and Party Girl!

---
Fenton Dealer Locator
Can't find it online? Contact your local Fenton dealer! Authorized Fenton dealers still have large selections of Fenton glass available. Click here to find a Fenton dealer near you!
Fenton eBay Auctions
Own a unique Fenton creation, including rare, one-of-a-kinds, through our weekly ebay Auctions!
Items featured this week...
HOT LINKS. . .
Find great home decor and beautiful glass selections with these special offerings!
---