Fenton Gift Shop
Great Buys On Specially Decorated Fenton Gift Shop ''Preferred Seconds"
U4558RUHP
6-1/2'' Ruby Vase
Preferred Second
$59.50, Buy Now!


U5885RUHP
8'' Ruby Trumpet Vase
Preferred Second
$47.50, Buy Now!
Gift Shop Exclusives
GS395HP
8'' Silver Crest Handpainted Heart Bon-Bon Dish
$99.00, Buy Now!
Silver Crest has always been popular and this piece is a must have for collectors! Our
8" Milk Glass Bon Bon Dish with a crystal crest and small handle is handpainted with a beautiful poinsettia motif. Produced as a Fenton Gift Shop Exclusive, it has the FGS 2006 Exclusive Logo on the bottom.
220100
3'' Ruby
Girl Mouse Figurine
$21.50
Buy Now!

These handpainted Ruby Girl and Boy Mouse figurines were produced as Fenton Gift Shop Exclusives.
220101
3'' Ruby Boy Mouse Figurine
$21.50,
Buy Now!

Fenton eBay Auctions
Own a unique Fenton creation, including rare, one-of-a-kinds, through our weekly ebay Auctions!
Items featured this week...
HOT LINKS. . .
Find great glass home decor and wearable art gifts for yourself or someone special with these special offerings!
Fenton Fall 2011 First Final Offering
Fenton 2011 Third Final
Fairy Lights
Fenton USA Presents. . . Christmas in July Special!
We're "wrapping up" our Christmas in July online offerings with more holiday-themed selections. For a limited time you'll receive an additional 15% discount on the pieces shown below (sale price will show in red above each item). Simply click on the item ware number to place your order. This special offer will end at 11 p.m. on Tuesday, July 24 (ET).

01804ED
4-1/2'' Cobalt Ornament


05014FD
6-1/2'' Opal Satin Angel


01804CB
4-1/2'' Blue Burmese Ornament


05080HPA
4-3/4'' Opal Satin Santa Head Two-Part Fairy Light


05980JC
5 1/2'' Milk Glass with
Crystal Fairy Light


07738RN
6'' dia. Ruby Iridized Luxemburg Crown Candle Bowl

Did You Know? . . . Fenton Offers ''Special Order''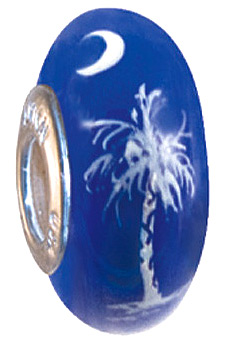 Made in America Handcrafted Glass Beads
Fenton Made in America handcrafted glass beads make unique fundraisers for organizations, schools, and special events! Shown here are a few samples of our regional designs. The Palmetto Moon bead was designed for South Carolina. The state bird and flower beads below were designed for Iowa and Wisconsin. With a minimum order of 50 beads purchased at a special price, you can't go wrong with Fenton Made in America glass beads!

For details on the Fenton
Bead Special Order program, please send us an email: askfenton@fentonartglass.com with Special Order Beads in the subject line. If you are interested in any of the beads shown here, please email: askfenton@fentonartglass.com.
Watch this newsletter for our 2012 Summer Jewelry Collection introduction coming next week! Click here to view our Fenton Made in America handcrafted jewelry collection. Receive FREE SHIPPING via the U.S. Postal Service on your Fenton jewelry order.
Fenton Art Glass Auction Scheduled for July 28th . . .
A great selection of 400 lots of Fenton Art Glass from all eras of the Fenton Art Glass Company factory history, including items from the Fenton Museum and various storage areas will be auctioned on Saturday, July 28 at noon at Randy Clark's Dexter City Auction Gallery, Dexter City, Ohio Visit their web site: www.randyclarkauctions.com for details. The Auction preview will be held on Saturday, July 28 from 10 a.m.-Noon.
Fenton Dealer Locator
Can't find it online? Contact your local Fenton dealer! Authorized Fenton dealers still have large selections of Fenton glass available.
Click here to find a Fenton dealer near you!

GM1013 Buy Now!
6-1/2'' Holy Spirit Roundel, $35.00
The Holy Spirit Stained Glass Roundel from Glassmasters
Louis Comfort Tiffany's life-long study of light culminated in a powerful window he entitled the Holy Spirit Window, completed about 1895. The window, depicting a dove descending among the folds of brilliant sunlight, has been carefully reproduced by Glassmasters. In the original, depth is achieved through the use of up to three layers of glass in places, and the border sparkles with sapphire and emerald colored jewels. Glassmasters' unique and proprietary technique of layered enamels makes it possible to acquire a replica that will be as inspirational as the original Louis C. Tiffany Holy Spirit.

Glassmasters is world renowned for creating stained glass designs of licensed museum artwork and replicas of original stained glass windows. The imagery is painstakingly recreated by artisans who hand apply translucent enamels to cathedral glass in a traditional one color at a time process. Each color is fired into the glass at temperatures above 1100F degrees. Imported. "There is nothing else like it in the world!" Click here to view the entire Glassmasters collection. Imported.