Fenton Gift Shop
20% Savings on these Holiday selections!
Z5058HPJ
3-1/2'' Fenton Gift Shop Exclusive ''December'' Elephant Figurine
$45.00, NOW $36.00, Buy Now!

The twelfth in our monthly series of Fenton Gift Shop Exclusive Calendar figurines. This adorable, handpainted "December" baby elephant figurine with an upturned trunk just might bring a little luck into your home!

Z5197HPA
6'' Key Lime Satin ''Joy'' Bird
$54.50, NOW $43.60, Buy Now!
Bring "Joy" to your home for the holidays with this charming handpainted Key Lime Satin Happiness Bird. Proudly produced as a Gift Shop Exclusive from the skilled artisans at Fenton.
Z5151HPRU
3-1/2'' Ruby Amberina
Handpainted Bear Figurine
$38.00, NOW $30.40, Buy Now!
This adorable 3-1/2" Ruby Amberina Bear figurine is decked out with a gold bowtie and cuffs. This figurine will make a perfect stocking stuffer or a great addition to any bear or figurine collection.

Z5269KH
4'' Indigo Blue Silver Birch Snowlady Figurine
$39.50, NOW $31.60, Buy Now!

A shimmering handpainted winter wonderland on Indigo Blue! This Gift Shop Exclusive Snowlady figurine features birch trees and new-fallen snow glittering in the moonlight.
Fenton eBay Auctions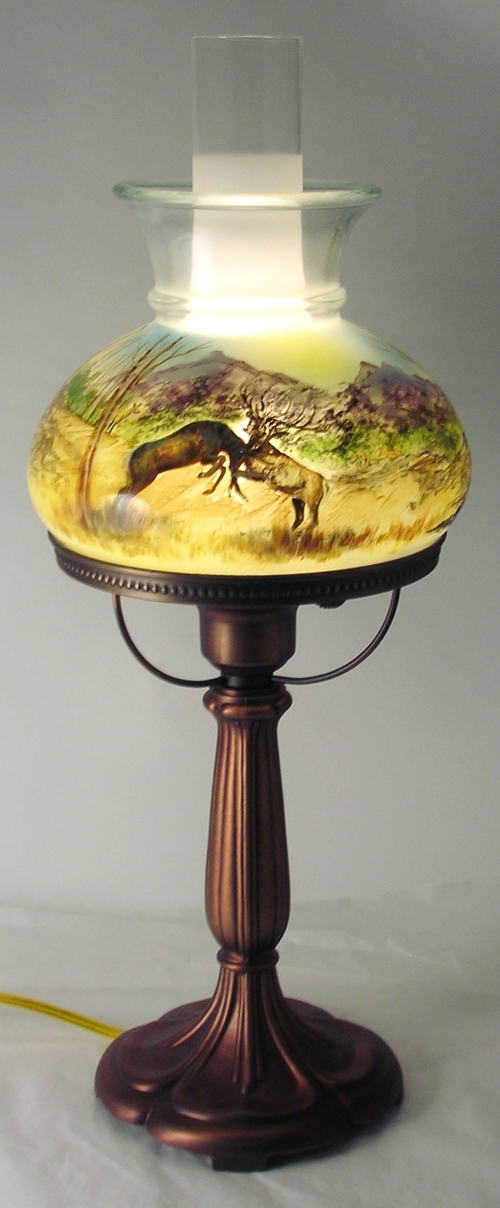 Own a unique Fenton creation, including rare, one-of-a-kinds, through
our weekly Auctions on eBay!
Items featured this week...
includes this one-of-a-kind lamp handpainted by Fenton designer Robin Spindler.
HOT LINKS. . .
Find great glass home decor and wearable art gifts for yourself or someone special with these special offerings!
Fenton Fall 2011 First Final Offering
Fenton 2011 Third Final
Fairy Lights
Fenton USA Presents. . .
Christmas in July Internet Specials!
Our 3'' Mouse figurine handcrafted in Emerald Green is sure to delight one and all. Kim Barley's handpainted design has this little fellow decked out in a festive holiday sweater and polka dot accents on his ears. Each figurine is signed and numbered with 20 figurines available.
Just seven of these handcrafted Opal Satin trees were handpainted with a beautiful design by Kim Barley. The handpainted panoramic wintry scene features a bird sitting in a snow-laden landscape. Kim also signed and numbered each tree. Handcrafted in Opal Satin, you'll want to display this tree all season long!

Milk Glass has a cool wintry feel for our Frosty Friends collection. These delightful Snowman and Snowlady figurines feature a fun handpainted design with swirls and polka dots by Kim Barley. Note the rosy cheeks!

These figurines will be sold as a set, one set per customer, for internet orders only.
You'll receive one Snowman and one Snowlady in a matched numbered set. Each figurine is signed by the artist who completed the set. There are just 25 sets available and they will go fast, so start your holiday shopping early! Regular price is $85, but our Christmas in July special price is $75 a set!
Cooling Shades for Summer. . .
Fenton Made in America Handcrafted Glass Beads
Add a touch of soothing blue to your attire with Fenton's handcrafted glass beads. Shown above are a variety of styles and designs suitable for casual or formal attire. Click on each image for details or click here to view the entire Fenton Made in America handcrafted jewelry collection. Receive FREE SHIPPING via the U.S. Postal Service on your Fenton jewelry order.
Fenton Art Glass Auction Scheduled for July 28th . . .
A great selection of 400 lots of Fenton Art Glass from all eras of the Fenton Art Glass Company factory history, including items from the Fenton Museum and various storage areas will be auctioned on Saturday, July 28 at noon at Randy Clark's Dexter City Auction Gallery, Dexter City, Ohio Visit their web site: www.randyclarkauctions.com for details. The Auction preview will be held on Saturday, July 28 from 10 a.m.-Noon.
Fenton Dealer Locator
Can't find it online? Contact your local Fenton dealer! Authorized Fenton dealers still have large selections of Fenton glass available.
Click here to find a Fenton dealer near you!
Glassmasters Presents. . .
The Mad Bluebird!
Photographer Michael L. Smith took one picture of a bluebird and it changed his life forever. An eastern bluebird landed on a fence post in Smith's backyard, hunkered down, fluffed up its feathers and fixed its black, beady eyes on the long lens of Smith's camera, sixty feet away.

This was no ordinary bluebird. It
was a ticked-off, glowering, down-in-the-beak bluebird. Hundreds of thousands of copies of this photo have been sold. A stained glass roundel featuring this adamant bluebird was given to Madame Albright after a particularly determined speech at the United Nations. She acknowledged a kindred spirit with the bird.
Glassmasters has memorialized the Mad Bluebird in their proprietary process of stained glass. Unlike a photo, you can see the play of light and shadows that brings you face to face with this determined creature. Click here to view the entire Glassmasters collection. Imported.