Fenton Gift Shop
Memorial Day Specials!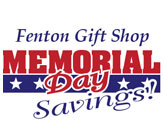 Visit the Fenton Gift Shop for Memorial Day Savings on May 25 through May 28th. A Fenton Family Signing Event will be held from 11 a.m.-1 p.m. on May 26. Click on the above image for details on special phone order and storewide savings during the Memorial Day Savings Events!
Fenton Gift Shop
Preferred Seconds
218012
8'' Preferred Second
Burmese Iridized Chessie Box
$82.50, Buy Now!
Preferred Second. This Chessie Box, handcrafted in classic Burmese, has been iridized for added sparkle. This Covered Candy Box features the popular sleeping Chessie cat and will surely bring a smile to those who see her.
220108
7'' Preferred Second
Emerald Green Iridized Doll
$24.00, Buy Now!

Preferred Second. Our lovely Doll figurine, handcrafted in Emerald Green, has been iridized for an added touch of elegance.

220109
10'' Preferred Second
Shiny Lotus Mist Burmese Vase
$87.50, Buy Now!
Preferred Second. This 10'' Vase, handcrafted in shiny Lotus Mist Burmese, features a handpainted golden pheasant design. Each handpainted Vase is signed by the talented Fenton artist who completed it.

Fenton eBay Auctions
Own a unique Fenton creation, including rare, one-of-a-kind pieces, through our weekly eBay Auctions!
Fenton Dealer Locator
Can't find it online? Contact
your local Fenton dealer!
Many of our authorized
Fenton dealers still have wonderful selections of
Fenton glass available.
Click here to locate a Fenton dealer near you!
HOT LINKS. . .
Find great glass home decor gifts for yourself or someone special with these special offering links!

Made in America Jewelry
Fenton USA Presents. . ."Made in America" Beads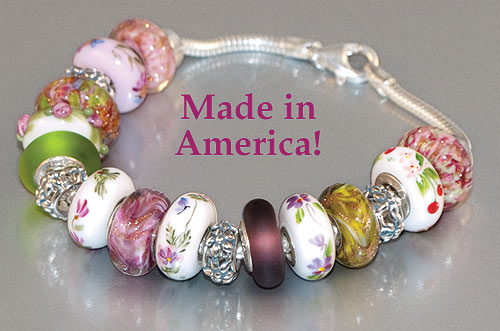 Need a unique gift for upcoming special occasions? We have many beautiful selections of Fenton Made in America handcrafted glass beads from which to choose. The handcrafted Fenton glass beads collection includes many of Fenton's unique glass colors and historic treatments. Fenton is the only beadmaker creating handpainted beads using high-fired enamel paints, giving our handpainted beads unmatched design flexibility and strong durability.

Fenton beads have a solid sterling silver core embossed with the Fenton USA logo. Each Fenton bead has its own individual character because of the handmade process. Fenton Made in America beads are designed by lampwork artist Jena Lane Blair, and the distinctive handpainted decorations are created by Fenton decorator Truda Mendenhall.

Designed for any style of fashion, Fenton glass beads will fit most major brands of bracelets and necklaces. Because of the handmade process, bead sizes may vary from 1/2'' to 5/8'' in diameter. In an age of mass production, Fenton remains committed to honoring the tradition of expressive, handmade creations. You'll receive FREE SHIPPING via the U.S. Postal Service on your bead order. Click on each bead in the bracelet shown above or click here to view the Fenton Made in America handcrafted glass bead collection. Bead accessories are not sold through www.fentonartglass.com at this time. We suggest you contact your local jeweler or the Fenton Gift Shop.

Frequent Buyer Program: Purchase ten beads from the Fenton web site or from any single Fenton dealer and receive your choice of a limited edition bead FREE! Click here for details.
Stock up on History with Fenton Art Glass Catalogs. . .
| | | |
| --- | --- | --- |
| As the wind-down of the company continues, we are clearing out reference material inventory and have available stock for the following years of the Fenton Art Glass general catalog: 1998, 2001, 2002, 2004, and 2005. Regular price is $9.50 each, but these remaining catalogs have been reduced to $5.00 each, postage paid! Click on each catalog cover image for details. | | |
Fenton International Glass Special!
For a limited time, you'll receive an additional 30% off Fenton International's Anniversary and Gold Ruby Glass.

91107 - 9-1/2'' Classic Vase
in Gold Ruby


FG868 - 9-1/4''
Happy Anniversary Vase


FG878 - 10'' 25th Anniversary
Rose Vase
Make this year's Anniversary extra special by sending flowers in a handcrafted Vase from Fenton International! Gold Ruby glass is made with pure gold in the formula, and this collection includes several items with original shape designs by Fenton.
Our Anniversary collection features glass with floral designs. Each piece has flowers that are hand cut into the glass using special wheels. The precious metal lettering is applied and fired into the glass. Each design is then handpainted and fired again to create a brilliantly sparkling image.

Click on each image or click here to view the complete Fenton International Glass collection. You'll receive 30% additional discount on each Fenton International Glass item from 5 p.m. on May 18th until 5 p.m. ET on Tuesday, May 22. The sale price will appear in red above each qualifying item.
Glassmasters. . .
Fenton Art Glass is pleased to partner with Glassmasters to distribute a new line of stained glass products based on M.I. Hummel art and
other classic stained glass designs.
Glassmasters is world renown for creating stained glass designs of licensed museum artwork and replicas of original stained glass windows. Glassmasters creates collectible and home decor size stained glass panels of the images using a proprietary labor intensive handcraft process. The imagery is painstakingly recreated by artisans who hand apply translucent enamels to cathedral glass in a traditional one color at a time process. Each color is fired into the glass at temperatures above 1100 degrees Fahrenheit. The enamels actually become part of the glass. Each design recreated
by Glassmasters is unique. These products are imported. Click here to view the entire Glassmasters collection. Shown above is the HM2014 Madonna in Green Stained Glass Panel.