Fenton Gift Shop
Special Offerings!
220133
8'' Blue Burmese Pillow Vase Handpainted Mushroom Design
Limited Edition by Kim Barley
and Stacy Williams
$165.00, Buy Now!
This handpainted Blue Burmese Pillow Vase features a whimsical mushroom design
by Kim Barley. Numbered and limited to 40 pieces, only a few remain!
---
Have you "herd" about our newest Gift Shop Exclusives? Fifth and sixth in our monthly series... these adorable, handpainted May and June baby Elephant figurines just might bring a little luck into your home!

Z5058HPC
3-1/2'' Fenton Gift Shop Exclusive May Elephant Figurine
$45.00, Buy Now!
Z5058HPD
3-1/2'' Fenton Gift Shop Exclusive June Elephant Figurine
$45.00, Buy Now!

220148
6-1/2'' Iridized Plum Opalescent Handpainted Atlantis Vase
Limited Edition by Kim Barley
$165.00, Buy Now!
Always a favorite mould of our collectors! This Iridized Plum Opalescent Atlantis Vase is handpainted by Kim Barley. Numbered and limited to 30 pieces.

FENTON GIFT SHOP PREFERRED SECONDS

200022
8-1/4'' Key Lime Vase
Preferred Second
$45.00, Buy Now!
Preferred Second. Key Lime, a Fenton green that features both beauty and depth. This vase is perfect for a Spring floral arrangement.
225806
3-3/4'' Key Lime Green
Mini Hobstar Basket
Preferred Second
$23.50, Buy Now!
Preferred Second. This lovely 3-3/4'' Mini Hobstar Basket is handcrafted in our refreshing Key Lime Opalescent glass.

Fenton eBay Auctions
Own a unique Fenton creation, including rare, one-of-a-kind pieces, through our weekly eBay Auctions!
Fenton Dealer Locator
Can't find it online? Contact your local Fenton dealer!
Many of our authorized
Fenton dealers still have wonderful selections of
Fenton glass available.
Click here to locate a Fenton dealer near you!
Fenton USA Presents. . . The Beauty of Burmese!
There are just 14 of these beautiful Dome Shade Lamps available as an Internet Special! Handcrafted in Fenton's classic Burmese glass, the dome-shaped shade provides the perfect canvas for this lovely handpainted lakeside scene. The pink blush of Burmese gives the effect of a sunset by a lake. Two views of the shade are shown. Each handpainted shade is signed by the talented Fenton artist who completed it.

Burmese History:
In 1885, Frederick Shirley, an Englishman who immigrated to America, patented the formula for an opaque, heat-sensitive glass. When this glass was "warmed-in," the color shaded from lemon yellow to salmon pink. As legend has it, several
of Shirley's pieces were presented to Queen Victoria. She exclaimed that the color reminded her of a Burmese sunset. Frederick Shirley's Mt. Washington Glass Company in New Bedford, MA, adopted the Burmese name and allowed a well-known British firm, Thomas Webb & Sons, to make Burmese in that country.

After many trials, in 1969 Fenton chemist Charles Goe replicated Mr. Shirley's Burmese, and it
has become one of the most collectible of Fenton's colors. Burmese contains pure gold in the formula, and careful reheating coaxes the delicate pink shading into existence. Throughout the years, there
has been variation in the color
of the yellow from a greenish to a cream hue. Fenton's Burmese reflects the original Burmese
with a creamier yellow base.


As the company continues the wind-down process, more limited quantity items will be sold online and through our weekly newsletters in order to reach
the most Fenton collectors.
As a result, items may sell out quickly, so don't delay placing your order for special Fenton creations!


I4302BRHP - $495.00 Buy Now!
17'' Dome Shade Lamp in Burmese


Click here to view more Internet Specials.

Birds 'n Blooms. . . Fenton "Made in America" Beads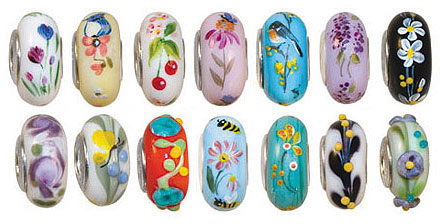 Need a unique gift for birdwatchers or flower gardeners? We have many beautiful selections of Made in America handcrafted glass beads from which to choose. Click on each bead shown above or click here to view our complete bead and Teardrop earring collection. Start a bird bracelet for the birdwatcher in your life. . . give a gift of flowers on beads that will be cherished!

Designed for any style of fashion, Fenton glass beads will fit most major brands of bracelets and necklaces. Because of the handmade process, bead sizes may vary in size from 1/2'' to 5/8'' in diameter. In an age of mass production, Fenton remains committed to honoring the tradition of expressive, handmade creations. You'll receive FREE SHIPPING via the U.S. Postal Service on your bead an

d Teardrop earring order.

Frequent Buyer Program: Purchase ten beads from the Fenton web site or from any single Fenton dealer and receive your choice of a limited edition bead FREE! Shown at right are our second Limited Edition Frequent Buyer handcrafted bead selections: Playful Posey and Spring Fancy (shown here). Limited to 100 each, the 100th bead will be auctioned on eBay. Click here for details.
Fenton International Fused Glass Special!
For a limited time, you'll receive an additional 15% off Fused Glass from Fenton International. Our Fenton International imported line of high relief Fused Glass by Anne Nye is pure, kiln-fired glass, sculpturally layered for texture and vibrant color! Her creations range from wall art, glass on a stand, suncatchers (shown here), or functional pieces such as platters, plates and serving bowls. Fenton International incl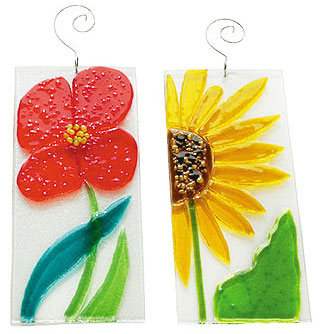 udes handcrafted artistic creations from around the world.

Anne layers individually handcut glass chips over a glass base to form brilliant pieces with a nature theme. When the pieces are all carefully layered in place, it is placed in a kiln. The oven process takes time and when the glass reaches 1400 degrees, it begins a long, slow cooling process. When complete, the sharp glass edges become softly rounded, the colors with the layers fused together to form depth, texture, detail, and personality.

Click on each image or click here to view the complete Fused Glass collection from Fenton International. You'll receive 15% additional discount on each Fenton International Fused Glass item until 5 p.m. ET on Friday, May 18. The sale price will appear in red above each qualifying item.
HOT LINKS. . .
Find great glass home decor gifts for yourself or someone special with these special offering links!

Fenton Gift Shop Exclusives

HM2010 7'' x 9'' Hummel
Blue Bell Stained Glass, $47.50, Buy Now!