Fenton Gift Shop
Special Offerings!
XS354VE-1
14-1/2'' Accent Lamp
with Crystal Shade
$99.50, Buy Now!
Let your little light shine with our elegant accent lamp with a crystal shade... the perfect accent piece for any room in your home! Youíll see the excellence in the art of handblown glassware in Fentonís lamps.
220135
8-3/4'' Robin's Egg Blue Satin Handpainted
Baby Lamb Vase
Limited Edition by
Michelle Kibbe
$150.00, Buy Now!
This Robin's Egg Blue Satin Vase features
an adorable baby lamb design handpainted by Michelle Kibbe. Numbered and limited to 20 pieces, fewer than a dozen remain!

220136
9'' Silken Sand Satin Vase Handpainted Baby Calf
Limited Edition by
Michelle Kibbe
$150.00, Buy Now!
This Silken Sand Satin Vase features a design handpainted farm scene by Michelle Kibbe. Numbered and limited to 20 pieces, the remaining quantity is very limited!
220134
3-1/2'' Robin's Egg Blue Dinosaur Figurine
Handpainted Floral Design
Limited Edition
by Michelle Kibbe
$39.50, Buy Now!
This Robin's Egg Blue Dinosaur figurine has a fun handpainted floral design by Michelle Kibbe. Numbered and limited to 25 pieces with limited quantity remaining!

Fenton eBay Auctions
Own a unique Fenton creation, including rare,
one-of-a-kind pieces, through our weekly
eBay Auctions!
Special Note:
Our eBay auctions for the first two Limited Edition Frequent Buyer Program Beads offered during the past week ends by noon on May 9th!
Fenton USA Presents. . .
Opal Satin Chessie Box Internet Special


Doesn't this sleeping kitten scene just make you want to say "Awww, how cute is that!" A wonderfully nostalgic tribute to the lovable
feline that became a well known company symbol. Featured on sleek passenger trains that ran from Washington to Cincinnati, and on freight cars in mile-long trains, this image helped sell war bonds, and
was modernized to form the logo for the new Chessie System in 1972.

Handcrafted in Opal Satin glass,
this covered Candy Box features the popular Chessie Cat cuddled up in a blanket with a small ball of yarn close to its paw. The handpainted design is by Stacy Williams. Today, Chessie no longer appears in timetables or on locomotives and rail cars, but she nevertheless is alive in the hearts of millions - including Fenton collectors!


09480HP20
8'' Chessie Cat Covered Box in Opal Satin
Stacy Williams design, $89.50 Buy Now!

Sorry, This Item Has Sold Out!

We have just 15 of these Chessie Boxes available as an Internet Special. They are numbered and signed by either Stacy Williams or Kim Barley. Click here
to view more Internet Specials.
Fenton Made in America Beads & Teardrop Earrings

There are many beautiful selections of Made in America handcrafted glass beads and Teardrop earrings from which to choose as special occasion gifts. Click on each bead shown above or click here to view our bead and Teardrop earring collection. You'll receive FREE SHIPPING via the U.S. Postal Service on your bead and Teardrop earring order.

Designed for any style of fashion, Fenton glass beads will fit most major brands of bracelets and necklaces. Because of the handmade process, bead sizes may vary in size from 1/2'' to 5/8'' in diameter. In an age of mass production, Fenton remains committed to honoring the tradition of expressive, handmade creations. Each Fenton Made in America Teardrop Earring pair bears the signature of handcraftsmanship; those slight variations that convey distinction, character and charm. Teardrop Earrings, including the earwire, range from 1-1/2''
to 1-3/4'' in length. Shown at right are the Rose Burmese handpainted Teardrop Earrings, which feature a design by Truda Mendenhall. Click on the image for details.


Frequent Buyer Program: Purchase ten beads from the Fenton web site or from any single Fenton dealer and receive your choice of a limited edition bead FREE! Shown at right are our second Limited Edition Frequent Buyer handcrafted bead selections: Playful Posey and Spring Fancy (shown here). Limited to 100 each, the 100th bead will be auctioned on eBay. Click here for details.
Fenton Gift Shop Mother's Day Beads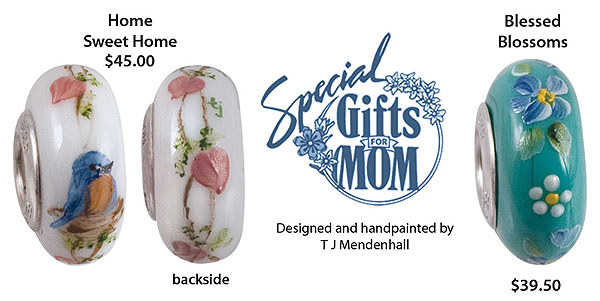 There's still time to order the Fenton Gift Shop's special Mother's Day handpainted beads: Home Sweet Home ($45.00) and Blessed Blossoms ($39.50) These handcrafted glass beads were designed and handpainted by Truda Mendenhall and are the perfect gift to express your love for Mom! *Phone orders only! Call the Fenton Gift Shop at 1-800-319-7793 or 304-375-7772, Ext. 282, 327 or 383.

Don't forget about our Custom Bead Day at the Fenton Gift Shop on Saturday, May 12th from 10 a.m. to 2 p.m. Meet Fenton bead designers Truda Mendenhall and Jena Lane Blair. They will customize unique, handpainted and multi-color Fenton beads. . . just for you and your one-of-a-kind Mom! Call the Fenton Gift Shop for prices and details.
Fenton Dealer Locator
Can't find it online? Contact your local Fenton dealer! Click here to locate an authorized Fenton dealer near you.
HOT LINKS. . .
Find great glass home decor gifts for yourself or someone special
with these special offering links!
Fenton Gift Shop Exclusives




Glassmasters

HM2016
6'' x 9'' Oval
Mother of God
Stained Glass Oval
$47.50
Buy Now!