Remember Mom on May 13th with a special gift she'll cherish forever!

Handcrafted with pride by skilled Fenton artisans, the Fenton Gift Shop is pleased to offer these very limited
Bird & Bead sets*… just in time for Mother's Day. These Fenton bird figurines, designed and handpainted by award-winning Fenton designer Kim Barley, were originally limited and numbered to 30. The remaining figurine inventory will sell out quickly! Click on each bird figurine for larger image.
Once these birds have flown their coop, you'll still be able to order our precious handpainted Mother's Day beads... Home Sweet Home ($45.00) and Blessed Blossoms ($39.50). These handcrafted glass beads were designed and handpainted by Truda Mendenhall and are the perfect gift to express your love for Mom!
*Phone orders only will be accepted on a first call-first served basis for the Bird & Bead Set offer. . .
while supplies last! Call the Fenton Gift Shop at 1-800-319-7793 or 304-375-7772, Ext. 282, 327
or 383 (see details below).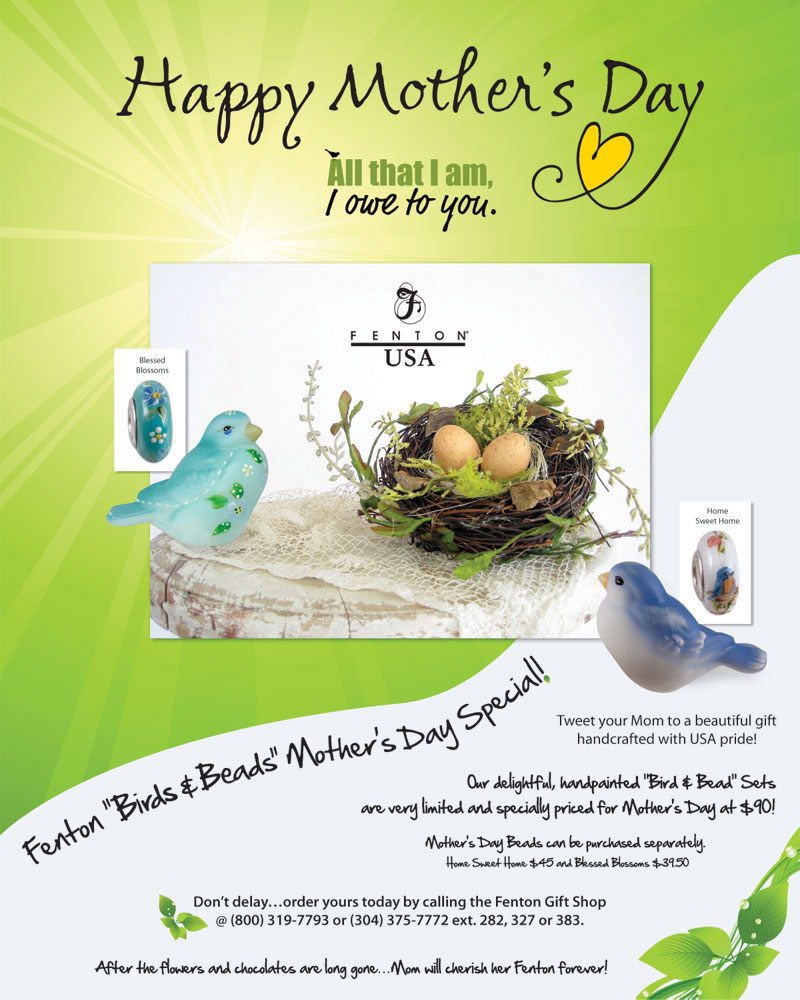 ---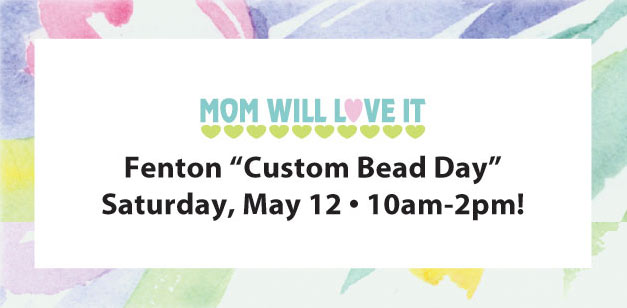 A One-of-a-Kind Mom Deserves
a One-of-a-Kind Fenton Bead!
We hope you can make a trip to the Fenton
Gift Shop on Saturday, May 12! Bring your mom and visit us during our popular Custom Bead Day from 10 a.m. to 2 p.m. You'll meet Fenton bead designers Truda Mendenhall and Jena Lane Blair. They will customize unique, handpainted and multi-color Fenton beads. . . just for you and your one-of-a-kind Mom! Call the Fenton Gift Shop for prices and details: 800-319-7793 or 304-375-7772.

More Great Gift Ideas for Mom's Special Day!

Internet Special
I1588CCHP
8-1/2'' Cranberry Vase, $149.50

Just seven of these beautiful vases in classic Cranberry are available!


Award-winning Fenton design
Kim Barley has handpainted, signed and numbered each vase.

Click on image for details or click here for more Internet Specials.


Fenton's Made in America handcrafted glass beads

Frequent Buyer Program. . .
Limited Editions on eBay!

We have sold out of the first limited edition offering for the Frequent Buyer Program Beads. The 50th beads for our Frequent Buyer Limited Edition Island Blossom (top left) and the Lime Ice Glassato (top right) are being auctioned on eBay starting today! If you missed getting a free bead, here's your chance to bid on one of these beads or to own a unique Fenton creation, including rare, one-of-a-kind pieces, through our weekly eBay Auctions! Items featured this week..


Purchase ten beads and receive a limited edition bead FREE! Click here for details on the Frequent Buyer Program for our beads. You'll receive FREE SHIPPING via the U.S. Postal Service on your bead and Teardrop earring order. Click here to view our entire handcrafted jewelry collection. Shown below are our new Hope bead and Cobalt Iridized Teardrop Earrings. Click each image for details.


We are pleased to offer these wonderful stained glass creations from Glassmasters to you via the Fenton web site.

Glassmasters is world renown
for creating stained glass designs of licensed museum artwork and replicas of original stained glass windows. These items are imported. Click on the images shown or click here to view the entire Glassmasters collection.


HM2014 6.6'' x 11'' Rectangle
Hummel Stained Glass
Madonna in Green, $65.00



GM2012 6-1/2'' Roundel
Mad Bluebird, $35.00
---
For questions or comments, please do not reply to this email. Instead, email: askfenton@fentonartglass.com. This email has been sent to you because you have agreed to receive offers and information from the Fenton Art Glass Company. We respect your privacy and do not sell your personal information. For details, please review our privacy policy.
How to unsubscribe: If you prefer not to receive offers or information from Fenton Art Glass, please use this page.
If you use a Challenge-Response system for email, please make certain that you can receive our email by adding askfentononline@fentonartglass.com to your Allow List. For specific instructions for major ISPs, click here.
The sender of this email is the Fenton Art Glass Co., 700 Elizabeth St., Williamstown, WV, 26187
---