Fenton Gift Shop
NEW EXCLUSIVES!
We are pleased to offer
this NEW Fenton Gift
Shop Exclusive grouping, handcrafted in refreshing
Key Lime glass.
The handpainted design, named Sweet Tweet, is
by Kim Barley. Kim's design features stylized birds on branches. This grouping is numbered and limited to
just 15 pieces. Only a few remain!
220125
11'' Key Lime Limited Edition Vase, $125.00
Buy Now!

220126
7'' Key Lime Basket
$95.00, Buy Now!

220127
6-1/4'' Key Lime Ginger Jar
$99.00, Buy Now!

220128
5'' Key Lime Cat figurine
$49.50
Buy Now!
BEAD ARTIST EVENTS
Jena Lane Blair, Fenton Bead designer, will be demonstrating the beadmaking art at several Fenton dealer locations. Events are planned for Friday, April 27 and Saturday, April 28 in Kentucky.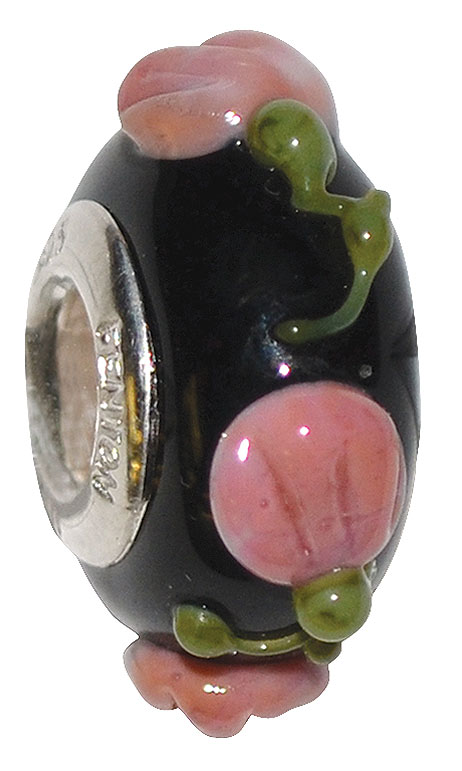 Here's your opportunity to purchase the Artist Event Exclusive Bead, Victorian Rosebuds, available only
at these events! Click here for details on these upcoming events!
Fenton eBay Auctions
Own a unique Fenton creation, including rare,
one-of-a-kind pieces, through our weekly
eBay Auctions!
Items featured this week...
Fenton Dealer Locator
Can't find it online? Contact your local Fenton dealer! Authorized Fenton dealers throughout the country still have beautiful selections of handcrafted glass. Click here to locate a Fenton dealer near you.
HOT LINKS. . .
Find great Fenton glass with these links to special offerings:
Made in America Fenton Jewelry
Fall 2011 First Final

Fenton Gift Shop Exclusives
While Supplies Last

Fenton International
92066
7'' Sunflower
Suncatcher designed by Anne Nye
$18.00
Fenton USA Burmese Vase Internet Special
In 1885, Frederick Shirley, an Englishman who immigrated to America, patented the formula for an opaque, heat-sensitive glass. When this glass was "warmed-in," the color shaded from lemon yellow to salmon pink. As legend has it, several of Shirley's pieces were presented to Queen Victoria. She exclaimed that the color reminded her of a Burmese sunset. Shirley's Mt. Washington Glass Company in New Bedford, MA, adopted the Burmese name and allowed a well-known British firm, Thomas Webb & Sons, to make Burmese in that country.
After many trials, in 1969 Fenton chemist Charles Goe replicated Shirley's Burmese, and it has become one of the most collectible of Fenton's colors. Burmese contains pure gold in the formula, and careful reheating coaxes the delicate pink shading into existence. Throughout the years, there has been variation in the color of the yellow from a greenish to a cream hue. Fenton's Burmese reflects the original Burmese with a creamier yellow base.
Our classic Burmese glass provides the perfect canvas for a Charleton Roses design by award-winning Fenton designer Kim Barley. Handpainted as an Internet Special, this beautiful 8-1/2'' vase also features a smaller rose and blue florets on the other sides with vining leaves and white dot accents. Two handpainted gold rings encircle the base of this elegant piece (images shown below). To learn more about Kim Barley, click here.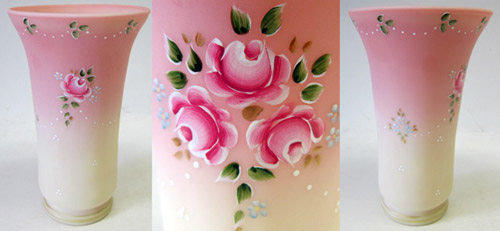 We have a limited quantity available, and what better gift for Mother's Day than Fenton's classic Burmese glass! Kim handpainted all of these vases and her signature appears on the bottom of each piece. I2994BRHP 8-1/2'' Burmese Vase, $109.50, Buy Now!
Fenton "Made in America" Jewelry. . .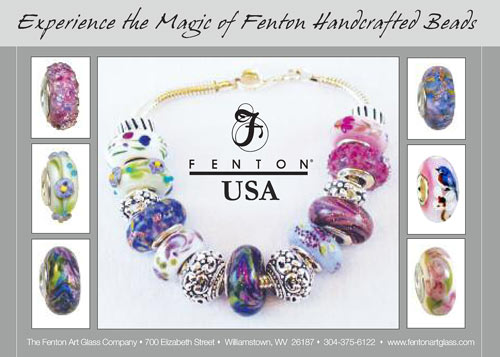 Fenton Made in America jewelry, handcrafted by our talented team of glass artisans, make unique gifts for any occasion. Create a lovely fashion statement by pairing the handcrafted beads and earrings . . . we have several handpainted designs and a rainbow of complementary colors from which to choose. Shown below is our Butterfly Blessings bead with matching Teardrop earrings. Click on each image for details.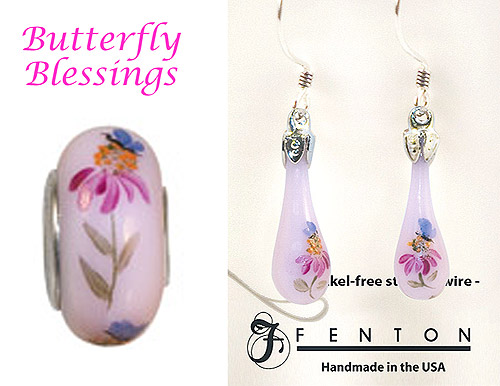 In an age of mass production, Fenton remains committed to honoring the tradition of expressive, handmade creations. Designed for any style of fashion, Fenton glass beads will fit most major brands of bracelets and necklaces. Because of the handmade process, the bead size may vary in size from 1/2'' to 5/8'' in diameter.
Each Fenton Made in America Teardrop Earring pair bears the signature of handcraftsmanship; those slight variations that convey distinction, character and charm. Teardrop Earring sizes range from 3/4'' to 1'' in length. You'll receive FREE SHIPPING via the U.S. Postal Service on your bead and Teardrop earring order. Click on each image for details or click here to view our entire handcrafted jewelry collection.

Don't forget about the Frequent Buyer Program for bead customers! Purchase ten beads and receive a limited edition bead FREE! Click here for details. We have reached the 50 bead limit for our first offering! The 50th Frequent Buyer Limited Edition Island Blossom bead (top right) and the Lime Ice Glassato bead (bottom right) will be auctioned on eBay next week (shown at right)! If you missed getting a free bead, here's your chance to bid on one! The next two Limited Edition Frequent Buyer bead selections will be introduced in our next newsletter!

Angel with Birds from Glassmasters
We are pleased to offer these wonderful stained glass creations from Glassmasters to you via the Fenton web site. Glassmasters is world renown
for creating stained glass designs of licensed museum artwork and replicas of original stained glass windows. These items are imported. Shown below is the Hummel Angel with Birds stained glass suncatcher. Click here to view all Glassmasters selections.
A talented artist and devoted Franciscan nun, the art created by Sister Maria Innocentia Hummel from 1932-1946, is renowned for characteristic simplicity, celebration of childhood innocence and warm reflection on human nature. Sister recognized childhood as an occasion of peace and goodness that must be protected for each generation. The enduring quality of the art, and the constant reminder that it is all about the children is an appeal to the heart that spawned a worldwide legacy now into its second century. Since 1932 the craftsmen of ARS AG, Switzerland, have reproduced the sacred art of Sister M. I. Hummel, to be loved and enjoyed by countless generations.
HM2012 6.6'' x 11'' Rectangle Hummel Stained Glass
Angel with Birds Suncatcher, $65.00