Fenton Gift Shop
Special Offerings!

06630HZ
8-1/2'' Ribbed Basket
in Key Lime Opalescent
$89.50, Buy Now!

Our beautiful 8-1/2'' Ribbed Basket is handcrafted in refreshing Key Lime Opalescent glass and iridized for a lovely sparkling finish!

04330Y8
5-1/4'' Cape Cod Basket
in Buttercup, $49.50, Buy Now!
Nobody does baskets like Fenton, and this 5-1/4'' Cape Cod Basket is no exception! Handcrafted in Buttercup glass, this basket will add sparkle to any room. Buttercup, a vibrant yellow made with special ingredients, captures the warmth of Spring sunshine and the excitement of nature's awakening.

M5039H2HM
4-1/4'' Handpainted
Key Lime Cat
$42.50
Buy Now!

This Key Lime handpainted
Cat figurine is a must for figurine collectors or as a gift for cat lovers!
Z8838H7
6-3/4'' Dancing Ladies Vase
in Key Lime, $75.00, Buy Now!
Inspired by a classic Northwood motif, our company's founder, Frank L. Fenton, designed moulds for "Dancing Ladies" vases that became popular Fenton products in the 1930s. We searched in vain for these moulds. However, sculptor Suzi Whitaker worked from Frank L. Fenton's original sketches and we made an entirely new mould for the Dancing Ladies Vase. Fenton's skilled glassworkers produced this Dancing Ladies Vase in our sultry Key Lime glass and added a wonderful cobalt blue edge.
Fenton eBay Auctions
Own a unique Fenton creation, including rare, one-of-a-kind pieces, through our weekly
eBay Auctions!
Items featured this week...
Fenton Auctions Scheduled
for April 21 and May 24
Click here to read a news update on the upcoming Fenton Art Glass auctions scheduled for April 21 and May 24. The April 21st auction will be held
at Randy Clark's Dexter City Auction Gallery, Dexter City, Ohio (exit 16 on I-77). For photos and auction listing, visit www.randyclarkauctions.com This auction will include 400 lots from the Fenton Art Glass Museum and special storage areas. Preview: 2-4 p.m.
Auction begins: 4:00 p.m. (ET).
Fenton Dealer Locator
Can't find it online? Contact your local Fenton dealer! Authorized Fenton dealers throughout the country still have a beautiful selection of handcrafted glass. Click here to locate a Fenton dealer near you.
Click here
to view all available creations
in the Glassmasters line, including this adorable Mad Bluebird ... could this ''angry bird'' be the inspiration for the popular iphone app? :-}
HOT LINKS. . .
Find great Fenton glass with these links to special offerings:
Fall 2011 First Final

Fenton Gift Shop Exclusives

While Supplies Last

Fenton International
Fenton Presents. . . Tax Days Special
on Crystal and French Opalescent Glass
Here's your opportunity to add Fenton handcrafted crystal or French Opalescent glass to your collection during our Tax Days Special!
You'll receive an additional 15% discount on our remaining inventory
(sale price shows in red above each item). This Tax Days Special offer is valid from 11:59 a.m. (Eastern Time) on Sunday, April 15 and ends at 11:59 a.m. (ET) on Tuesday, April 17!

01774BX - Buy Now!
6-1/2'' Crystal Diamond Optic Oval Bell


94001 - Buy Now!
4'' Crystal Votive (Fenton International)


07300HP2 - Buy Now!
5-1/2'' Handpainted French Opalescent Fairy Light


C89708P - Buy Now!
7-1/2'' Handpainted Stained Glass Design French Opalescent Vase
All Fenton opalescent glass contains special ingredients. During the glassmaking process, the hot glass item must be allowed to chill briefly before it is reheated to create the marvelous opalescent effect. Our glassworkers have mastered the techniques, and Fenton opalescent glass continues in the great tradition of American glassmaking.

We have a large selection of items available. . . more than 550! Click on any of the images shown above or click here to see all available crystal items or click here to view all the French Opalescent items included in this special offer. Note: Beads and Earrings are not included in this offer.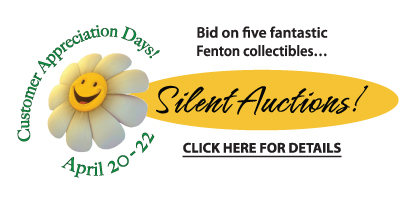 Click here for Silent Auction link.

New! "Made in America" Perfect Pairs from Fenton


Perfect Pair:
''Kiss of Spring''
and ''Poppy Time''
with handpainted designs by Truda
''TJ'' Mendenhall!
Fenton Made in America jewelry, handcrafted by
our talented team of glass artisans, make unique gifts for any occasion, as well as great fashion accessories!

Pair our handcrafted glass beads with their matching Teardrop earrings for the perfect fashion statement
this Spring! Shown are
the Kiss of Spring and the Poppy Time beads and Teardrop earrings ($35.00 each).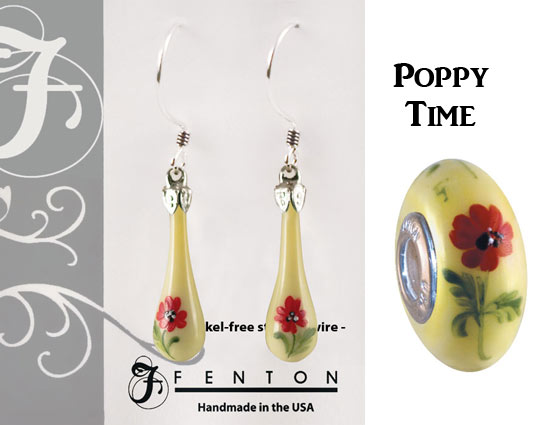 In an age of mass production, Fenton remains committed to honoring the tradition of expressive, handmade creations. Each Fenton Made in America Teardrop Earring pair bears the signature of handcraftsmanship; those slight variations that convey distinction, character and charm. Teardrop Earring sizes range from 3/4'' to 1'' in length. Because of the handmade process, the bead size may vary in size from 1/2'' to 5/8'' in diameter. You'll receive FREE SHIPPING via the U.S. Postal Service on your bead and Teardrop earring order. Click on each image for details.

Click here to view our entire collection. Don't forget about the Frequent Buyer Program for bead customers! Purchase ten beads and receive a limited edition bead FREE! Click here for details.

Fenton Internet Special Egg on Stand
American Glass Manufacturers have produced glass eggs since the early 1900s. Our 1972 archives show letters from then Vice President Bill Fenton to Fenton representatives about the enthusiastic response to the Fenton line of glass eggs. The Fenton egg on stand has continued to be a favorite of collectors.

We have a limited quantity of these Egg on Stand figurines handcrafted in sea green satin. We asked Fenton designer Kim Barley to create something with a Spring theme. Her delightful whimsical floral and ladybug design is sure to please one and all! Just 15 of these Egg on Stand figurines were handpainted and signed by Kim, so don't delay in adding one to your collection! Click here to view all internet specials. I5146HP3 Sea Green Satin 3-3/4''Egg on Stand, $39.50