Fenton USA Presents. . . Spring 2012 Bead & Teardrop Earring Collection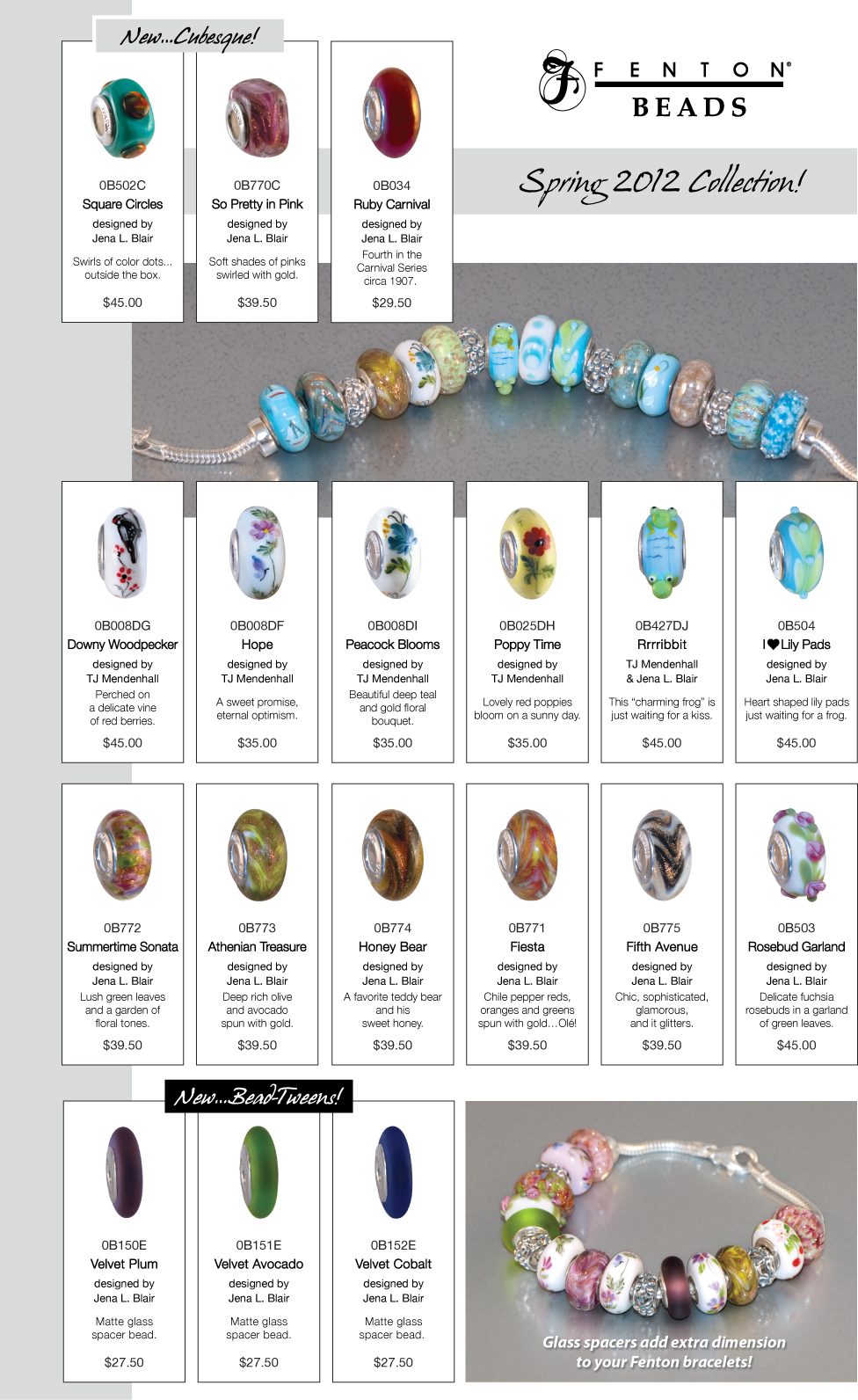 Introducing our new Fenton Made in America handcrafted glass beads for Spring 2012, handcrafted
by our talented team of glass artisans. This collection includes beautiful new handpainted designs by
Truda ''TJ'' Mendenhall and unique stylized designs by Jena Lane Blair. We are introducing two new Fenton Made in America handcrafted bead styles: a bead-tween spacer bead and the Cubesque bead.
Designed for any style of fashion, Fenton glass beads will fit most major brands of bracelets and necklaces. Because of the handmade process, the bead size may vary in size from 1/2'' to 5/8'' in diameter. You'll receive FREE SHIPPING via the U.S. Postal Service on your bead and Teardrop earring order. Click here to view our bead and Teardrop earring collection. Don't forget about our Frequent Buyer Program for bead customers! Purchase ten beads and receive a limited edition bead FREE! Click here for details.
Perfect gifts for special occasions such as Anniversary, Birthday, Bridal Shower, Confirmation, Graduation, Mother's Day, Thank You Gift, Wedding, or just because!
---
For questions or comments, please do not reply to this email. Instead, email: askfenton@fentonartglass.com. This email has been sent to you because you have agreed to receive offers and information from the Fenton Art Glass Company. We respect your privacy and do not sell your personal information. For details, please review our privacy policy.
How to unsubscribe: If you prefer not to receive offers or information from Fenton Art Glass, please use this page.
If you use a Challenge-Response system for email, please make certain that you can receive our email by adding askfentononline@fentonartglass.com to your Allow List. For specific instructions for major ISPs, click here.
The sender of this email is the Fenton Art Glass Co., 700 Elizabeth St., Williamstown, WV, 26187