Fenton USA Presents. . . Internet Special Burm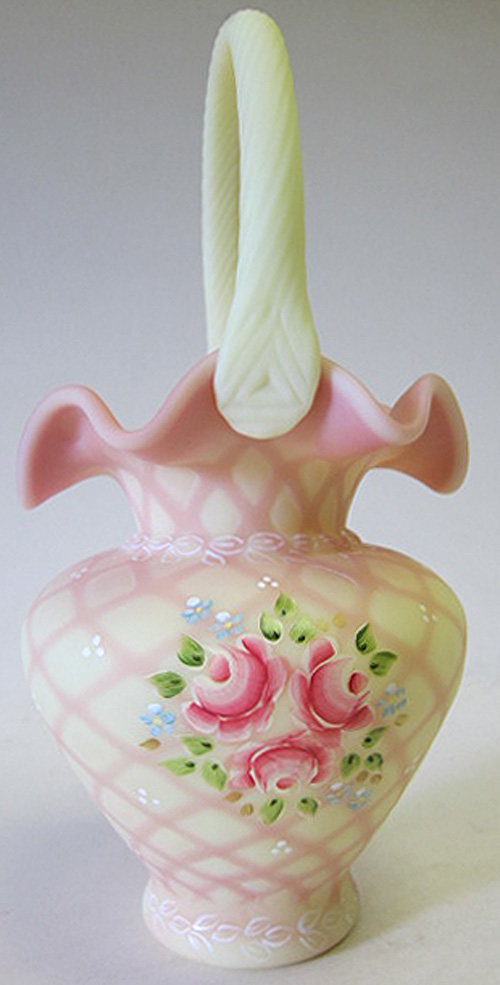 ese Basket
Fenton's Burmese glass with a Diamond Optic is the perfect canvas for Kim Barley's Charleton Rose inspired design on this basket. Kim's lovely handpainted rosebuds are surrounded by green leaves, petite blue flowers and white dot accents. A delicate handpainted white leaf design encircles the top and bottom areas of the basket.
The Diamond Optic motif begins with a "spot mould" that creates a lattice pattern when the glass is blown into it. Next, the molten glass is allowed to chill briefly before being reheated in a direct fire furnace called a glory hole. During this reheating (called "warming in"), the raised areas of the lattice pattern acquire the pink blush. Finally the glass is blown into another mould that creates the essential shape of the basket. The process of chilling and reheating takes great skill on the part of the glassworkers involved, and years of experience are required to master this glassmaking art.
Fenton's classic Burmese glass contains pure gold in the formula, which creates the soft pink blush. Each basket features the basket handler's mark on either side of the handle. This basket has a fine rib twisted handle.
No one makes baskets like Fenton! The skilled basket handler has about 25 seconds within which he must accomplish the following: attach a glowing ribbon of molten glass to one side of the basket; deftly twist the rapidly cooling glass; stick it to the other side; impress the base of each side of the handle with his handler's mark, and finally, fashion the handle into a graceful arch. The handler's mark is distinctive and identifies the artisan who created the basket. Collectors enjoy adding their favorite basket handler's creations to their collection.
Shown at left are two more views of the basket,
Kim Barley's signature on the base and a close-up view of
the handler's mark. We just have a dozen of these beautiful handcrafted baskets, so don't delay in adding this piece to your Fenton collection!

Click on the image or ware number for details. Click here
to view all Internet Specials.
IV514BRHP
8-1/2'' Burmese Diamond Optic Basket $109.50
Fenton Gift Shop Special Offerings. . .

041959E - $195.00
14-1/2'' Peacock and Ferns
Emerald Green Carnival Vase
Buy Now!


IS252AM- $30.00
4-1/4'' h. and 2'' dia. base
Autumn Gold Hobnail Shade, Buy Now!

IS255CR- $60.00
4-1/4'' h. and 2'' dia. base
Cranberry Coin Dot Shade, Buy Now!

IS255CR- $60.00
4-1/4'' h. and 2'' dia. base
Cranberry Coin Dot Shade, Buy Now!


03936T1- $18.75
3'' Robin's Egg Blue Opalescent
Sugar Dish, Buy Now!


03967T1- $107.00
7-1/2'' Robin's Egg Blue Opalescent
Pitcher, Buy Now!

The Fenton Gift Shop has many beautiful selections of lamp parts
and tabletop accessories available.
Click on each image for details.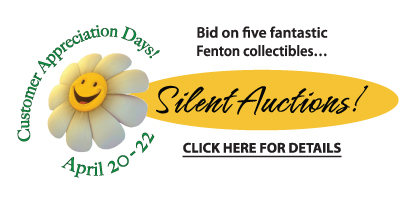 Fenton Art Glass
Schedules Auctions
Click here to read a news update
on the upcoming Fenton Art Glass auctions scheduled for
April 21 and May 24.

Coming Soon. . . Fenton "Made in America" Spring 2012 Bead Collection!
Here's a sneak peek at a few more of our latest additions to the Fenton Made in America jewelry, handcrafted by our talented team of glass artisans. This collection includes beautiful handpainted designs by Truda ''TJ'' Mendenhall and unique bead designs by Jena Lane Blair.
The Spring 2012 collection will be available to order online within the next week, so be sure to check future newsletters and our website: www.fentonartglass.com for this new offering.

The I Love Lily Pads bead, designed by Jena Lane Blair, features heart-shaped lily pads ''just waiting for a frog.'' The handpainted Peacock Blooms bead, designed by Truda ''TJ'' Mendenhall, has a beautiful deep teal and gold handpainted floral bouquet. Truda and Jena teamed up for a delightful new design that we named Rrrribbit. This bead features frogs ''just waiting for a kiss'' with a design by Jena and handpainted accents by Truda.
Designed for any style of fashion, Fenton glass beads will fit most major brands of bracelets and necklaces. Because of the handmade process, the bead size may vary in size from 1/2'' to 5/8'' in diameter. You'll receive FREE SHIPPING via the U.S. Postal Service on your bead and Teardrop earring order. Click here to view our bead and Teardrop earring collection. Don't forget about our Frequent Buyer Program for bead customers! Purchase ten beads and receive a limited edition bead FREE! Click here for details.
Fenton Dealer Locator
Though the factory site is winding down its glass inventory, authorized Fenton dealers throughout the country still have a variety of selections to choose from. Can't find it online? Contact your local Fenton dealer! Click here to locate an authorized Fenton dealer near you.
Fenton eBay Auctions
Own a unique Fenton creation, including rare, one-of-a-kind pieces, through our weekly eBay Auctions!
Items featured this week...
Dazzlers from Glassmasters. . . There's nothing else like it in the world!

GM1012
6-1/2'' Roundel ''Mad Bluebird''
Design in Stained Glass
$35.00, Buy Now!


IGM1013
6-1/2'' Roundel ''Holy Spirit''
Design in Stained Glass
$35.00, Buy Now!
Fenton is pleased to offer this line of unique stained glass creations from Glassmasters. (See the April 9, 2012 newsletter for details on this partnership.)

Glassmasters is world renowned
for creating stained glass designs
of licensed museum artwork and replicas of original stained glass windows. Glassmasters creates collectible and home decor size stained glass panels of the images using a proprietary labor intensive handcraft process. The imagery is painstakingly recreated by artisans who hand apply translucent enamels to cathedral glass in a traditional one color at a time process. Each color is fired into the glass at temperatures above 1100 degrees Fahrenheit. The enamels actually become part of the glass. Each design recreated by Glassmasters is unique. Imported. Click on each image for details or click here to view all available Glassmasters creations.
HOT LINKS. . .
Find great Fenton glass with these links
to special offerings!

Fenton Gift Shop
---
For questions or comments, please do not reply to this email. Instead, email: askfenton@fentonartglass.com. This email has been sent to you because you have agreed to receive offers and information from the Fenton Art Glass Company. We respect your privacy and do not sell your personal information. For details, please review our privacy policy.
How to unsubscribe: If you prefer not to receive offers or information from Fenton Art Glass, please use this page.
If you use a Challenge-Response system for email, please make certain that you can receive our email by adding askfentononline@fentonartglass.com to your Allow List. For specific instructions for major ISPs, click here.
The sender of this email is the Fenton Art Glass Co., 700 Elizabeth St., Williamstown, WV, 26187