Fenton USA Presents. . . Spring Green Special!

Here's your opportunity to add a touch of Spring green to your home decor! You'll receive an additional 15% discount on our remaining inventory (sale price shows in red above each item) of handcrafted glass in the following Fenton hues of green: Chameleon Green, Key Lime and Emerald Green. *Beads and Teardrop Earrings are not included in this special.

This Spring Green Special offer begins at 5 p.m. (Eastern Time Zone) on March 29 and ends on April 2 at 5 p.m. (ET). Select your handcrafted Fenton glass creation from the images shown below
or click on the following links to view all the items included in this special online discount offer: Chameleon Green, Emerald Green, and Key Lime.


02744XE - Buy Now!
8'' Chameleon Green Vase


05257XE - Buy Now!
8-1/2'' Chameleon Green Rooster


08200HP22- Buy Now!
8-1/2'' Chameleon Green
Heart Covered Box

Chameleon Green



05148M2 - Buy Now!
3'' Emerald Green
Mouse Figurine

Emerald Green


05228SG - Buy Now!
7'' Emerald Green Doll Figurine


08230HP52 - Buy Now!
8-3/8'' dia. Emerald Green Butterfly Bon Bon


Z5171H2- Buy Now!
4-3/4'' Key Lime Butterfly Figurine

Key Lime


06864U3 - Buy Now!
6'' Key Lime Melon Bell


08230HP52 - Buy Now!
7'' Key Lime Flip Vase
New Fenton Internet Exclusive Fan Vase
We have a very limited quantity available on this beautiful 7-1/2'' Fan Vase, handcrafted in Blue Lagoon with a satin finish. Click on the image or ware# for details.
This vase features a handpainted design by Stacy Williams of a fluffy bird sitting on a branch amongst cherries and blossoms. Front and back views are shown. Each piece is signed by the talented Fenton artist who completed it. Click here to view all Internet Specials.

I9550HP1
Blue Lagoon Satin
7-1/2'' Fan Vase, $95.00

Fenton Art Glass Schedules Auctions
Click here to read a news update on upcoming Fenton Art Glass auctions. Be sure to check our web site home page: www.fentonartglass.com for the latest news.
Show your Spring colors with Fenton's "Made in America" Jewelry.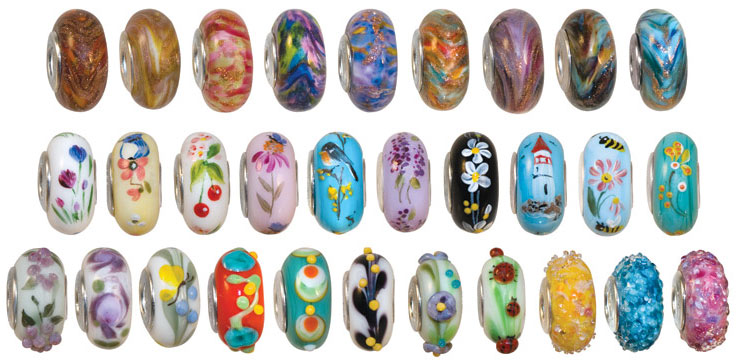 Fenton Made in America jewelry, handcrafted by our talented team of glass artisans, make the perfect Spring fashion accessories! Designed for any style of fashion, Fenton glass beads will fit most major brands of bracelets and necklaces. Because of the handmade process, the bead size may vary in size from 1/2'' to 5/8'' in diameter. You'll receive FREE SHIPPING via the U.S. Postal Service on your bead and Teardrop earring order. Click on each image for details or click here to view our bead and Teardrop earring collection. Don't forget about our Frequent Buyer Program for bead customers! Purchase ten beads and receive a limited edition bead FREE! Click here for details.
Fenton Gift Shop Spring Beads. . . Limited Quantities Now Available!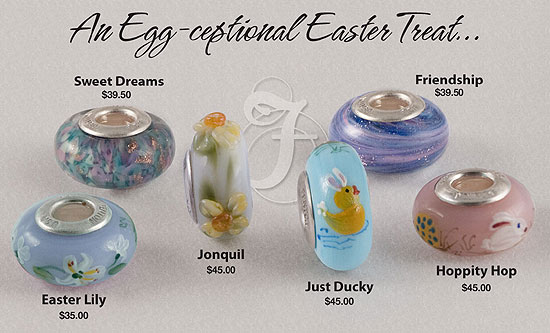 The Fenton Gift Shop has a charming selection of limited quantity Spring beads. If you can't hop in to the Fenton Gift Shop in Williamstown this weekend, you may order by calling
(800) 319-8893,
ext. 282 or ext. 321 … but hurry, these special beads, designed by Truda "TJ" Mendenhall and Jena Lane Blair, are very limited! NOTE: These Fenton Gift Shop Spring beads are available "in store" only and can not be ordered online through our web site:www.fentonartglass.com
The bead designs include: Easter Lily: The fulfillment of grace, purity and hope; Sweet Dreams: Soft and delicate, springtime day dreaming; Jonquil: Happy little jonquil, turn your smiling face toward Heaven; Just Ducky: The Easter Bunny…in disguise; Friendship: A special gift beyond mere words, a true blessing; and Hoppity Hop - A sweet little bunny with her speckled eggs.
Fenton Dealer Locator
Can't find it online? Contact your local Fenton dealer! Click here to locate an authorized Fenton dealer
near you.
Fenton eBay Auctions
Own a unique Fenton creation, including rare, one-of-a-kind pieces, through our weekly eBay Auctions!
Items featured this week...
HOT LINKS. . . Find great Fenton glass with these links to special offerings!
---
For questions or comments, please do not reply to this email. Instead, email: askfenton@fentonartglass.com. This email has been sent to you because you have agreed to receive offers and information from the Fenton Art Glass Company. We respect your privacy and do not sell your personal information. For details, please review our privacy policy.
How to unsubscribe: If you prefer not to receive offers or information from Fenton Art Glass, please use this page.
If you use a Challenge-Response system for email, please make certain that you can receive our email by adding askfentononline@fentonartglass.com to your Allow List. For specific instructions for major ISPs, click here.
The sender of this email is the Fenton Art Glass Co., 700 Elizabeth St., Williamstown, WV, 26187