Fenton Museum Auction Scheduled for April 21
A special auction will be held at Randy Clark's Dexter City Auction Gallery, Dexter City, Ohio (exit 16 on I-77) on Saturday, April 21st. For photos & auction listing, visit Randy Clark's website: www.randyclarkauctions.com
This auction will include 400 lots from the Fenton Art Glass Museum and special storage areas. Preview: 2-4 p.m. Auction begins at 4 p.m. (ET)
Fenton eBay Auctions
Own a unique Fenton creation, including rare, one-of-a-kind pieces, through our weekly eBay Auctions!
Items featured this week...

Fenton Made in America Beads & Teardrop Earrings
Show your Spring colors!
Our Pansies in Sunshine and Springtime Serenade handcrafted glass beads
and Cobalt Iridized Teardrop earrings are perfect accessories for any outfit, casual or dress! Click on each image for details.
Fenton Made in America jewelry, handcrafted by
our talented team of glass artisans, make the perfect Spring fashion accessories!
Designed for any style of fashion, Fenton glass beads will fit most major brands of bracelets and necklaces. Because of the handmade process, the bead size may vary in size from 1/2'' to 5/8'' in diameter. You'll receive FREE SHIPPING via the U.S. Postal Service on your bead and Teardrop earring order.
Click here to view our bead and Teardrop earring collection. Don't forget about our Frequent Buyer Program for bead customers! Purchase ten beads and receive a limited edition bead FREE! Click here for details.
HOT LINKS. . . Find great Fenton glass with these links to special offerings!

Fenton Gift Shop Exclusives
Made in America Fenton Jewelry

Fenton International
Fenton Dealer Locator
Can't find it online? Contact your local Fenton dealer!
Click here to locate an authorized Fenton dealer
near you.
Fenton USA Presents. . .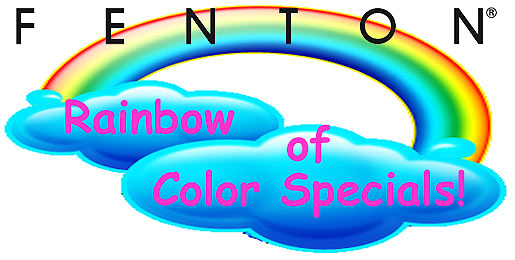 Here's your opportunity to add a rainbow of Fenton color to your Spring decor! You'll receive an additional 15% discount on our remaining inventory (sale price shows in red above each item) of handcrafted glass in these lovely Spring Fenton colors: Buttercup, Madras Pink and Robin's Egg Blue!

This Rainbow Color Special offer begins at 10 a.m. (Eastern Time Zone) on March 23 and ends on March 26 at 10 a.m. (ET). Select your handcrafted Fenton glass creation from the images shown below or click on the following links to view all the items included in this special online discount offer. Buttercup, Madras Pink and Robin's Egg Blue.

09596Y8 - Buy Now!
4-1/2'' Buttercup Two-Way Votive

05220ZO - Buy Now!
2-1/2'' Buttercup Pig Figurine

Both figurines feature a matching
handpainted floral design
by Stacy Williams


X5066HPE - Buy Now!
4-1/2'' Buttercup Hummingbird

05158ZO - Buy Now!
3-1/2'' Buttercup Elephant Figurine


05988PJ - Buy Now!
9-1/4'' Madras Pink Colony Vase

03161T1 - Buy Now!
11'' Robin's Egg Blue Opalescent Vase


02744P6 - Buy Now!
8'' Madras Pink Flip Vase

03753T1 - Buy Now!
8-9-1/2'' Robin's Egg Blue Opalescent Vase
For questions or comments, please do not reply to this email. Instead, email: askfenton@fentonartglass.com. This email has been sent to you because you have agreed to receive offers and information from the Fenton Art Glass Company. We respect your privacy and do not sell your personal information. For details, please review our privacy policy.

How to unsubscribe: If you prefer not to receive offers or information from Fenton Art Glass, please use this page.

If you use a Challenge-Response system for email, please make certain that you can receive our email by adding askfentononline@fentonartglass.com to your Allow List. For specific instructions for major ISPs, click here.

The sender of this email is the Fenton Art Glass Co., 700 Elizabeth St., Williamstown, WV, 26187