Fenton Gift Shop
Hoppin' Specials!

Z5293HP01
3-1/2'' Violet Boy Bunny Figurine
Originally $36.50
Now $26.00
Buy Now!
Our Gift Shop Exclusive Violet Bunny figurine is perfect for the young or the young-at-heart. This figurine is handpainted with an adorable detailed face and a striped shirt. The perfect gift for somebunny special.

Z5317HPLY
3-1/2'' Hyacinth Duck Figurine with handpainted Floral Pattern
Originally $30.50, Now $23.00
Buy Now!

Our Hyacinth Duck figurine, handcrafted in one of our newest colors and shapes, will brighten any home with his bright and cheery floral pattern. A Fenton Gift Shop Exclusive . . . Handpainted and signed by the artist who completed it.

Fenton Gift Shop
Preferred Seconds
223721
9-1/2'' Key Lime Swung Vase
$46.75, Buy Now!

Preferred Second. This
lovely 9-1/2" Swung Vase
is handcrafted in our refreshing Key Lime. Perfect for your Spring flowers!
225806
3-3/4'' Key Lime
Mini Hobstar Basket
$23.50, Buy Now!
Preferred Second. This 3-3/4'' Mini Hobstar Basket is handcrafted in Key Lime Opalescent glass.
HOT LINKS. . .
Find great Fenton glass
with these links to special offerings!

Fall 2011 First Final

Fenton Gift Shop Exclusives

While Supplies Last

Internet Specials
Made in America Fenton Jewelry

Fenton International
Can't find it online? Contact your local Fenton dealer! Click here to locate an authorized Fenton dealer near you.
Fenton USA Presents. . . Bunny Treasures!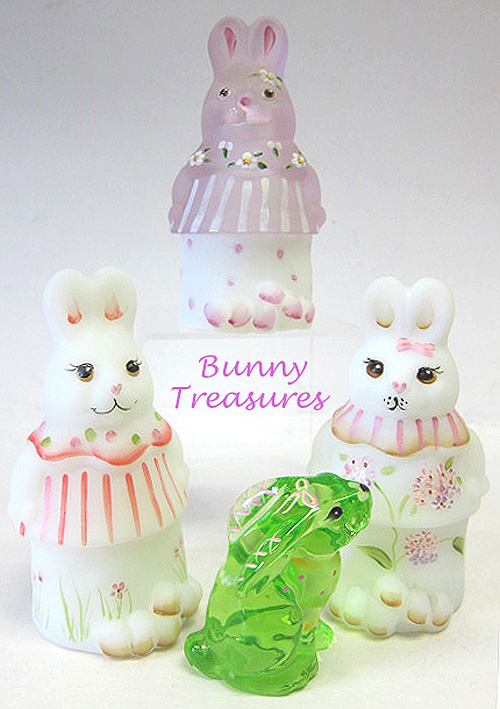 Here comes Peter Cottontail . . . or perhaps we should say Penny Cottontail!

We have very limited quantities remaining of these handpainted 5'' standing Bunny Treasure Boxes. Fewer than ten of each design are available. Each box features a pastel floral and stripes motif and is signed by the talented Fenton artist who completed it.
The mould, designed by sculptor Suzi Whitaker, was first featured in our Spring 2006 Catalog Supplement. A different take on the traditional Fenton Treasure Box, the top half can be removed to reveal the storage area in the base for special keepsakes! These boxes are handcrafted in Opal Satin, with the exception of the standing Bunny Treasure Box shown top center, which features a Rosemilk Satin top. These standing Bunny Treasure Boxes are priced at $49.50 each.

Add a touch of whimsy to your Spring finery display with our adorable lop-ear Bunny figurine! Handcrafted in refreshing Key Lime glass, this cute 3'' bunny has pink bows and laces on the ears and sports a yellow sweater adorned with pink polka dots. Originally limited to 250 pieces, each Bunny figurine is individually numbered and signed by the talented Fenton artist who completed it. Click on each item shown above for details or click here to view all remaining While Supplies Last selections.

Think Spring with the Perfect Pair. . .
Fenton Made in America Handcrafted Glass Jewelry
The perfect fashion accents for Spring are Fenton Made in America jewelry, handcrafted by our talented team of glass artisans. Designed for any style of fashion, Fenton
glass beads will fit most
major brands of bracelets
and necklaces.

He Loves Me Bead and Teardrop Earrings

Don't forget about our
Frequent Buyer Program for bead customers! Purchase ten beads
and receive a limited edition bead FREE! Click here for details!

Each Fenton Made in America
Teardrop Earring pair bears the signature of handcraftsmanship: those slight variations that convey distinction, character and charm. Teardrop Earring sizes range from 3/4'' to 1'' in length.

You'll receive FREE SHIPPING via the U.S. Postal Service on your bead and Teardrop earring order. Click on each image for details.

Bunny Patch Creations from Fenton Gift Shop!

04930CK
5'' Chocolate Glass Standing Bunny Treasure Box $34.50


C4930IF
5'' Fenton Gift Shop Rosemilk Handpainted Standy Bunny Treasure Box $45.00
Perfect for Easter decorating! Our rich Chocolate glass ranges in color from a deep mocha shade to a milky cocoa color, and no two pieces are the same. Dating back to 1907, Chocolate glass is a Fenton collector favorite - and it really does look good enough to eat!

Our Rosemilk Standing Bunny Treasure Box is handpainted with a white striped jacket and accented with white daisies. . . perfect to give or to receive! Click on each image or ware# to order.
Fenton eBay Auctions
Own a unique Fenton creation, including rare, one-of-a-kind pieces, through our weekly eBay Auctions! Items featured this week...