Fenton Gift Shop
As Seen on TV!

C5165R0
3-3/4'' Handpainted
Jolly Green Cat Figurine
$36.75, Buy Now!

This handpainted Jolly Green Cat figurine is a must for figurine collectors or as a gift for anyone who loves cats!

I5033HP2
4'' Robin's Egg Blue
Elephant Treasure Box
$48.50, Buy Now!

This versatile Elephant Treasure Box in Robin's Egg Blue not only stores your smallest treasures, but the Elephant's trunk is a ringholder!
C536338
4'' Songbird in Buttercup with Floral Design
$38.50, Buy Now!

This sweet Songbird figurine in Buttercup is enhanced with a fun floral design and sure to delight one and all!
C50214A
4'' Burmese Satin
Pig Figurine
Handpainted Jacket & Tie
$39.50, Buy Now!
Our adorable Burmese Satin handpainted Pig figurine is dressed in Sunday best for a special occasion.

Gift Shop Exclusives!

Z5058HPA
3-1/2'' Gift Shop Exclusive ''March'' Elephant Figurine
$45.00, Buy Now!

Z5151HPE
3-1/2'' Gift Shop Exclusive Emerald Green Daisy Bear Figurine, $34.75, Buy Now!
Fenton eBay Auctions
Own a unique Fenton creation, including rare, one-of-a-kind pieces, through our weekly eBay Auctions! Items featured this week...
Fenton USA Presents. . . Dave Fetty Bird on Egg!
As the "wind down" of our remaining glass inventory continues at the Fenton factory in Williamstown, we are finding limited quantities of beautiful glass selections.
Master glass artisan Dave Fetty demonstrates all of his considerable talents and remarkable skills in this splendid Bird and Egg creation! Starting with a gather of Milk Glass, Dave covers it with Celeste Blue glass and then hand applies dark amethyst glass threading and then uses a tool much like an ice pick to create the distinctive "pulled feather" look. The Bird atop the Egg begins as a formless bit of Celeste Blue glass, and Dave marshals all of his skills to deftly shape the head, wings and tail quickly, while the glass is still molten!
IDF94 Celeste Blue Offhand Pulled Feather 6" to 6-3/4'' Bird on Egg by Dave Fetty, $195.00

Because of the offhand process, no two eggs will be exactly alike! The underside of the Egg is embossed with Dave's special stamp that reads "DLF Fenton" (shown at left). Click here to learn more about master glass artisan Dave Fetty. Click on the image for details or click here to view all
our remaining creations by Dave Fetty.



The Fenton "Luck of the Irish"
Made in America Handpainted Glass Bead
Our Luck of the Irish Milk Glass handpainted glass bead (0B008CD) was designed by Truda Mendenhall. This bead features tiny shamrocks with a bit o' leprechaun's gold. Each bead has a sterling Silver core (approx. 9/16'') embossed with Fenton USA. Because of the handmade process, the bead size may vary from 1/2'' to 5/8'' in diameter.
Fenton Made in America jewelry is handcrafted by our talented team of glass artisans. They are committed to maintaining the quality and the art of glassmaking to continue a tradition begun 107 years ago at the Fenton Art Glass Company. The handcrafted glass beads will fit most major brands of bracelets and necklaces.

Bead accessories are currently not sold online through our web site. We suggest you contact your local jeweler or Fenton dealer, the Fenton Gift Shop or another online supplier. You'll receive FREE SHIPPING via the U.S. Postal Service on your bead and Teardrop earring order. Click on the image for details or click here to view our entire collection of beads and Teardrop earrings.
Announcing the Fenton Frequent Buyer Program
for Made in America Handcrafted Beads!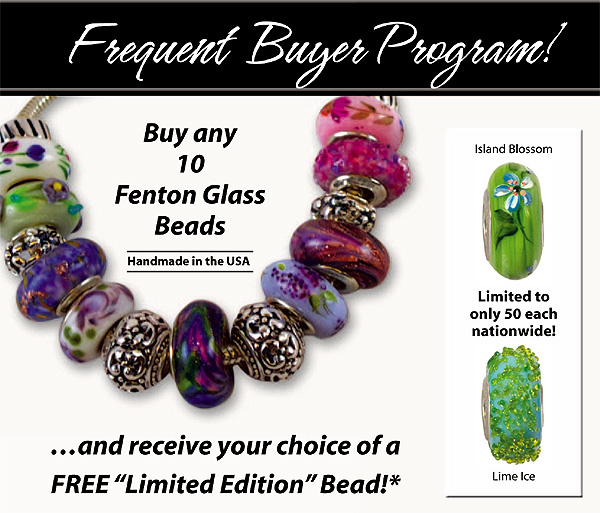 Here's your chance to receive a beautiful limited edition bead absolutely FREE! Simply purchase ten beads online from our website: www.fentonartlgass.com and you'll qualify for a bonus bead! We'll keep track of your orders. Once you have ordered ten beads, using the same customer name and address information, you'll receive your choice of the two limited edition beads shown above. This special promotion began January 1, 2012 and will end on December 31, 2012, so you still have time to get your "wish list" and "gift list" started! Those of you who have already purchased the required number of beads online will be contacted by Fenton about your free bead from the first edition selections shown above (Island Blossom and Lime Ice). Once the first Limited Editions (shown here) have been earned, this unique opportunity will continue with new limited edition beads available only to Frequent Buyers. Each edition of the Frequent Buyer beads is limited to just 50 beads nationwide. The 50th bead from each edition will be auctioned on eBay!
HOT LINKS. . .
Find great Fenton glass with these links to special offerings! Can't find it online? Contact your local Fenton dealer! Click here to locate an authorized Fenton dealer near you.