Happy Valentine's Day!

Fenton Gift Shop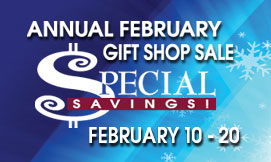 Fenton Gift Shop
SPECIAL OFFERINGS

220096
4-1/4'' Handpainted Rosalene Butterfly Figurine
$34.50
Buy Now!
This handpainted Rosalene Butterfly figurine was produced as a Fenton Gift Shop Exclusive. Rosalene contains pure gold in the formula and our skilled glassworkers coax the pink tone from within the molten glass by special reheating techniques.

220104
5-3/4'' Raspberry Iridized Vase with Handpainted Daisy Design
Limited Quantity
$125.00, Buy Now!

This Iridized Raspberry Vase has been handpainted with
a daisy design by Stacy Williams. Limited Quantity!
A5078HPZW
3-1/2'' Indigo Blue
Handpainted Elephant Figurine
$26.50, Buy Now!

Beautiful Indigo Blue glass handpainted with a festive design makes this elephant figurine a real treasure. Don't miss adding this Gift Shop Exclusive to your collection.
Z9188ML
7-1/4'' Azure Blue Tobacco Jar
$104.50, Buy Now!
Based on an original Northwood design (ca. 1910), the Fenton Grape and Cable Tobacco Jar is one of the most collectible items we've made during the past four decades. These make a great collection, but just one is a good conversation piece. Our latest version in luscious Azure Blue is a beauty, and this color really makes those grapes sparkle!
Fenton Gift Shop
Preferred Seconds
Great Buys On Specially Decorated Preferred Seconds

018627BHP
Preferred Second
7'' Sky Blue Pitcher
$47.50, Buy Now!
02744ZWHP
Preferred Second
Handpainted 8'' Flip Vase
$54.50, Buy Now!
Fenton USA Presents. . . While Supplies Last!
As the "wind down" of our remaining glass inventory continues at the Fenton factory in Williamstown, we are finding limited quantities of beautiful glass selections from the past and the present. There are also new handpainted designs on glass, never before offered in the regular advertised Fenton line... all of which are handcrafted in a variety of glass treatments and a rainbow of colors.
Shown at right is our Cobalt Fairy Light, titled Skating Party, which is handpainted in the Mary Gregory style. First featured in the Four Seasons Fairy Light offering, fewer than two dozen now remain. The Mary Gregory style of painting appeared more than 100 years ago as Painted Cameo. Only the skilled artists at Fenton continued this challenging decorating technique. Mary Gregory describes glassware that is painted with white enamel, resulting in raised details which create an image... the design usually depicts children as they enjoy seasonal activities. Each Fairy Light shade is signed by the talented Fenton artist who completed it.
Shown below are a few other selections. Now is the time to get your special piece of Fenton Art Glass, or plan ahead for a gift or special occasion. . . while supplies last! Click on each item shown above for details or click here to view
all remaining selections.

Meet Fenton's Bead Artisans. . .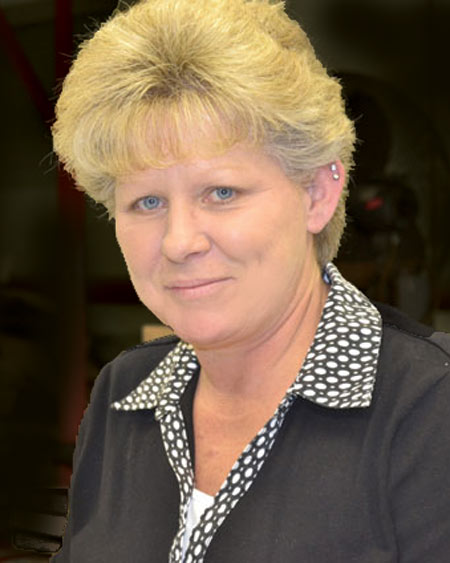 Fenton Made in America jewelry is handcrafted by our talented team of glass artisans. They are committed to maintaining the quality and the art of glassmaking to continue a tradition begun 107 years ago at the Fenton Art Glass Company.
Brenda Dotson is the quality control guru who manages the quality of the beads from beginning to end. Her 17 years in quality control for Fenton Art Glass assures all of us that you receive beautiful beads to be proud to own.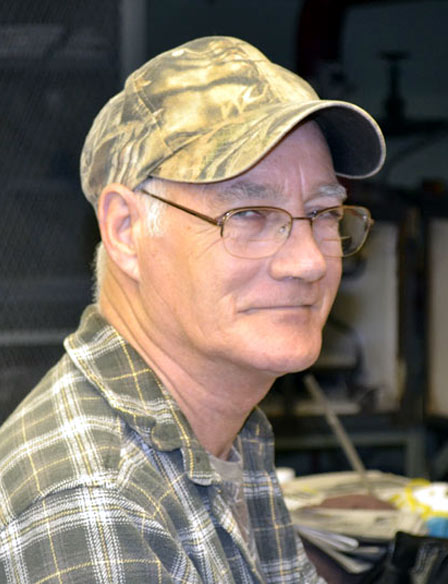 Charlie Porter is our ''jack of all trades.'' He pulls rods, quickly forms beads for decorating, inserts the sterling silver cores, and then packs every bead you receive from us. In other words, Charlie is a very busy fellow!
Coming Soon. . . 30 new Made in America glass bead designs that include handpainted designs as well as new styles in Aurora, Glassato, Three Dimensional, and Vasa Murrhina. Watch this newsletter for details! Click here to view the entire collection of beads and Teardrop earrings. Shown below is a bracelet with our new beads in pink and blue hues.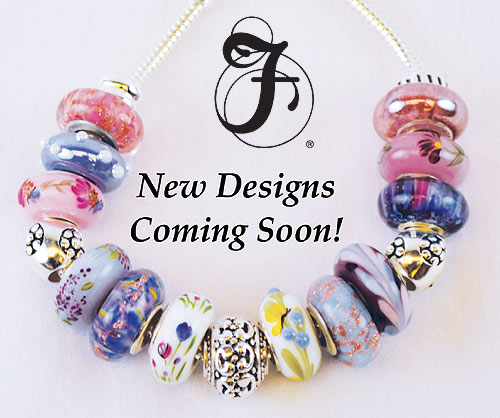 Fenton beads have a solid sterling silver core embossed with the Fenton USA logo. Each Fenton bead has its own individual character because of the handmade process. Beads will range in size from 1/2'' to 5/8'' in diameter. You'll receive FREE SHIPPING via the U.S. Postal Service on your bead and earring order, plus Fenton Made in America handcrafted glass beads will fit most major brands of bracelets and necklaces. Bead accessories are currently not sold online through our web site. However, we suggest you contact your local jeweler, the Fenton Gift Shop or another online supplier.
Fenton eBay Auctions
Own a unique Fenton creation, including rare, one-of-a-kind pieces, through our weekly eBay Auctions! Items featured this week...
HOT LINKS. . . to special offerings from Fenton USA!
Find great Fenton glass with these links to special offerings! Can't find it online? Contact your local Fenton dealer! Click here to locate an authorized Fenton dealer near you.