Fenton Gift Shop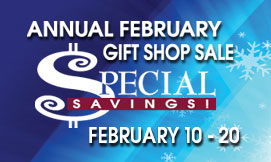 Fenton Gift Shop
SPECIAL OFFERINGS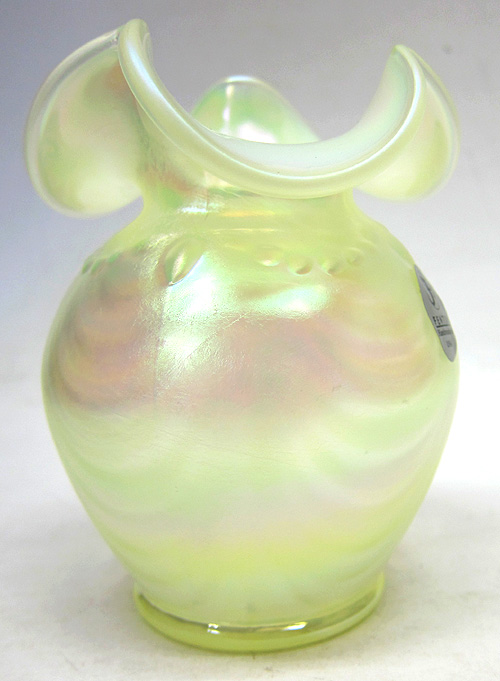 01834TS
4-1/4'' Topaz Satin
Drapery Optic Vase
$30.00, Buy Now!
This beautiful Topaz Satin glass vase is a real treasure for your collection.

220081
3-3/4'' Chocolate
Pig Figurine
with Floral Design
$45.00
Buy Now!


This Chocolate Pig figurine features a handpainted floral design and is numbered and limited to 36 pieces. Only a few remain!
C51463N
3-1/4'' Handpainted
Shell Pink Egg
on Stand
Limited Edition 1500 pieces
$39.00
Buy Now!


This Egg on Stand in Shell Pink glass will make an eye-catching addition to your egg collection! These Eggs are numbered and limited to 1500 pieces, and each Egg is signed by the artist who handpainted it.

Z82849Z
5-3/4'' Fenton Gift Shop Indigo Blue Footed Leaf Bowl, $49.50, Buy Now!
This Indigo Blue Stretch Footed Leaf Bowl with a beautiful center butterfly design would be a perfect addition to any collection. "Stretch" glass was first made in 1917 and has always been popular with collectors. The effect is simply breathtaking due to the striations that catch the light and shimmer. This Bowl measures 5-3/4'' dia. and 2-1/4'' high..
Fenton Gift Shop
Preferred Seconds
Great Buys On Specially Decorated Fenton Preferred Seconds

220111
8-1/2'' Preferred Second
Orange Slice Handpainted
Standing Rooster
$117.50, Buy Now!
Preferred Second. Our 8-1/2'' Standing Rooster in Orange Slice features a handpainted polka dot design.
U7391HP64
Preferred Second
6-1/4'' Burmese Vase
Originally $89.50, Now $52.50!
Buy Now!
Preferred Second. This beautiful 6-1/4'' Vase in Burmese features a lush handpainted floral design.
Fenton USA Presents. . .
In the Pink (and Red!) for February
February is the month for love. You'll see two dominant colors in this month: Red and Pink. Pink is the color of universal love and is considered the most romantic color. Pink is a tranquilizing, quiet color. Lovers of beauty favor the color pink. Did you ever hear the saying that a pink carnation means "I will never forget you"? And don't forget the story that sports teams may paint the opposing teams' locker rooms bright pink so their opponents will lose energy! The most emotionally intense color, red, stimulates a faster heartbeat and breathing. It is also the color of love. In decorating, red is usually used as an accent. Fenton USA art glass is the perfect choice to use as accent pieces for your home decor!
We offer several selections in a variety of these two popular color hues, from Rosalene to Ruby. . . something to suit any mood! Click on each item shown above for details.

Internet Special . . .
Rosalene Handpainted Vase
Just a dozen remain of this beautiful 8-1/2''
tri-crimped Vase in Rosalene! Note the delicate brush strokes on the handpainted floral design. Add a touch of Spring to any room with this beautiful vase. Rosalene has pure gold in the batch, and our glassworkers coax the pink tone from within the molten glass by special reheating techniques. Each vase is signed by the talented Fenton artist who completed it. To view all of our Internet Specials, click here.
K4599HPRE - $99.80
8-1/2'' Rosalene Tri-Crimped Vase - Just 12 remain!

Meet Fenton's Bead and Teadrop Earring Designers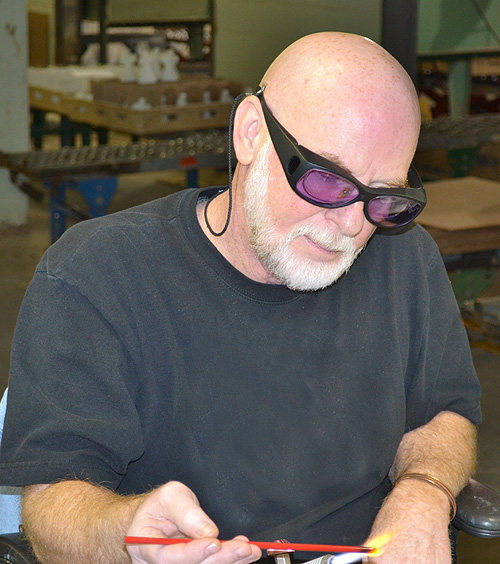 Fenton Made in America jewelry is handcrafted by our talented team of glass artisans. They are committed to maintaining the quality and the art
of glassmaking to continue a tradition begun 107 years ago at the Fenton Art Glass Company.
Tim Reynolds handcrafts our glass beads and Teardrop earrings. He is our master of the Carnival glass bead process. His experience in using metallic salts to create a rainbow of colors gives Fenton a unique style of beads (see the Green Carnival Bead as an example of his craftsmanship).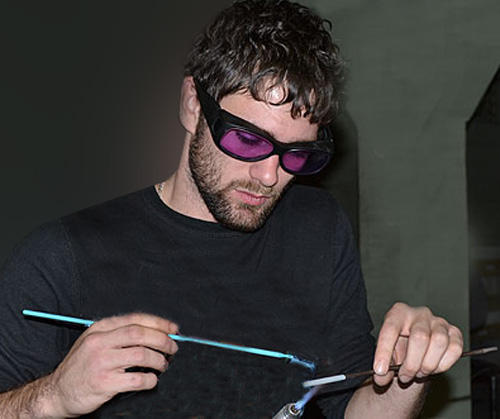 Coty Beaver uses his steady hands to create beads that require painting patterns with hot glass rods. He can blend streams of molten glass into consistent patterns on a spinning bead! View the Atlantic, Hobnail and Peony Blooms beads as examples of his creations.
Fenton's collection of handcrafted Made in America glass beads and Teardrop earrings includes select styles for all occasions! Shown below are a few selections. Click on each image for details or click here to view the entire collection of beads and Teardrop earrings.
Fenton beads have a solid sterling silver core embossed with the Fenton USA logo. Each Fenton bead has its own individual character because of the handmade process. Beads will range in size from 1/2'' to 5/8'' in diameter. Teardrop earrings range in size from 3/4'' to 1/2'' in length and feature a nickel-free sterling wire. You'll receive FREE SHIPPING via the U.S. Postal Service on your bead and earring order, plus Fenton Made in America handcrafted glass beads will fit most major brands of bracelets and necklaces. Bead accessories are currently not sold online through our web site. However, we suggest you contact your local jeweler, the Fenton Gift Shop or another online supplier.

Fenton eBay Auctions
Own a unique Fenton creation, including rare, one-of-a-kind pieces, through our weekly eBay Auctions! Items featured this week...
HOT LINKS. . . to special offerings from Fenton USA!
Find great Fenton glass with these links to special offerings! Can't find it online? Please contact your local Fenton dealer! To locate an authorized Fenton dealer near you, click here.