Click here
for details on the
Fenton Gift Shop
Annual February Sale!
Fenton Gift Shop
C29313K
6'' Ruby Paisley Slipper
with Handpainted Floral
$34.50, Buy Now!
This classic 6" Paisley Slipper, handcrafted in Ruby glass, features a lovely handpainted touch of floral design. Great gift for the Princess on your gift list!
310016
3-1/2''
Opal Satin Girl Bear Figurine with Pink Dress
$43.50
Buy Now!

This handpainted Opal Satin Girl Bear figurine is pretty in pink with an adorable dress and Mary Jane-style shoes.


M5039H2HM
4-1/4''
Key Lime
Cat Figurine Floral Design
$42.50
Buy Now!

This Key Lime handpainted cat figurine is a must have for figurine collectors or as a gift for anyone who loves cats!

220067
9'' Lotus Mist Burmese Vase
Tree Scene - Limited Quantity
$195.00 Buy Now!

This beautiful handpainted Lotus Mist Burmese vase is numbered and limited to 31 pieces. Only a few remain!
Fenton Gift Shop
Preferred Seconds
Great Buys On
Specially Decorated Fenton Preferred Seconds

U4558RUHP
Preferred Second
6-1/2'' Ruby Squat Vase
$59.50, Buy Now!
U5885RUHP
Preferred Second
8'' Ruby Trumpet Vase
$47.50, Buy Now!
Fenton USA Presents. . .
End-of-Month Savings Offer!
Haven't found something special for Valentine's Day yet? Choose from our wide selection of handcrafted glass and receive a 15% discount on select pieces! Shown above are a few selections from our online special savings offer. You'll receive a 15% additional discount (sale price will appear in red above each item) on glass from 2008, 2010 and 2011 year categories. This offer is valid on online orders only (no phone orders) from 5:00 p.m. on January 30 through 10 p.m. on January 31, 2012 (ET). Click on each item shown above for details or click on each year to view all available selections.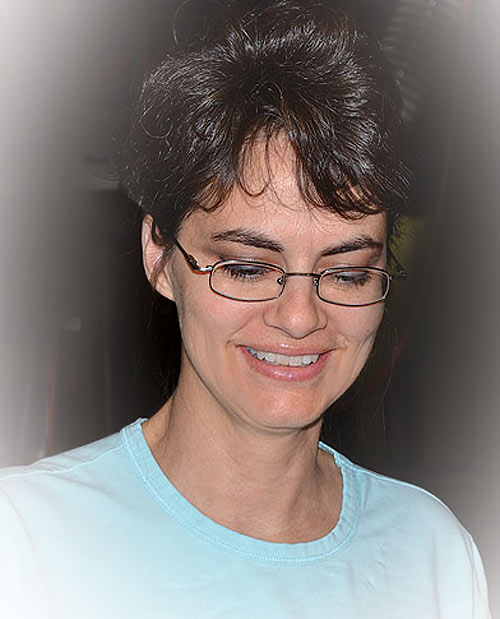 Meet Fenton's Bead Artists
Fenton Made in America jewelry is handcrafted by our talented team of glass artisans. They are committed to maintaining the tradition of quality in glassmaking begun 107 years ago at the Fenton Art Glass Company.
Michelle Kibbe (left) specializes in the difficult process of turning goldstone into Vasa Murrhina and Aurora (coming soon!) beads. Vasa Murrhina means vessel of gems. Typically, the bead artist rolls the hot glass in frit (crushed glass). No two beads will be exactly alike! Michelle is adept at training our bead artists on all of our bead styles and new techniques. As an example, please look at the Queen of Hearts Vasa Murrhina bead shown below.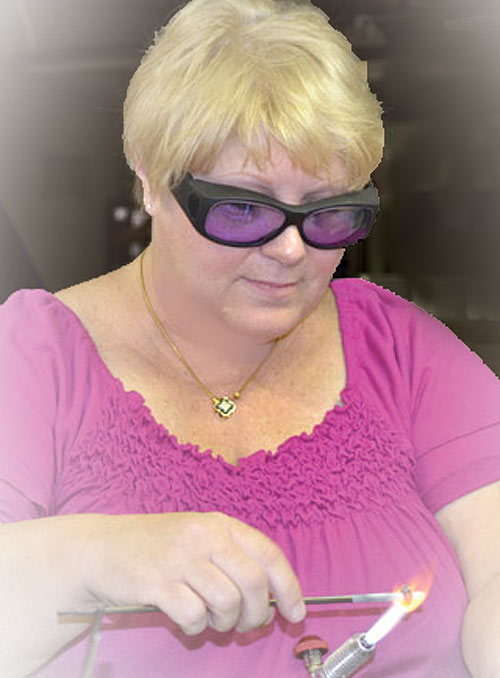 Sue Jackson (right) is also a Vasa Murrhina and Aurora bead artist. Beads made with crushed glass, or frit, are among her favorites. Sue handpaints beads using her 36 years of experience as a Fenton decorator!
Fenton's collection of handcrafted Made in America glass beads and Teardrop earrings includes styles for special occasions. Shown below are some of our Vasa Murrhina selections. Click on each image for details or click here to view the entire collection of Fenton Made in America glass beads and also our line of Teardrop earrings.
Fenton beads have a solid sterling silver core embossed with the Fenton USA logo. Each Fenton bead has its own individual character because of the handmade process. Beads will range in size from 1/2'' to 5/8'' in diameter.
You'll receive FREE SHIPPING via the U.S. Postal Service on your bead and earring order, plus Fenton Made in America handcrafted glass beads will fit most major brands of bracelets and necklaces. Bead accessories are currently not sold online through our web site. However, we suggest you contact your local jeweler, the Fenton Gift Shop or another online supplier.

Fenton eBay Auctions
Own a unique Fenton creation, including rare, one-of-a-kind pieces, through our weekly eBay Auctions! Items featured this week...
HOT LINKS! Find great Fenton glass with these links to special offerings! Can't find it online? Please contact your local Fenton dealer! To locate an authorized Fenton dealer near you, click here.