Fenton Gift Shop
220096
4-1/4'' Handpainted Rosalene Butterfly Figurine
$34.50
Buy Now!
This handpainted Rosalene Butterfly figurine was produced as a Fenton Gift Shop Exclusive.
220104
5-3/4'' Raspberry Iridized Vase with Handpainted Daisies
Limited Quantity
$125.00, Buy Now!
This Raspberry Iridized Vase is handpainted with a Daisies design by Stacy Williams. Limited Quantity!
220106
3-1/4'' French Opal Handpainted Rose Bowl
$35.00, Buy Now!

This handpainted French Opalescent Rose Bowl was produced as a Fenton Gift Shop Exclusive.
X5269PJ
3'' Madras Pink
Butterfly Figurine
Originally $24.00, Now $20.00 Buy Now!
Let your heart take flight with pleasure. . . this lovely Madras Pink Butterfly figurine reminds us of a perpetual springtime.
Fenton Gift Shop
Preferred Seconds


220108
7'' Emerald Green Iridized
Preferred Second Doll Figurine
$24.00
Buy Now!
This Doll figurine is handcrafted in Emerald Green glass and was sprayed with metallic salts to create the iridized effect.
2220109
10'' Shiny Lotus Mist Burmese Preferred Second Vase
$87.50, Buy Now!
This beautiful Vase in shiny Lotus Mist Burmese features a handpainted golden pheasant in flight.
Fenton eBay Auctions
Own a unique Fenton creation, including rare, one-of-a-kind pieces, through our weekly eBay Auctions! Items featured this week...
Fenton USA Presents. . .
Handcrafted Treasure Boxes
Give a gift that that keeps on giving. . . handcrafted functional glass from Fenton USA. We have many beautiful pieces that will make unique Valentine's Day, Birthday, or Thank You gifts. . . or treat yourself! Show someone you care with our handcrafted Opal Satin heart-shaped 4'' Hummingbird Treasure Box. . . functional, yet beautiful. The handpainted details on the hummingbirds and flowers were designed by Stacy Williams.

Home is where the heart is. . . and what better way to express this sentiment than this heart-shaped Opal Satin 4'' Treasure Box featuring a handpainted welcoming door scene? Place a momento or note inside to make this gift extra special!

Our 3'' Purse is really a covered box perfect for storing life's little treasures! Handcrafted in Fern Green with a fun swirl and floral handpainted design by CC Hardman. A great Valentine's Day gift - simply put a personal love note inside! Just 9 of these Treasure Box Purses remain!

The lovely 4'' Elephant Treasure Box is handcrafted in our classic Burmese glass - which has pure gold in the formula to create the soft pink blush. This elephant has an upturned trunk - a good luck symbol and perfect for keeping your rings in place! The handpainted design is by Stacy Williams.
Each handpainted Treasure Box is signed by the talented Fenton artist who
completed it. Click on each item shown above for details or click here to view more First Final selections.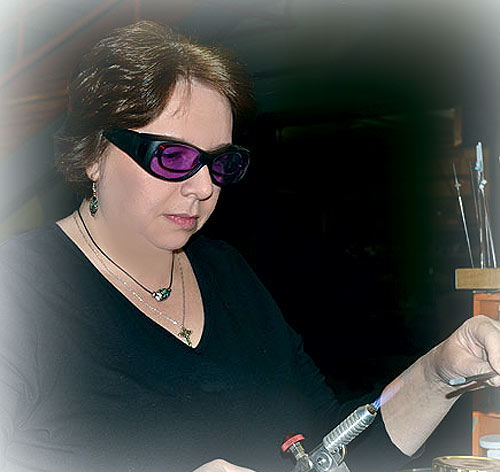 Meet Fenton's Bead Designers
Fenton Made in America jewelry is handcrafted by our talented team of glass artisans. They are committed to maintaining the quality and the art of glassmaking to continue a tradition begun 107 years ago at Fenton Art Glass Company.
Jena Lane Blair (left) designs our glass beads using remarkable, creative techniques. A beadmaking class seven years ago inspired her and she has been spinning beads nonstop ever since. Jena's can do attitude inspired us to form Fenton USA Beads. From our Carnival to Three Dimensional Beads, Jena's creativity sparkles!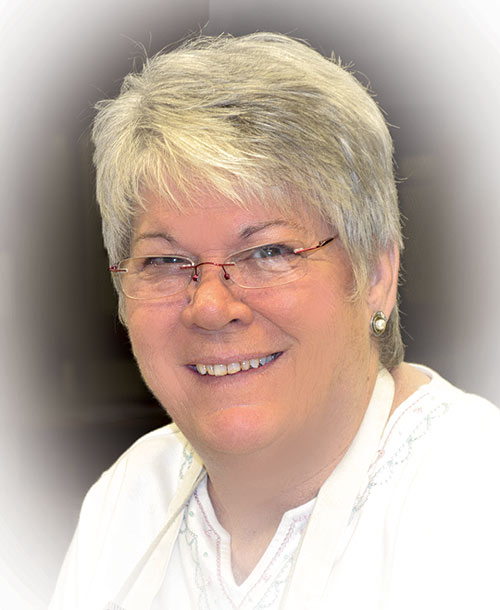 Truda J. Mendenhall became fascinated with the beadmaking and said ''Let's paint some!'' She has since designed all of the intricately handpainted Fenton beads. Truda worked out all the technical specs to make our handpainted designs both beautiful and durable. Fenton is the only beadmaker creating handpainted beads using high-fired enamel paints, giving Fenton's handpainted beads unmatched design flexibility and strong durability.
Fenton's collection of handcrafted Made in America glass beads and Teardrop earrings includes select styles for special occasions. . . like Valentine's Day! Shown below are a few selections. Click on each image for details or click here to view the entire collection of beads and Teardrop earrings.
Fenton beads have a solid sterling silver core embossed with the Fenton USA logo. Each Fenton bead has its own individual character because of the handmade process. Beads will range in size from 1/2'' to 5/8'' in diameter.
You'll receive FREE SHIPPING via the U.S. Postal Service on your bead and earring order, plus Fenton Made in America handcrafted glass beads will fit most major brands of bracelets and necklaces. Bead accessories are currently not sold online through our web site. However, we suggest you contact your local jeweler, the Fenton Gift Shop or another online supplier.

HOT LINKS!
Find great Fenton glass with these links to special offerings! Can't find it online? Please contact your local Fenton dealer! To locate an authorized Fenton dealer near you, click here.