Fenton Gift Shop
Special Offerings

220066
21'' Crystal Satin Torchier Lamp
$225.00 Buy Now!
This Torchiere Lamp features
a Crystal Satin shade. You'll see the excellence in the art
of handmade glassware in Fenton's lamps. Our eye-catching globe designs
radiate warmth to any room.

220065
5-1/4''
Ruby
and Milk Overlay Hobnail Pitcher, $95.00
Buy Now!
This Ruby and Milk Glass Overlay Hobnail Pitcher has a satin finish on the inside and an applied crystal handle. Hobnail is a collector favorite!



C42903V
6'' Ruby Candy Box
$92.00
Buy Now!
This attractive 6" Ruby Candy Box features handpainted berries with green/gold leaves and 22k gold highlights.

A5274HP2
2-1/2'' Autumn Gold Frog Figurine
$23.75
Buy Now!
Hop into happiness with this toad-ally awesome frog. Handpainted with a pretty daisy design, this Gift Shop Exclusive will make a great addition to your collection.
---
92045
8'' Square Holiday Plate
High Relief Fused Glass
SALE PRICE: $19.50, Buy Now!
25% OFF HOLIDAY FUSED GLASS
Nov. 3 to 5 p.m. on Nov. 10
Sale Price in Red!

Our 8'' Square Holiday High Relief Fused Glass Plate from Fenton International is perfect for serving holiday goodies! The scene depicts an angel handing out presents and includes the phrase: Give the gift, live the gift. High Relief Fused Glass by Anne Nye is pure, kiln-fired glass, sculpturally layered for texture and vibrant color! Fenton International features handcrafted artistic gifts
from around the world.
HOT LINKS!
Find great Fenton glass with links to special offerings on our website:
Fenton Fall 2011 First Final

Fenton USA Beads and Earrings


Some collectors collect pieces each year. Choose the year from these links:
2011
Fenton USA Fall 2011 First Final: Covered Boxes

06410HP61 - 5-1/2'' L. Turkey Covered Box
handcrafted in Opal Satin and Autumn Gold, $69.50

Our Fenton Fall 2011 First Final glass selections include this
5-1/2'' Turkey Covered Box. . . perfect for holiday entertaining. This mould originated at the L. G. Wright glass company.
The Opal Satin handpainted cover features a design by Stacy Wiliams. The base is handcrafted in Autumn Gold. Each handpainted Turkey Box cover
is signed by the talented Fenton artist who
completed it.

Click here to view more than 100 items available in the Fenton Fall 2011 First Final glass offering and be sure to check back to see what's new! Quantities may be very limited on many of the selections. Can't find it online? Our online glass inventory may be winding down, but authorized Fenton dealers around the country still have beautiful selections to choose from, so please contact your local Fenton dealer! To locate an authorized Fenton dealer near you,
click here.
Internet Special: Handpainted Bunny Covered Box

Our 4-1/2'' Covered Bunny Box is handcrafted in Opal Satin with a Black glass base. The cover features a handpainted folk art style design by Stacy Williams. Perfect to display at any time of the year for a country look or save for
the Easter holiday. Each handpainted covered box is signed by the talented Fenton artist who completed it.

Click here or on the image to order... just eight now remain in stock at $49.50 each. To view more Internet Specials, click here.

New Holiday Designs for Fenton's
"Made in America" Handcrafted Glass Beads. . .
We have beautiful new designs for the holidays in the Fenton line of Made in America handcrafted glass beads. Shown below are a few of the new bead designs. Fenton is the only beadmaker creating handpainted beads using high-fired enamel paints to give our beads unmatched design flexibility and strong durability. Each bead has a sterling silver core embossed with Fenton USA.
This holiday season, many people are looking for Made in America gift ideas
for someone special. . . choose your unique gift from our collection of Fenton
Made in America handcrafted glass beads and Teardrop earrin
gs.
Click here to view the entire collection. You'll receive FREE SHIPPING via the U.S. Postal Service on your bead and earring order. Fenton Made in America handcrafted glass beads will fit most major brands of bracelets and necklaces.
Shown at right are our new Holly Berry Teardrop earrings. Pair with our Holly Berry Wreath bead shown above for a festive holiday look! Bead accessories are currently not sold online through our web site. However, we suggest you contact your local jeweler, the Fenton Gift Shop or another online supplier.

Fenton Auction: Saturday, November 12
The preview and auction will be held at Randy Clark's Dexter City Auction Gallery, Dexter City, Ohio (exit 16 on I-77). For photos and auction listing, visit his website: www.randyclarkauctions.com Preview: Fri., Nov. 11, 8 a.m.-8 p.m. Auction: Sat., Nov. 12, 10 a.m.
Fenton eBay Auctions
Own a unique Fenton creation, including rare, one-of-a-kind pieces, through our weekly eBay Auctions! Items featured this week...
Fenton USA Fall 2011 Signing Events this weekend!
Meet George and Nancy Fenton at these locations:
Saturday, November 5: 9 a.m. - 1 p.m.
Downtown Antique Gallery
Boaz, AL 256-593-0023 downtownantiquegallery@gmail.com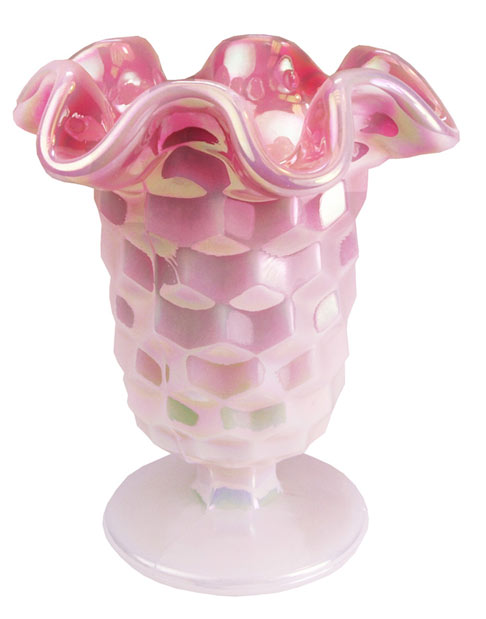 Sunday, November 6: 2 - 5 p.m. The Bronze Look II
Bluefield, WV 304-324-2933 www.thebronzelook.com

George and Nancy will personally sign your Fenton Family Signing Event Exclusive Vase (shown above) and all your Fenton purchases only during these special events. Please contact each Fenton retailer for details.