Fenton Gift Shop
Special Offerings

Z5148HPD
3'' Rosalene Natural Mouse
$36.00, Buy Now!
Produced as a Gift Shop Exclusive, this 3" Rosalene Mouse has handpainted details for
a natural look. His expressive blue eyes
will make this little guy
the perfect keepsake for someone special.
X7619ZL
3-1/2'' Fern Green Rose Bowl
Originally $37.00
Now $30.00, Buy Now!
This lovely, yet functional, Rose Bowl in refreshing Fern Green is great for potpourri, candies, a tea candle, or to display as
an accent piece by itself!
06656CC
9'' Cranberry
Adam's Rib Vase
Originally $99.50
Now $74.50, Buy Now!
Classic Fenton Cranberry ... Prestigious and so collectible! Pure gold in the glass formula imparts a deep, rich color. For everyone who loves Fenton Cranberry glass. This first quality Adam's Rib Vase will have variations of the classic Cranberry coloration.

GSC503413
5'' Opal Satin Angel,
Shelley Fenton Signature
Originally $34.50
Now $25.00, Buy Now!
This Opal Satin Angel figurine is personally signed by Shelley Fenton. The Angel is airbrushed and handpainted with splendid Spring colors. Each figurine is signed by the talented Fenton artist who completed it. Note the detail of the face and eyes and the sparkling glass "ice" on the wings.
---
HOT LINKS!
Find great Fenton glass with links to special offerings on our website:

Fenton Fall 2011
First Final

Fenton USA Beads and Earrings


Some collectors collect pieces each year. Choose the year from these links:

2011
Fenton USA 2011 ''Second Final - Lamps''

06333E9
22'' Burmese Diamond Optic
Student Lamp, $495.00
Just 1 available online
We've added a few more lamps to our latest introduction: Fenton Glass 2011 Second Final - Lamps. Fenton dealers around the country will have many of these beautiful lamps, and a select few of the lamps are
now available online. If you can't find it online, check with one of our authorized Fenton dealers. To locate a Fenton dealer near you, click here.

Fenton's classic Burmese glass provides the perfect canvas for this 22'' Student Lamp in Burmese Diamond Optic with a Michelle Kibbe design. Burmese contains pure gold in the formula which creates the soft, pink blush. Don't miss the wonderful Diamond Optic pattern on the shade.
Also included in this special final lamp offering are beautiful handcrafted lamps in a rainbow of Fenton colors and treatments. There are many styles from which to choose, ranging from our classic Burmese and rich Ruby glass, to Fenton's signature Gone with the Wind and student lamp styles. Our rich Fenton colors also provide the perfect canvas for beautiful handpainted decorations.

You'll see the excellence in the art of handmade glassware in Fenton's lamps. Our eye-catching globe designs radiate warmth to any room. Each handcrafted Fenton lamp shade was mouth blown by a skilled craftsman in our 104-year-old factory. Each decorated shade is proudly signed by the talented Fenton artist who completed it.


03048HPC
20½'' French Opalescent Satin
Student Lamp
Stacy Williams Design
$335.00 - 1 available!


03048HPD
20½'' French Opalescent Satin
Student Lamp
Kim Barley Design
$299.00 - 1 available!


02141HPN
20½'' Sunset Overlay Satin
Student Lamp
Stacy Williams Design
$335.00 - 1 available!

Shown above are three beautiful examples of true craftsmanship from our talented artisans. The first two lamps are handcrafted in Fenton Opalescent. French Opalescent glass contains special ingredients. During the glassmaking process, the hot glass item must be allowed to chill briefly before it is reheated to create the marvelous opalescent effect. Our glassworkers have mastered the techniques, and Fenton opalescent glass continues in the great tradition of American glassmaking.
The soft allure of our Sunset Satin blends beautifully with Milk Glass to create the Sunset Satin Overlay student lamp. For more than half a century, overlay colors have been produced by Fenton. Typically, a core of Milk Glass is gathered and shaped by a skilled glassworker called a Blocker. Then, a layer of colored glass is gathered over the Milk Glass. Our glass technologists assure that the two layers of glass will match perfectly, expanding and contracting at the same rate.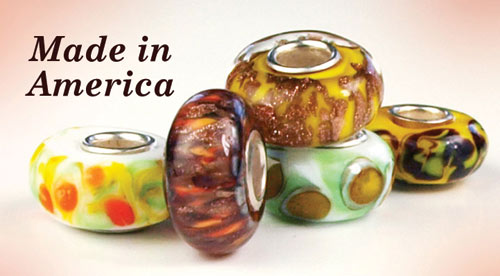 Fenton "Made in America" Handcrafted Glass Beads. . .
Fenton's handcrafted glass beads and Teardrop earrings are a great way to express one's personality, from fun and whimsical to soft
and alluring. Fenton is the only beadmaker creating handpainted beads using high-fired enamel paints to give our beads unmatched design flexibility and strong durability.

This holiday season, many people will be looking for Made in America gifts for that someone special. . . choose from our collection of Made in America Fenton handcrafted glass beads and Teardrop earrings. Click here to view the entire collection. Orders will be shipped FREE via the U.S. Postal Service. Fenton Made in America handcrafted glass beads will fit most major brands of bracelets and necklaces. Bead accessories are not sold online through www.fentonartglass.com at this time. However, we suggest you contact your local jeweler, the Fenton Gift Shop or another online supplier.
Fenton Auction Set for Saturday, November 12
400 lots of Fenton Art Glass from all eras of the factory history will be offered at auction on Saturday, November 12! The preview and auction will be held at Randy Clark's Dexter City Auction Gallery, Dexter City, Ohio (exit 16 on I-77).
For photos and auction listing, visit his website: www.randyclarkauctions.com
Preview: Fri., Nov. 11, 8 a.m.-8 p.m. Auction: Sat., Nov. 12, 10 a.m.
Fenton eBay Auctions
Own a unique Fenton creation, including rare, one-of-a-kind pieces, through our weekly eBay Auctions! Items featured this week...
Fenton USA Fall 2011 Signing Events - November 2011
Meet George and Nancy Fenton
at these two locations:
November 5: 9 a.m. - 1 p.m.
Downtown Antique Gallery
Boaz, AL 256-593-0023 downtownantiquegallery@gmail.com
November 6: 2 - 5 p.m. The Bronze Look II, Bluefield, WV 304-324-2933 www.thebronzelook.com

George and Nancy will personally sign your Fenton Family Signing Event Exclusive Vase (shown above) and all your Fenton purchases only during these special events. Please contact each Fenton retailer for details.