Fenton Gift Shop
Special Offerings
Z5535RJ
6 1/2''
Gift Shop Exclusive Rosalene Iridized Tree
$40.75
Buy Now!
Z7333HPSC
8'' Silver Crest Handpainted
Heart Bon Bon Dish
$99.00, Buy Now!
---
New from our Fenton International Division. . .
Holiday-theme High Relief Fused Glass designed by Anne Nye. Pure, kiln-fired glass that is sculpturally layered for texture and vibrant color! Fenton International features handcrafted artistic gifts
from around the world. To view more Fused Glass selections. click here.
92044
8'' Square Plate in Fused Glass
Snowman design by Anne Nye
$26.00, Buy Now!
92045
8'' Square Plate in Fused Glass
Give the gift, live the gift
Angel design by Anne Nye
$26.00, Buy Now!
92041
8'' Square Plate in Fused Glass
Ornaments design by Anne Nye
$26.00, Buy Now!
---
HOT LINKS!
These links will help you find great Fenton glass. The links below will take you to specific pages to shop for great Fenton finds:
Fenton USA Beads and Earrings


Some collectors collect pieces each year. Choose the year from these links:
2011
Fenton USA Presents. . . 2011 First Final

Our Fenton Glass 2011 First Final grouping includes beautiful new items plus a number of pieces produced earlier for the Fenton Gift Shop or for QVC. Will this offering will be the last for our traditional glass? We have tried to include all items with adequate (albeit limited) quantities and offer them for sale all at once, so you could see the whole picture, but we are sure there will be other items as we continue to clean out the factory. Click here to view our updated listing of more than 100 items in this special offering!

Included in this grouping are these beautiful 8-3/8'' dia. Butterfly Bon Bons, each handcrafted in Emerald Marigold Carnival. This Bon Bon is made with an historic mould, and the handpainted highlights were designed by Stacy Williams. The details on the butterfly in the center of each Bon Bon are highlighted in the following colors: Blue, Fuschia, Orange, and Ruby. These Bon Bons make a nice addition to any Carnival Glass collection!

In October 1907, Fenton Art Glass Company entered the marketplace with an exciting new line of glassware called ''iridescent ware'' which featured vivid, changing metallic hues on highly-patterned pressed glassware. Stories told about how this glassware was used as midway game prizes and the phrase Carnival glass was coined. When Fenton resumed production of their iridescent glass in 1970, we decided to call it Carnival glass and have done so ever since. The secret, both in 1907 and now, of Fenton Carnival glass is the special spray of metallic salts on the glass while it is very hot. We never cease to marvel at the rainbow of colors and the interesting hues.

Can't find it online? Our online glass inventory may be winding down, but many of our authorized Fenton dealers around the country still have beautiful selections to choose from, so please contact your local Fenton dealer! To locate an authorized Fenton dealer near you, click here.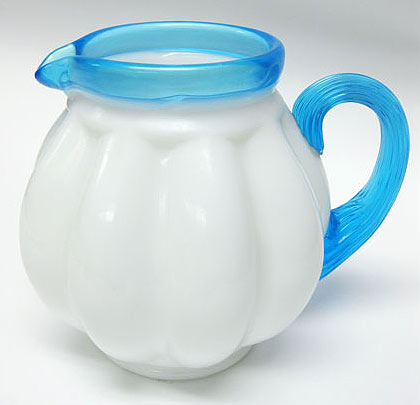 Fenton Auction on November 12
Word is spreading about the upcoming November 12 Auction! 400 lots of Fenton Art Glass from all eras of the factory history will be offered at auction on Saturday, November 12! There will be a variety of limited editions and samples in a variety of classic Fenton colors, including Connoisseur Collection, Glass Messenger Exclusives and items made for QVC, as well as other artisan selections. Two cameo samples by cameo artist Kelsey Murphy will be offered, including the ONLY Green/Milk Glass example of the Artistry vase. Shown at right is a Pitcher from the 1940s, which will be included in the auction. The preview and auction will be held at Randy Clark's Dexter City Auction Gallery, Dexter City, Ohio (exit 16 on I-77).
For photos and listing, visit his website: www.randyclarkauctions.com
Preview: Fri., Nov. 11, 8 a.m.-8 p.m. Auction: Sat., Nov. 12, 10 a.m.

Fenton eBay Auctions
Own a unique Fenton creation, including rare, one-of-a-kind pieces, through our weekly eBay Auctions! Items featured this week...
Fenton USA Fall 2011 Signing Events - November 2011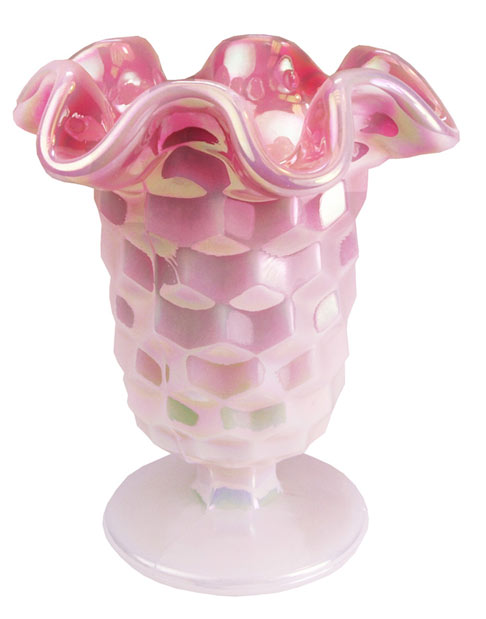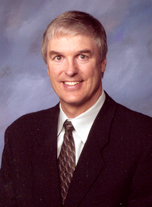 Meet George and Nancy Fenton
at these following locations in November:

November 5: 9 a.m. - 1 p.m.
Downtown Antique Gallery, Boaz, AL
256-593-0023 downtownantiquegallery@gmail.com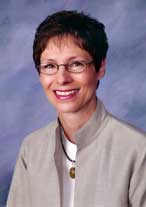 November 6: 2 - 5 p.m.
The Bronze Look II, Bluefield, WV
304-324-2933 www.thebronzelook.com

George and Nancy will personally sign your Fenton Family Signing Event Exclusive Vase and all your Fenton purchases at these two special events. This 4-1/2'' American pattern Rosalene iridized vase is available only at these events for $35. Please contact each individual Fenton retailer for event details.