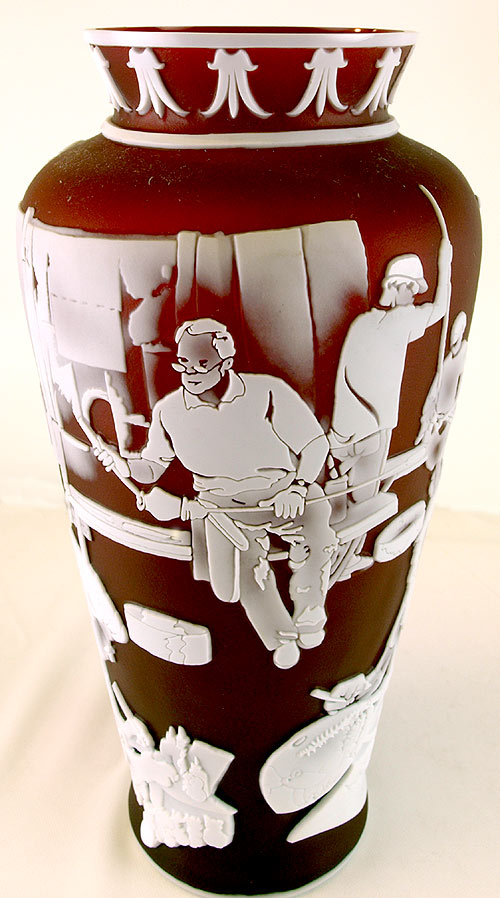 Fenton USA Presents. . .
Artists' Special Offer: 105 Years of Glass

Several years ago, cameo artists Kelsey Murphy and Robert Bomkamp designed and created a very special piece as a gift to Nancy and George Fenton. This cameo carved vase was Ruby glass with an overlay of Milk Glass, and the intricate carving featured Fenton factory scenes of skilled glassworkers and talented decorators.

In 2010, Kelsey and Bob designed and created a few similar examples
of this cameo vase, using a different Ruby/Milk glass vase shape. These were put aside as we pursued other projects, and we are now pleased to offer these remarkable vases for sale.
This is a limited edition of just 25 cameo carved vases
(some of which have already been sold)


Each vase is individually numbered and inscribed with the signatures of Kelsey Murphy and Robert Bomkamp.


Originally intended to be offered during 2010, these vases have the legend "105 Years of Glass" as well as the script "F" and "USA" logos on the bottom of each vase.


The vase stands about 10-1/4'' tall, and you can see glass artisans Dave Fetty and Frank Workman seated at their finishers' benches as well as viewing decorators Carol Griffith and Alice Farley and cameo carver Chris Carpenter. The details in this piece are simply amazing.


#08812CJX - Your Cost: $1,950.00 U.S. - FREE shipping and satisfaction guaranteed - Buy Now!


Note: please read the above descriptions carefully and do not mistake this vase for the limited edition Artistry vase priced at $2500 in 2010-11 that depicts Frank and Bill Fenton along with Louise Piper. The Artistry vase is no longer available.
---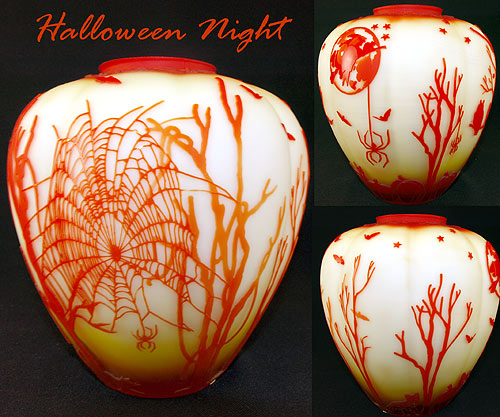 Artists Kelsey Murphy and Robert Bomkamp specialize in glass cameo carving, an exacting art that demands both skill in design and great dexterity in execution. They teamed with Fenton Art Glass to design and produce some remarkable limited edition pieces. Included in a special offering were some Developmental Proof vases. These vases were never entered into our regular product line.

We have just three remaining of this magnificent "Halloween Night'' Vase.

The detail surrounds this vase is truly amazing... from spiders with webs to a witch on a broom to flying bats and watchful owls to pumpkins amongst spooky trees and creeping cats on the prowl. This vase is handcrafted in Ruby glass with a Milk Glass interior, a combination that creates a splendid ''Halloween Orange'' effect.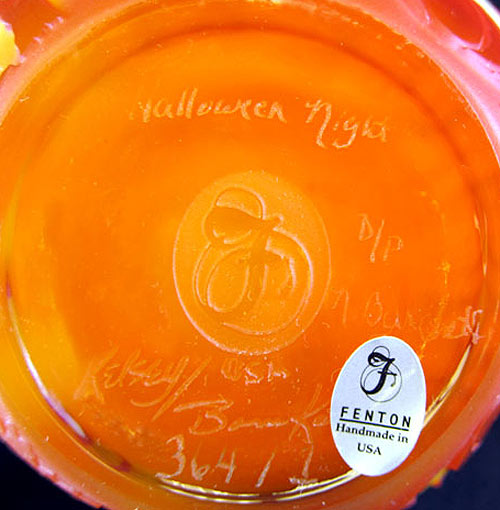 Each vase features the signatures of Kelsey and Robert, as well
as N. Burchett, who did the carving on these three pieces. The three vases are numbered 364/1, 364/2 and 364/3 for the project and vase number. Each vase is $750.00 U.S. Click on each image or number above to order - first come, first served.

What is Cameo Carving? Cameo carving is a painstaking process. After the glass has been annealed, a special mask is taped to the surface of the glass. Using advanced "vignetting" techniques, each piece is carefully sandcarved, by hand, using aluminum oxide crystals under pressure to take away some of the surface. Great individual skill and experience are needed to control this operation, as many distinct stages of successive cameo carving are required to create the remarkable depth and the intricate details.
Click here to view our selection of handcrafted cameo glass creations or contact your local Fenton dealer! To locate a dealer near you, click here. Visit our website: www.fentonartglass.com to see what's new from Fenton Art Glass!
---
For questions or comments, please do not reply to this email. Instead, email: askfenton@fentonartglass.com. This email has been sent to you because you have agreed to receive offers and information from the Fenton Art Glass Company. We respect your privacy and do not sell your personal information. For details, please review our privacy policy.
How to unsubscribe: If you prefer not to receive offers or information from Fenton Art Glass, please use this page.
If you use a Challenge-Response system for email, please make certain that you can receive our email by adding askfentononline@fentonartglass.com to your Allow List. For specific instructions for major ISPs, click here.
The sender of this email is the Fenton Art Glass Co., 700 Elizabeth St., Williamstown, WV, 26187
---