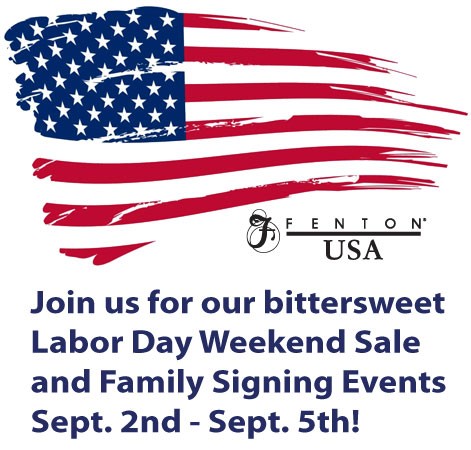 Enjoy 25% Storewide Savings (with minimal exclusions) as well as
a Fenton Family Signing Event each day and a Free Glass Identification Event on Sunday, September 4th at our Williamstown location!

Click here to print your 25% coupon and a schedule of special Labor Day Weekend events! We're looking forward to your visit at Fenton over Labor Day Weekend.

You may order by phone 9-6 through 9-9-11 from the Fenton Gift Shop by calling 800-319-7793 ext. 282, 321, 327, 383 or email us at service@fentongiftshop.com
Phone orders will also be accepted at our Flatwoods, WV factory outlet store (304-765-3430). Mention phone code LABORDAY25
for 25% storewide savings (with minimal exclusions) on 9-6-11 through 9-9-11!
CHECK OUT THESE
HOT LINKS!
The links everywhere in this newsletter will help you find great Fenton glass. The links below will take you to specific spots to shop for some super Fenton pieces:
Fenton USA Beads



Some collectors collect pieces each year. Choose the year from these links:
2011
IDF213
10''
Dave Fetty Mosaic Vase


SAVE 40%
Originally $200.00
Now $120.00
Buy Now!


Master glass artisan
Dave Fetty designed this dramatic vase (about 10'' tall) by combining colored frit for a mosaic effect with applied black glass to create the look of latticework. Embosssed with Dave's personal stamp.

IDF214
7'' Dave Fetty Mosaic Pitcher

SAVE 40%
Originally $250.00


Now $150.00, Buy Now!

Master glass artisan
Dave Fetty designed this wonderful pitcher by combining colored frit for a mosaic effect and applied black glass to create the look of latticework. This pitcher has an applied black glass handle and is embosssed with Dave's personal stamp.
Fenton USA Presents. . . 2011 Holiday Chums!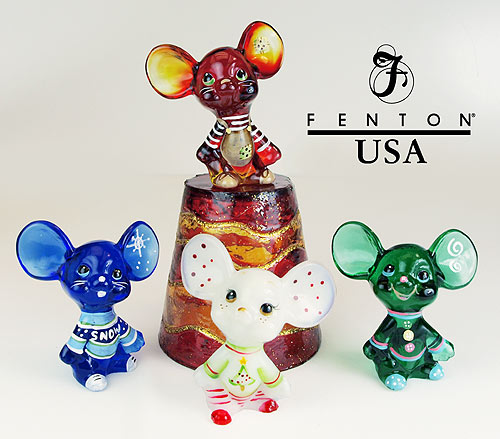 Our Holiday Chums for 2011 bring merry wishes to all this holiday season. These sweet accent pieces will add to your holiday decor or make perfect gifts for fun-filled friends. High quality glass figurines with a touch of whimsy! Each mouse and goose figurine sports a fun and festive handpainted design by Kim Barley. Included in this delightful grouping are our adorable 3'' Mouse figurines, handcrafted in a rainbow of colors.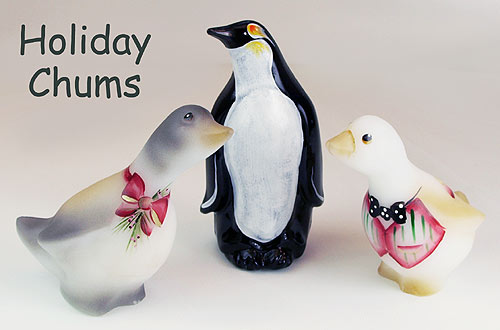 Our popular 4-1/2'' Penguin figurine returns for 2011 with a new design by Michelle Kibbe. The Penguin is handcrafted in Black glass. Each piece is signed by the artist who completed it. Mix and match with our other holiday figurines for a delightful tabletop display! Great stocking stuffer for a figurine collector or to introduce a child to Fenton Art Glass! Please click on each image for details. To view more Christmas 2011 selections, click here. Can't find it online, contact your local Fenton dealer! To locate a dealer near you, click here. They may have that special piece waiting just for you!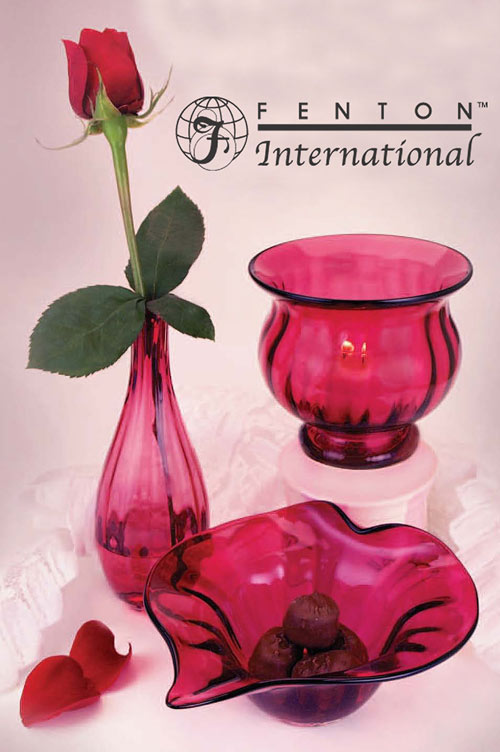 30% Savings
on Gold Ruby
from Fenton International
Add a touch of elegance
to your tabletop display with our beautiful Gold Ruby glass from Fenton International. Gold Ruby glass is the perfect gift for any special occasion.
Shown at left are the Bud Vase, Heart-shaped Bowl and a Hurricane Candleholder. Click on
each image for details.

Pure gold, dissolved in a mixture of two strong acids, creates a liquid which is added to the dry raw materials of a glass batch (silica sand, soda ash, and lime). The resulting rich, red glass is a collector favorite.

Each handblown piece is stamped with the Fenton International logo. The Gold Ruby collection includes a variety of shapes. . . ranging from bowls and baskets to pitchers and vases. . . all from original Fenton designs. For a limited time, you'll receive a 30% discount on Fenton International's
Gold Ruby selections. Offer valid from 5 p.m. on 9/1/11 through 5 p.m. on Wednesday, 9/7/11 (Eastern Time). Previous orders excluded from this offer. Fenton International features artistic, handcrafted gifts from around the world. For more Gold Ruby glass items from Fenton International, click here.
Fenton USA Fall 2011 Signing Events!
Meet and talk Fenton with George and Nancy Fenton at the following locations:

10/7/11, 6-8 p.m.
Kathie's Christmas Shop
Camp Hill, PA
717- 975-0505

10/8/11, 9 a.m.-Noon
Wood and More
%Root's Country Market Manheim, PA
717-244-4887

October 9
10 a.m.-1 p.m.
TLC Antiques
%Adams Antiques
Adamstown, PA
610-246-5241

October 10
10 a.m.-1 p.m.
Southgate Plaza Jewelers
Buffalo, NY 716-675-6994

Chat about
everything Fenton with Mike Fenton
at this location:
9/3/11
9 a.m.-4 p.m.
Fenton's Collectables Springfield, MO
(888) 818-6861


George, Nancy and Mike will personally sign this Signing Event Exclusive Vase and all your Fenton purchases at their events. This beautiful
4-1/2'' American pattern Rosalene iridized vase is available only at these events for $35.00. Please contact each Fenton retailers for details on these events.
---
Fenton eBay Auctions
Own a unique Fenton creation, including rare, one-of-a-kind pieces, through our weekly eBay Auctions! Items featured this week...