FENTON ART GLASS
NEWS UPDATE
Check our website at www.fentonartglass.com for the latest company update of July 25, 2011.

PLEASE NOTE:
The Annual Fenton Gift Shop Tent Sale has been extended through
August 14, 2011.

CHECK OUT THESE
HOT LINKS!
The links everywhere in this newsletter will help you find great Fenton glass.
The links below will take you to specific spots to shop for some super Fenton pieces:

Some collectors collect pieces each year. Choose the year from these links:
Fenton eBay Auctions
Own a unique Fenton creation, including rare, one-of-a-kind pieces, through our weekly eBay Auctions! Items featured this week...
Fenton International
Fenton International features artistic handcrafted gifts from around the world.
Click here to view all of our Fenton International selections or choose from the items shown below.

80080
9'' Pear Ceramic Envelope Vase by Romy & Clare $34.50

FG959
7-3/4'' Fiberglass
Snowman Head Bell, $22.50


92026
15-1/2'' Heart-Shaped
Fused Glass Platter designed by Anne Nye, $59.50
Shop for Something Special from Fenton USA!
Trying to shop online for just the right gift or for something special for yourself can sometimes take quite a while... so we are providing some quick links to help you find what you are looking for more easily! Be sure to check your upcoming newsletters for new Bead offering coming soon as well as limited groupings in some of our favorite Fenton colors!
Can't find it online? Please contact one of our authorized Fenton dealers! They may have that special piece waiting just for you! To locate a dealer near you, click here.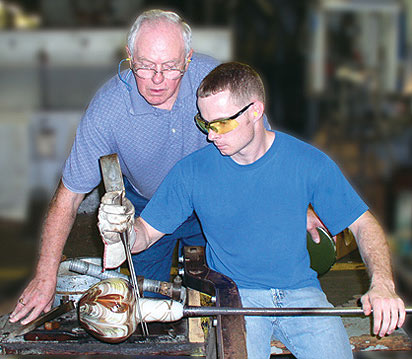 Dave Fetty and Frank Workman
Dave Fetty joined Fenton Art Glass in 1965. He worked closely with artisan Robert Barber in the mid-1970s, designing and making some of Fenton's first limited edition pieces. Later, as a production supervisor and trainer, Dave helped other Fenton glassworkers develop special skills. Although he retired in 1998, Dave continued to contribute his design and glassmaking talents to Fenton, producing unique items that are tributes to American art glass. Click here to view more works of glass art from master glass craftsman Dave Fetty.
Since joining Fenton in 1996, Frank Workman has mastered all the traditional skills of the glassmaker. In recent years, he worked closely with master glass artisan Dave Fetty and taken on some of the most challenging jobs in our factory. However, Frank most enjoys working "off hand," producing vases and similar objects with a basic mould and creating vivid decorative motifs ranging from hanging hearts and thin threads to amazing swirls, twists and exaggerated geometric patterns. During his years at Fenton, Frank has developed his own style and his own fans among Fenton collectors. Click here to view more of Frank's unique creations.
Fenton's Decorating Designers!
Fenton's decorating designers continue to amaze us with their high level of artistic talent and imagination. Our award-winning design team works diligently to create handpainted decorative motifs that will complement the glass which is to be painted. Each design is a challenge, for it must conform to the curved surfaces of the glass and special paints must be carefully blended to attain the vibrant colors that Fenton collectors love. Shown above are Kim Barley, Michelle Kibbe, J. K. ''Robin'' Spindler, and Stacy Williams. Click on each image for their biography and on each designer's name to view their handpainted designs.
---
Fenton USA Internet Specials!
Internet Specials include limited quantity items, most
with unique handpainted designs or treatments, to be
sold only through our web site as an Internet Special.
To view all Fenton USA Internet Specials, click here.

XC064Z8
4-1/2'' Top Hat Vase by Frank Workman
$195.00, Just one available!
---
Kelsey Murphy and Robert Bomkamp
Artists Kelsey Murphy and Robert Bomkamp call their southern West Virginia studio "Made in Heaven," and the name is an apt one, indeed. Collectors and museums alike have come to regard Kelsey and Robert's work as "heavenly!" Kelsey and Robert specialize in glass cameo carving, an exacting art that demands both skill in design and great dexterity in execution. They teamed with Fenton Art Glass to design and produce some remarkable limited edition pieces.

Cameo carving is a painstaking process. After the glass is annealed, a special mask is taped to the surface of the glass. Using an advanced "vignetting" technique, each piece is carefully sandcarved, by hand, using aluminum oxide crystals under pressure to take away some of the surface. Great individual skill and experience are needed to control this operation, as many distinct stages of successive cameo carving are required to create the remarkable depth and the intricate details.

Click here to view cameo carved selections designed by Kelsey Murphy and Robert Bomkamp. Each piece features the distinctive signature stamp of Kelsey and Robert. NOTE: The quantities are very limited on the cameo carved pieces.