FENTON ART GLASS
NEWS UPDATE

Several employees will be "pulling rods" this week, and this is the method we use to create the glass rods for our
beadmakers. Our made in America handcrafted glass beads are both innovative
and unique, as they range
from interesting glass colors and treatments to remarkably detailed handpainted motifs.
Each Fenton bead has a sterling silver core inscribed with Fenton USA. Many Fenton dealers around the country and the Fenton Gift Shop here in Williamstown already have our beads in stock.

New bead assortments in a wide variety of colors will be offered soon. Shown at left is our Aquamarine bead (0B714A), which will be offered later this summer. To view our current selection of made in America glass beads, click here.

We're looking forward to
seeing many Fenton collectors
here soon. The National Fenton Glass Society convention is July 30 through August 1, and the Fenton Art Glass Collectors of America convention is August 2 through August 4.

Thanks again for your support,


George W. Fenton, President
---

260049
6-1/4'' Dave Fetty
Hanging Hearts Favrene Egg
Original Price $295.00,
Now $206.50, Buy Now!
Only 3 remain of this
Fenton Favrene Ostrich Egg! These large beauties were handcrafted by master glass artisan Dave Fetty. Each Egg features Dave's classic Hanging Hearts and random threading. Each Egg is personally signed by Dave Fetty. These Ostrich Eggs measure approx. 6" tall.
Fenton International
94003
4'' Crystal Votive w/tea light
and handpainted design
''Party, Party, Party, Party''
$13.50, Buy Now!
Fenton International features artistic handcrafted gifts
from around the world. Our Votive collection features seven votives, each with a different saying. The sparkling crystal votive is handcut with special wheels and whimsical handpainted messages and designs by Fenton artist Stacy Williams. Each votive includes a tea light and arrives gift boxed in an attractive and sturdy Hold that Thought gift box. This votive message reads: Party, Party, Party, Party. For more Fenton International glass creations, click here.
Fenton USA Presents. . . Cameo Carved Creation!
Our Persimmon glass provides the
perfect canvas for this Fish Bowl design by Kelsey Murphy and Robert Bomkamp. This 3-1/2'' tall by 4-1/2'' diameter Rose Bowl is handcrafted
in Persimmon glass, a new color in 2010. Originally limited to 95 pieces, only 18 now remain in
our online inventory. Click on either the image or on the ware number to order.

Cameo carving is a painstaking process. After the glass has been annealed, a special mask is taped
to the surface of the glass. Using
an advanced "vignetting" technique, each piece is carefully sandcarved,
by hand, using aluminum oxide crystals under pressure to take away some of the surface.

Great individual skill and experience are needed to control this operation, as many distinct stages of successive cameo carving are required to create the remarkable depth and the intricate details.


04710CJR
3-1/2'' Persimmon Cameo Carved
Rose Bowl
Limit: 95 pieces
Fish Bowl design by Kelsey Murphy
and Robert Bomkamp, $455.00

To view more handcrafted Fenton glass, click here for our latest offerings.

Can't find it online? Contact one of our authorized Fenton dealers! To locate a dealer near you, click here.

Fenton USA Internet Special. . .
Handcrafted Double Ball Lamp
The beauty of this 23" Double Ball Lamp is enhanced
by Michelle Kibbe's elegant handpainted design
of vining leaves in antique gold foil and green paints.

Handcrafted by our skilled glassworkers in Autumn Gold with a satin finish, this lamp will add a warm glow to any room. Just 14 remain of this lamp, handpainted especially as an Internet Exclusive for Fenton USA.

Internet Specials include limited quantity items, most with unique handpainted designs to be sold only through our web site as an Internet Special.

To view more Internet Specials, click here.

X8996HPA
Autumn Gold Opal Satin
23'' Double Ball Lamp
$399.50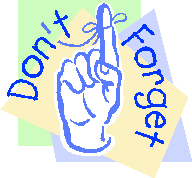 ---
Fenton USA on QVC this week!
Our Fenton Garniture Contest Winner has been chosen! Susan Fisch, who lives in Montana, provided the winning entry. Congratulations to Susan! Our question, What is a Garniture? The answer: A Garniture is a special ''set'' of items, and Fenton has created many such sets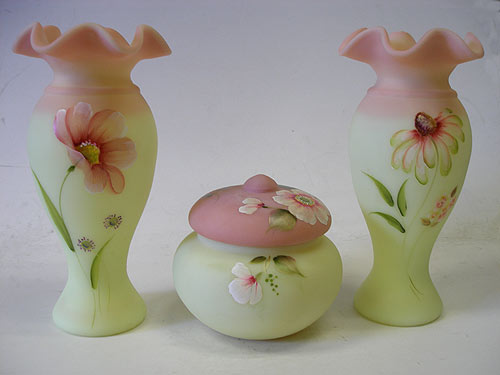 over the years. These range from console sets to vanity sets to sets of matching vases.
Don't forget to catch the QVC shows featuring Fenton USA handcrafted glass (including this beautiful Garniture Set)!
Mark these dates on your calendar:
July 14 at 6:00 a.m. (Eastern Time) and July 16 at 4:00 a.m. (Eastern Time).
Click here for a preview of all of the items to be offered during these two shows.

---
Fenton eBay Auctions
Own a unique Fenton creation, including rare, one-of-a-kind pieces, through our weekly eBay Auctions! Items featured this week...
---

Z5228HPIE
7'' Fenton Gift Shop Exclusive Burmese Bridesmaid Doll Figurine, $76.50, Buy Now!

Delicate handpainted roses and hearts and a flowing ribbon adorn the skirt of this Fenton Gift Shop Exclusive Doll figurine. Handcrafted in Burmese glass, which contains pure gold in
the formula.


Z5228HPAB
7'' Cobalt Blue Patriotic Butterflies Bridesmaid Doll Figurine, $54.50, Buy Now!

A Gift Shop Exclusive, this Cobalt Blue Bridesmaid
Doll figurine features a handpainted patriotic butterfly motif. Each figurine is signed by the talented Fenton artist who completed it.


Z52284B
7'' Fenton Gift Shop
Cherry Blossoms on
Indigo Blue Doll Figurine
$61.25, Buy Now!

This Cherry Blossoms on Indigo Blue Doll figurine was produced as a Gift Shop Exclusive. This figurine will surely be sought after for years
to come.