FENTON GIFT SHOP
SPECIAL OFFERINGS!

K5058HPE
3-1/2'' ''July'' Elephant
$45.00, Buy Now!





Have you herd about our newest Gift Shop Exclusive?
It's the sixth in our monthly series of handpainted Elephant figurines. This adorable July baby Elephant just might bring a little luck into your home!
Z5228HPB
7'' Patriotic July 4th
Doll Figurine, $61.25, Buy Now!
Another Star Spangled Gift
Shop Exclusive! Introducing
our handpainted 4th of July Bridesmaid Doll figurine, the second in a series of four holiday offerings. Made in the USA and proudly signed by the artist, this Opal Satin collectible will sparkle in your home for many years!
Z5148HPM
3'' July Calendar Mouse
$37.50
Buy Now!

Don't Miss Out...Order Yours Now! Our series of 12 handpainted mice includes this July mouse figurine. Limited in quantity and signed by the artist, these adorable creatures will create quite a stir among
our avid Fenton figurine collectors.

Z5145HPC
3-3/4'' Opal Iridized American Flag Egg on Stand $38.50
Buy Now!
This Gift Shop Exclusive is a lasting symbol of American pride! This Opal Iridized Egg on Stand features a handpainted American flag scene.

Limited Quantities!
DS794HP1
3-1/2''
Opal Satin July 4th
Bear Figurine
$45.00
Buy Now!

Only 4 remain!

Free Shipping on this item! Proudly display this adorable, patriotic 3-1/2" July 4th Bear figurine. Signed by the artist and inscribed with Collectors' Showcase logo on the bottom.

Z5063HPA
3'' Patriotic Hippo
Figurine
$39.75
Buy Now!

Only 6 remain!
Hip-Hip Hooray! Handcrafted with pride in Williamstown, WV. This Fenton Gift Shop Exclusive handpainted Hippo figurine is signed by the artist.
Fenton USA Presents. . . Robin's Egg Blue!
Add a touch of summer to your tabletop display with these lovely, handpainted selections from our latest offering: Summer Bling! Robin's Egg Blue provides the perfect background for this beautiful handpainted floral motif designed by Stacy Williams. Our lovely, languid Robin's Egg Blue will add just the right touch of color to your home. Each handpainted piece is signed by the talented Fenton artist who completed it.
Click on each image or ware number for details. To view more Fenton USA glass, click here. Can't find it online? Contact one of our authorized Fenton dealers! To locate a dealer near you, click here.
Fenton USA on QVC.com
Don't forget our Garniture Contest!
See the June 19th newsletter for details. Contest closes at Noon (Eastern time) on Tuesday, July 5, 2011. All entries must be submitted via email to askfenton@fentonartglass.com
with the phrase "garniture contest entry" in the subject line.
Fenton USA handcrafted glass will be featured on QVC on July 14 at 6:00 a.m. (Eastern Time) and on July 16 at 4:00 a.m. (Eastern Time). You won't want to miss your opportunity to own this lovely handpainted Open Bird, handcrafted in Robin's Egg Blue. Watch this newsletter for a preview of all of the items to be offered during these two shows.
Fenton eBay Auctions
Own a unique Fenton creation, including rare, one-of-a-kind pieces, through our weekly eBay Auctions! Items featured this week...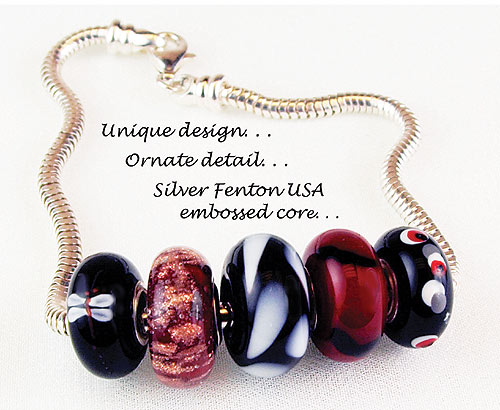 Fenton Made in America Handcrafted Glass Beads
Make your personal statement this summer with Fenton's Made in America handcrafted glass beads. Fenton's handpainted beads have unmatched design flexibility and strong durability.

Each bead features a Fenton USA sterling silver core and fits most popular bracelets and necklaces. The bracelet shown in this photo is not available for purchase through our website. Click on each bead for details or click here to view our Made in America handcrafted glass beads.