FENTON GIFT SHOP
SPECIAL OFFERINGS!

C5163DC
4'' Ruby Satin Songbird Figurine
$39.50, Buy Now!
This 4'' Songbird in Ruby Satin glass will make an eye-catching addition to your feathered friends figurine collection! Signed by the artist who handpainted it.
I5041HPB
4'' Opal Satin Zebra Finch
Bird Figurine
$37.00, Buy Now!

A perfect companion piece to the Natural Birds collection. Handcrafted in our Opal glass, this figurine features the realistic design of a Zebra Finch. Each piece is signed by the talented Fenton artist who completes it.
C72411X
3-1/2'' Black Rose Bowl
with Milk Glass Ring
Mary Gregory-style design
$79.50, Buy Now!

Limited time... Originally $79.75, Now $60.00! Stunning black beauty! This rose bowl is handcrafted from black glass with a delicate Milk glass ring and a six-point crimp. The handpainted Mary Gregory-style design by Stacy Williams features birds on flowering branches. The other sides of the bowl have smaller flowering branches. You can use this versatile bowl as a votive with a small candle or to store small treasures on your dresser top.
027243Z
8'' Black Marigold Lion Bowl
$71.50, Buy Now!

Avid carnival collectors will especially love this striking Black Marigold Lion Bowl. Produced as a 2008 Gift Shop Exclusive, this piece is a must have for any Carnival collection.

LIMITED QUANTITY AVAILABLE!
XS323HP
9'' Black Satin Handpainted
Ginger Jar, $99.50, Buy Now!

Only 6 remain! Originally 119.50, Now $99.50. This Black Satin Ginger Jar proviodes an elegant background for the lovely handpainted floral design.

C5033M2
4'' Black Elephant Treasure Box $44.00, Buy Now!

Only 4 remain! An elephant never forgets, so sculptor Suzi Whitaker created a whimsical memory box to store life's precious treasures. This Treasure Box Elephant also offers up his trunk to serve
as a ringholder and as a good luck charm.

Happy Father's Day!
Blessed indeed is the man who hears many gentle voices call him father! — Lydia M. Child
Sonora Smart Dodd is credited with the idea for Father's Day. Raised, along with her siblings, by her widowed father, Sonora wanted him to know how special he was to her. Since Sonora's father was born in June, she chose to hold the first Father's Day celebration in Spokane, Washington on June 19, 1910.

In 1924, the third Sunday in June was proclaimed as Father's Day by President Calvin Coolidge. In 1972, President Nixon established a permanent national observance of Father's Day to be held on the third Sunday of June. Some observe the custom of wearing a red rose to indicate that one's father is living or a white rose to indicate that he is deceased.

The Richness of Ruby Glass. . .
We're saluting the Fenton Ruby color
for Father's Day.

Ruby glass is a collector favorite. Shown here are some beautiful Ruby glass creations, born in
the fiery furnaces
of Fenton.

Click on each image or ware number for details.
Fenton USA Bird and Cat Figurines. . . Naturally!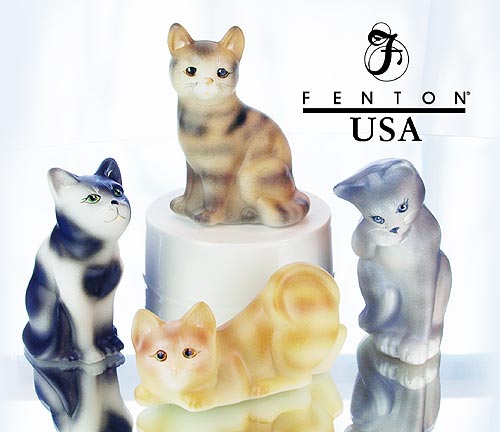 Our popular Natural Birds figurine collection has grown! For 2011, we've added these delightful handpainted cat figurines. These two groupings are handcrafted in our Opal Satin glass and feature detailed by Michelle Kibbe designs for a natural look. Shown above are the handpainted cat figurines:
the brown, yellow and gray tabby cat, and our black and white cat. Also available are Siamese and Calico cat designs (not shown).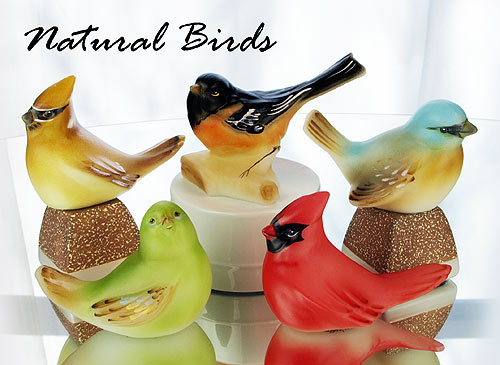 Michelle's handpainted designs on the Natural Birds figurines include the Cedar Waxwing, Yellow Warbler, Baltimore Oriole, Lazuli Bunting, and the Cardinal. Not shown are the Golden-tailed Sapphire Hummingbird and the Pine Grosbeak figurines. Each handpainted figurine is signed by the talented Fenton artist who completed it.

Click on each image for details. To view more Fenton USA glass, click here. Can't find it online? Contact one of our authorized Fenton dealers! To locate a dealer near you, click here.
''Garniture'' Contest. . . Fenton USA on QVC
The next Fenton shows on QVC (July 14 and 16) will feature a "garniture." What's a garniture, you ask? You tell us ... we're having a garniture contest!
In 75 words or less, do these things: (1) tell us what a garniture is; (2) mention previous garnitures from Fenton history; (3) submit one picture of a garniture from your Fenton collection. This contest closes at 12 noon (Eastern time) on Tuesday July 5, 2011. All entries must be submitted via email to askfenton@fentonartglass.com with the phrase "garniture contest entry" in the subject line. Fenton family members will serve as judges, and their decision is final. What's in it for the winner, you ask? Well, it could be
something really nice related to a Fenton garniture!

Fenton eBay Auctions
Own a unique Fenton creation, including rare, one-of-a-kind pieces, through our weekly eBay Auctions! Items featured this week...
---
There is Joy in the Journey. . .

from Fenton International
Our Fenton International line of High Relief
Fused Glass by Anne Nye is pure, kiln-fired glass, sculpturally layered for texture and vibrant color! Her creations range from wall art, glass on a stand, suncatchers, platters, plates and serving bowls.

Individually handcut glass chips are layered
over a glass base to form brilliant pieces with
a nature theme. Each piece is placed in a kiln. When the glass reaches 1400 degrees, a slow cooling process begins. When complete, the sharp glass edges are softly rounded, the colors
with the
layers fused together to form depth, texture,
detail, and personality.

92063
6'' Suncatcher -$24.00


92062 - 8'' Plaque w/stand - $39.00


Shown here are the There is Joy
in the journey Suncatcher and Plaque with stand.

Fenton International includes handcrafted artistic creations
from around the world. Click on each image or ware# for details
or click here to view more glass selections from Fenton International.