FENTON GIFT SHOP
SPECIAL OFFERINGS!
Z5039HPT6
4'' Cat that ate the Canary Figurine, $39.50, Buy Now!

This Robin's Egg Blue Satin Cat figurine is handpainted with a whimsical Cat that ate the Canary design. This new Gift Shop Exclusive is a must have for a Fenton cat collector.
Z5344HPA
7'' Robin's Egg Blue Seahorse Vase, $105.00, Buy Now!
The mystery and majesty of the ocean's depths are captured in the handpainting on this beautiful vase. Produced as a Gift Shop Exclusive in Robin's Egg Blue, this vase will be proudly displayed in your home for years to come.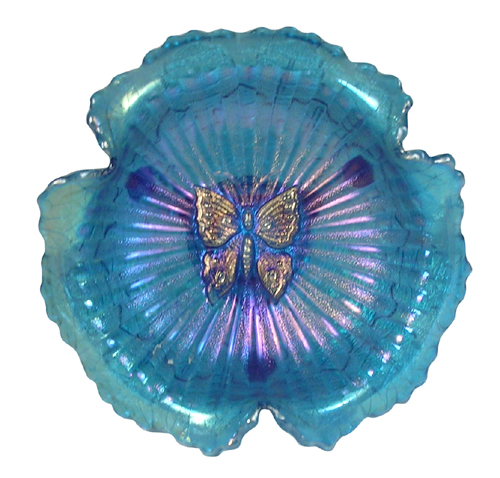 Z82849Z
5-3/4'' Indigo Blue Footed
Leaf Bowl, $49.50, Buy Now!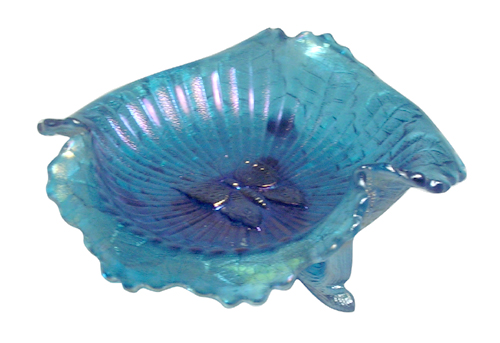 This 5-3/4'' dia. Indigo Blue Stretch Footed Leaf Bowl with a beautiful center butterfly design is perfect for any collection. "Stretch" glass was first made in 1917 and has always been popular with collectors. The effect is breathtaking due to the striations created as it catches the light and shimmers.
Z51654B
3-3/4'' Indigo Blue Cherry Blossom Cat Figurine
$39.50, Buy Now!
Nothing signals the arrival of Spring more than the sweet scent of cherry blossoms. A Gift Shop Exclusive, this Cherry Blossoms on Indigo Blue Cat figurine is a must have for any Fenton cat figurine collection.
LIMITED QUANTITIES!
130006
4'' Robin's Egg Blue Satin Working Elephant Figurine
$68.00, Buy Now!
Only two remain! This Fenton Gift Shop Exclusive Robin's Egg Blue Satin 4" Working Elephant figurine makes this seldom-used mould a great addition to your Fenton collection.
A5163HP
4'' Sky Blue Bird
$23.75, Buy Now!

Only six remain! Sky Blue glass requires special manufacturing processes to create both a wonderful translucent quality and interesting striations in each piece. This handpainted bird figurine was a 2008 Gift Shop Exclusive.
Fenton USA Presents. . .
The Connoisseur Collection
Since its inception in 1983, the Connoisseur Collection fulfills our commitment to creating rare and unusual glass treatments. The Fenton Connoisseur Collection has been the "best of the best," showcasing the skills of our glass artisans and decorators. This numbered and limited edition collection is a very special offering for those who love glass and desire the unique. We continue to strive for the unique by showcasing the skills of our glassworkers and the talents of our decoration designers and artists.

Included in the 2011 Connoisseur Collection are these four special pieces. Shown at right
is the 10'' Nouveau Vase. This vase, limited to 750 pieces, features a handpainted design created by Michelle Kibbe. The special Marigold iridescent treatment on the Milk Glass interior sets off the sanded Robinís Egg Blue exterior, and Michelleís handpainted floral motif complements all these colors. The Nouveau vase is inscribed with the signatures of
nine Fenton family members, continuing a tradition started some years ago to offer such highly collectible items in the Connoisseur Collection. 08557LV - Vase - Limit: 750 - $189
Our elegant Drifting Floral on Blue Burmese 6-1/2'' Vase, limited to 750 pieces, features a lovely floral design by Stacy Williams. This vase is handcrafted in Blue Burmese. Powder Blue and pure gold in the formula combine to make Blue Burmese a priceless work of art. The pure gold allows each piece to achieve its lovely rose shading during the reheating process.

The Charleton Fantasy Vase features a classic handpainted Charleton motif by Fenton designer Kim Barley. This vase is handcrafted in iridized Milk Glass with a Rose ring around the top. Limited to 750 pieces, this beautiful piece certainly lives up to the Connoisseur Collection name.

The beauty of Robin's Egg Blue Opalescent glass is captured in this 9-1/2'' iridized Diamond Lace Epergne with Milk Glass ring. Collectors will love the shimmering iridescence. This Epergne is limited to 500 pieces.


Each handpainted piece is signed by the talented Fenton artist who completed it. Click on each image or ware number for details. To view more new items from Fenton USA, click here. Can't find it online? Contact one of our authorized Fenton dealers! To locate a dealer near you, click here.
Internet Special. . .
Autumn Gold Satin Lamp
The beauty of this 23" Double Ball Lamp is enhanced by the elegant design by Michelle Kibbe featuring vining leaves handpainted in antique gold foil and green blends.

Handcrafted in Autumn Gold with a satin finish, this lamp will add a warm glow to any room.
Quantity is limited, with just 15 lamps available!
To view all Internet Specials, click here.
X8996HPA
23'' Autumn Gold Satin Double Ball Lamp
15 Lamps in stock - $399.50
Fenton USA on QVC.com
Be sure to mark your calendar and set your alarms for our next QVC shows! Fenton USA handcrafted glass will be featured on QVC on July 14 at 6:00 a.m. (Eastern Time) and on July 16 at 4:00 a.m. (Eastern Time). You won't want to miss your opportunity to purchase this Cobalt Blue Bell, handpainted with a patriotic floral design. Watch this newsletter for a preview of items to be offered during these two shows.

For an excellent reference book on Fenton Art Glass and QVC,
click here. Fenton Glass, Especially for QVC catalogs the history of glass produced exclusively for QVC from the first show in 1988 through Bill Fenton's retirement show and highlights items featured through August 2002. $24.95 postage-paid.

Fenton eBay Auctions
Own a unique Fenton creation, including rare, one-of-a-kind pieces, through our weekly eBay Auctions! Items featured this week...
---
Fenton Made in America
Handcrafted Glass Beads
and Teardrop Earrings

We thank you for the comments about
our launch of the Fenton Made in America handcrafted glass bead collection. Plans are in the works to add more designs to this popular collection. If you missed it, click here to view our Fenton Made in America Bead collection. Fenton Made in America Beads are compatible with all major brands of bracelets, necklaces and other accessories.

Coming soon! Fenton USA Teardrop Earring collection. Shown at right are the Dark Aqua Satin Teardrop Earrings. Fenton's handcrafted Teardrop Earrings will be produced in a rainbow of colors. Great to mix and match with your Fenton USA beads! Watch this newsletter for more!