FENTON GIFT SHOP
Special Offerings
Z5056HP
3-1/2'' Lotus Mist Burmese Dinosaur Figurine
$41.75, Buy Now!

Our adorable Lotus
Mist Burmese 3-1/2'' Dinosaur figurine is enhanced with an upbeat, fun, floral design. This Fenton Gift Shop Exclusive is a dino-mite gift for a figurine collector.
Z5151HPV6
3-1/2'' Sea Mist Green
Bear Figurine
$42.75
Buy Now!

Collectible and oh-h so cute... our Sea Mist Green Bear figurines. These 2009 Fenton Gift Shop Exclusives make unique gifts or additions to your Fenton Figurine collection!
Z5251HPA
2-3/4''
Sea Mist
Green
Mini Bear Figurine
$25.50
Buy Now!


Z5165HPB
3-3/4'' Lotus Mist Burmese Cat Figurine
$41.75 Buy Now!

Upbeat, whimsical florals are handpainted on this Lotus Mist Burmese collectible Cat figurine. This Fenton Gift Shop Exclusive makes a purr-fect gift!

LIMITED QUANTITY!

220018
3-3/4'' Dave Fetty
Hanging Hearts
Window Paperweight
Originally $145.00,
Now $101.50, Buy Now!

Only Two Remain of this unique Paperweight by Master Glass Artisan Dave Fetty. Dave combines his popular Hanging Hearts with windows. Note the red, yellow and orange swirls in this beautiful piece. Embossed with Dave's personal stamp. Signed Dave Fetty 09.


CV713AQ
7-3/4'' Autumn Gold Iridized Salad/Hors d'oeuvre Plate
$22.00, Buy Now!
Three Remain! This
7-3/4" Autumn Gold Iridized Salad/Hors d'oeuvre Plate is both beautiful and functional.
Fenton USA Presents. . . Glass Gifts for Children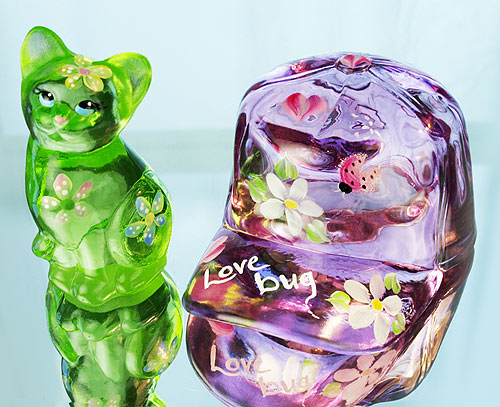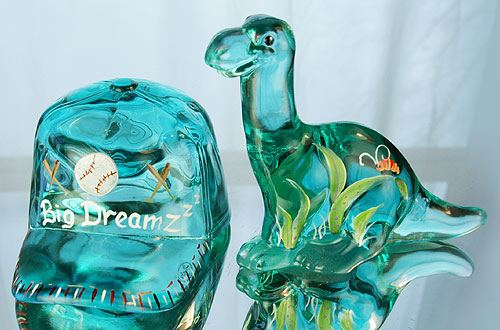 05365JI - 3'' Key Lime Mini Kitten Figurine; 05040HH - 4-1/2'' Rose Ball Cap
5040HX - 4-1/2'' Robin's Egg Blue Ball Cap; and 05056IR - 3-1/2'' Robin's Egg Blue Dinosaur Figurine
Among our new introductions for 2011 are several pieces themed for young collectors. These handcrafted figurines, priced at under $30 each, include the following: dinosaur,
kitten and rocking horse as well as two ball caps (Love Bug
and Big Dreamzzz).
You may choose from handpainted or unadorned. Mix and match for a unique display. The handpainted items feature whimsical designs sure to please the young and the young-at-heart.
Each handpainted piece is signed by the talented Fenton artist who completed it.

Click here to view more new 2011 selections from Fenton USA.
Can't find it online? Contact an authorized Fenton dealer! To locate a Fenton dealer near you, please click here.
Family Signature Father's Day Candy Box
Father's Day is just around the corner! Give Dad or your favorite father figure something he'll treasure forever. . . this Fenton Family Signature Covered Candy Box. Make it even more special by filling it with his favorite treats or include a handwritten note and share a special memory of time spent with him.
This 9-1/2'' Candy Box is handcrafted in our classic Burmese. Burmese glass contains pure gold in the formula, which creates
the soft pink blush. The handpainted design, by Robin Spindler, depicts a fisherman about to reel in his prize catch of the day. Note the fish hook handpainted on the jar cover.

Each Candy Box is inscribed with the signature of Mike Fenton, grandson of company founder Frank L. Fenton, and son of Frank M. Fenton. 07380RM - 9-1/2" Burmese Candy Box, $149
Fenton USA on QVC.com
Be sure to mark your calendar and set your alarms for our next QVC shows! Fenton USA handcrafted glass will be featured on QVC on July 14 at 6:00 a.m. (Eastern Time) and on July 16 at 4:00 a.m. (Eastern Time). You won't want to miss your opportunity to purchase this exquisite Feather Vase, handcrafted in Robin's Egg Blue. Watch this newsletter for a preview of items to be offered during these two shows.

For an excellent reference book on Fenton Art Glass
and QVC, click here. Fenton Glass, Especially for QVC catalogs the history of glass produced exclusively for QVC from the first show in 1988 through Bill Fenton's retirement show and highlights items featured through August 2002. $24.95 postage-paid.
Fenton eBay Auctions
Own a unique Fenton creation, including rare, one-of-a-kind pieces, through our weekly eBay Auctions! Items featured this week...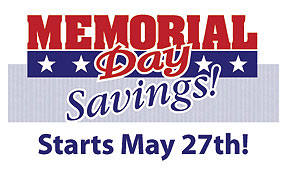 Click here for special Memorial Day Savings from the Fenton Gift Shop, located in Williamstown, WV.

If you can't make it to Williamstown...
you can still enjoy 20% Holiday Savings (May 30-June 1) by calling 800-319-7793 at ext. 282, ext. 321
or ext. 383. Open Memorial Day from 10 a.m. - 5 p.m.
---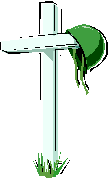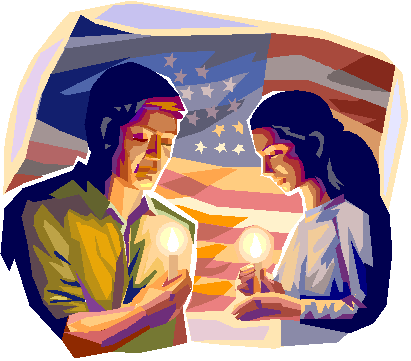 Memorial Day was officially proclaimed in the U.S. on May 5, 1868 by General John Logan, national commander of the Grand Army of the Republic by his General Order No. 11. It was first observed on May 30, 1868, when flowers were placed on the graves of Union and Confederate soldiers
at Arlington National Cemetery. Memorial Day is now celebrated in almost every state on the last Monday in May.

No matter where you are and how you observe this holiday, please take the time to be thankful for your freedom. Thank you to all of our veterans, active military personnel, and those who have sacrificed their lives for our freedom.