FENTON GIFT SHOP
Special Offerings

063474Q
2'' Aubergine Marigold Nappy
$49.50, Buy Now!

This Aubergine Marigold Nappy is sprayed with metallic salts for a vivid iridescent effect.
Z5535NE
6-1/2'' Iridized Aubergine Tree
$32.50
Buy Now!


Christmas trees are the heart of the American holiday tradition. Collect and enjoy this 6-1/2" Iridized Aubergine Tree for your holiday celebrations. Mix and match this new Gift Shop Exclusive with other Fenton trees for an attractive holiday display.
AC84309E
5-1/2'' Emerald Green Carnival Waterlily Comport
$66.00, Buy Now!
This Emerald Green Carnival Waterlily Comport is ideal for serving nuts and candy. The glass color of deep Emerald Green is sprayed with metallic salts while the glass is still hot. As the spray is applied, the rainbow of rich color emerges.
C5908AQ
12'' Autumn Gold Iridized Decanter
$99.75
Buy Now!
This stunning 12" Autumn Gold Iridized Grape Decanter was designed from an L. G. Wright mould from 1999. Wright had moulds made based on old Carnival glass patterns from Imperial and Dugan, many of which involved grape motifs! This piece is a real attention grabber when placed on a sideboard or hutch.
LIMITED QUANTITY!
Z5065HPD
5'' Hyacinth Stylized
Cat Figurine
$39.75
Buy Now!


Only Four Remain of this new Gift Shop Exclusive Hyacinth Stylized Cat figurine. It features a handpainted floral design. Each figurine is signed by the talented Fenton artist who completed it.
Z5165HPJ
3-3/4'' Hyacinth Sitting Cat Figurine
$35.75
Buy Now!
Eight Remain! This new Gift Shop Exclusive Hyacinth Sitting Cat figurine has a lovely handpainted floral design. Proudly handcrafted by the artisans at Fenton.
Fenton USA Presents. . . Iridescent Ware Revisited
In October 1907, Fenton Art Glass Company entered the marketplace with an exciting new line of glassware called ''iridescent ware'' which featured vivid, changing metallic hues on highly-patterned pressed glassware. Years later, stories were told about how this glassware was used as midway game prizes and the phrase Carnival glass was coined. When Fenton resumed production of their iridescent glass in 1970, it was re-named Carnival glass. The secret, both in 1907 and now, of Fenton Carnival glass is the special spray of metallic salts on the glass while it is very hot.
Marigold Carnival
Made in America!

047119E - 8'' Peacock Basket -$89.50

041959E - 14-1/2'' Peacock and Ferns Vase -$195.00
For 2011, we have revived signature Carnival treatments in a medley of highly collectible colors ― Emerald, French Opalescent, Ruby, and Black. The two pieces shown above have an Emerald glass base with a Marigold Carnival finish. Two sprays are used to create the lustrous iridescence on these beautiful pieces. The first spray brings out the iridescence of colors and the second spray brings out the Gold color in the iridescence. A challenging process, but one which our skilled glassworkers have achieved, to the delight of Fenton Carnival glass collectors. We continue to make Carnival glass the old fashioned way, and we never cease to marvel at the rainbow of colors and the interesting hues.

Click here to view more new selections from Fenton USA. Can't find it online? Contact an authorized Fenton dealer! To locate a Fenton dealer near you, please click here.
What's Coming. . . Christmas 2011
Don't miss out on our new holiday Limited Editions! Fenton dealers are placing their orders now for the upcoming holiday season.
Included in this year's collection is this Limited Edition Santa figurine. Handcrafted in Blue Burmese, this 8'' Santa figurine features a handpainted Kim Barley design. Sure to become a treasured keepsake!
Be sure to contact your favorite Fenton dealer today with your Fenton Christmas 2011 gift list. To locate a Fenton dealer near you, please click here.


Fenton USA on QVC.com
Be sure to mark your calendar and set your alarms for our next QVC shows! Fenton USA handcrafted glass will be featured on QVC on July 14 at 6:00 a.m. (Eastern Time) and on July 16 at 4:00 a.m. (Eastern Time).
Included in the shows will be this lovely Hummingbird figurine, handcrafted in Lavender Satin. Watch this newsletter for a preview of items to be offered during these two shows.!

For an excellent reference book on Fenton Art Glass and QVC, click here. Fenton Glass, Especially for QVC catalogs the history of glass produced exclusively for QVC from the first show in 1988 through Bill Fenton's retirement show and highlights items featured through August 2002. $24.95 postage-paid.
Fenton eBay Auctions
Own a unique Fenton creation, including rare, one-of-a-kind pieces, through our weekly eBay Auctions! Items featured this week...
Fenton International. . . Anniversary Bells!
Ring in a couple's special day this year with a handcrafted Anniversary Bell from Fenton International.

Each 7-1/4'' bell features a floral design that is hand cut into the glass using special wheels. The precious metal lettering is applied and fired into the glass. Each design is then handpainted and fired again to create a brilliantly sparkling image. Shown at right is our 25th Anniversary Bell.

The Anniversary Bell is available in the following styles:
Happy Anniversary, or 25th, 40th, and 50th Anniversary.
Click here to view more gift ideas from Fenton International.

FG891 - 25th Anniversary Bell - $25.00 - Buy Now!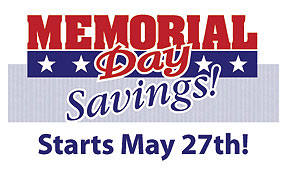 Click here for special
Memorial Day Savings
from the Fenton Gift Shop.