FENTON GIFT SHOP
Special Offerings

Z5058HPD
3-1/2'' Exclusive ''June'' Elephant, $45.00, Buy Now!

Have you herd about our new Gift Shop Exclusives! The sixth in our monthly series...this adorable, handpainted "June" baby Elephant figurine may
bring you a little luck!
220012
13'' Aubergine Vase
$149.50 Buy Now!



This 13" Aubergine Vase features a handpainted floral design. This large vase is sure to attract the attention of guests who see such a stately piece in your home.
A5064HP1
3-1/2'' Violet Sleeping Kitten with White Floral Design
$23.75, Buy Now!
Lovely translucent Violet glass, handpainted with a white floral design, make this Kitten figurine a real sleeping beauty.

GS098354Q
6'' American Beauty Rose Aubergine Carnival Basket, Lynn Fenton Signature
Originally $59.50, Now $45.00 Buy Now!
Only 50 of these attractive Carnival Glass baskets are available. Each basket is signed Lynn Fenton '10. The basket mould is from the Imperial Glass Co., circa 1910. The pattern is known by collectors as the American Beauty Rose.
LIMITED QUANTITY!
170020
3-1/2'' Violet Stretch Comport Fenton Family Signature
Originally $40.00, Now $30.00 Buy Now!

Only 12 Remain! This Violet Stretch Comport was produced as a sample. This Comport has a graceful 6 pt. crimp. Each piece is signed by a Fenton family member.

C975466
6-1/2'' Lavender Opaline Vase
$63.00 Buy Now!

Five Remain! French Opalescent glass covered with a layer of Violet creates lovely Lavender Opaline. This Caprice Vase with a double crimp and a handpainted embossed bow.
| | |
| --- | --- |
| Fenton USA Presents. . . Spring Fling! | |
Our new Spring Fling collection is now available! Director of Design Nancy Fenton and
the Fenton design team have created a bright and colorful collection that includes several new decorations on many of our most popular colors. Enjoy this stunning group of glass handcrafted in Rosalene, Aubergine, and Lavender Satin, along with a few choice selections in Violet and Plum Opalescent.

Note: Quantities are very limited on many of these items, so don't delay! To order,
click on each item shown above or click here for a pdf of the complete Spring Fling 2011 collection. Can't find it online? Contact an authorized Fenton dealer! To locate a Fenton dealer near you, please click here.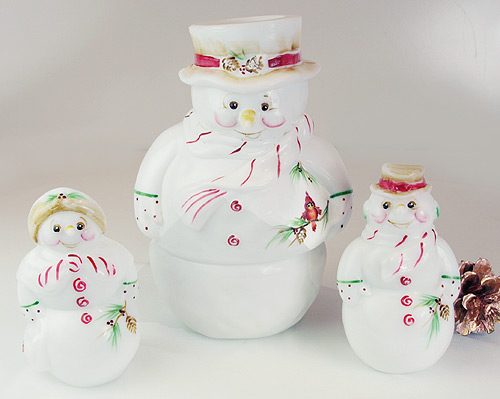 What's Coming. . .
Frosty Friends for Christmas 2011
Don't miss out on our new holiday creations! Fenton dealers are placing their orders now for the
upcoming holiday season.

Be sure to contact your favorite Fenton dealer with your Fenton Christmas 2011 gift list.

Included in this year's collection are limited edition figurines and handblown ornaments as well as collector favorites such as our Frosty Friends and Holiday Chums figurines, Trees, and Slippers. Shown above are the Frosty Friends figurines Snowlady Kandy, Snowman Fairy Light Karl, and Snowman Kane. New handpainted designs and color selections include Serene Winter on Cobalt, Lenten Rose on Burmese, Golden Glimmer on Ruby, and Golden Glimmer on Emerald.

Fenton USA on QVC.com

Be sure to mark your calendar and set your alarms for our next QVC shows! Fenton USA handcrafted glass will be featured on QVC on July 14 at 6:00 a.m. (Eastern Time) and on July 16 at 4:00 a.m. (Eastern Time). Watch this newsletter for a preview of items to be offered!

For an excellent reference book on Fenton Art Glass and QVC, click here. Fenton Glass, Especially for QVC catalogs the history of glass produced exclusively for QVC from the first show in 1988 through Bill Fenton's retirement show and highlights items featured through August 2002. $24.95 postage-paid.
Fenton eBay Auctions
Own a unique Fenton creation, including rare, one-of-a-kind pieces, through our weekly eBay Auctions! Items featured this week...
Fenton International. . . High Relief Fused Glass Poppies!

92038 - 9'' Round Poppies Plate
$35.00, Buy Now!

92038
13-1/2'' Round Poppies Platter
$59.50, Buy Now!
Create a festive tabletop display with our Fenton International line of high relief Fused Glass by Anne Nye. These colorful glass plates are crafted in a vibrant Poppy design.

Anne's creations are pure, kiln-fired glass, sculpturally layered for texture and vibrant color! Red glass is particularly difficult to achieve and is a more expensive process. Fenton International features artistic handcrafted gifts from around the world.
Click here to view more glass gift ideas from Fenton International.