FENTON GIFT SHOP
08103VX
6-1/2'' Daisy Blue on Silken Sand Perfume Bottle
Originally $99.50
Now $74.50
Buy Now!
Frances Burton's delicate "Daisy Blue" design with melon berry accents trails across a field of pale gold Silken Sand, adding a simple touch of beauty to this entrancing new color.
C5908AQ
12'' Autumn Gold Iridized Decanter
$99.75
Buy Now!
This stunning 12" Autumn Gold Iridized Grape Decanter was designed from an L. G. Wright mould from 1999. Wright had moulds made based on old Carnival glass patterns from Imperial and Dugan. Many of the motifs featured grapes!
X5363AM
3-1/2'' Autumn Gold Songbird
Originally $24.00, Now $20.00
Buy Now!
This 3-1/2" Autumn Gold Songbird figurine makes the perfect gift to give or receive. Handcrafted with pride by the artisans of Fenton Art Glass in West Virginia.
A5274HP2
2-1/2''
Autumn Gold Frog Figurine
$23.75
Buy Now!
Hop into spring with this toad-ally awesome Frog figurine. Handpainted with a pretty Daisy design, this Gift Shop Exclusive will be a great addition to a figurine collection.
EXTREMELY LIMITED QUANTITIES!
IS147AM
5-1/2'' Autumn Gold
Hobnail Pitcher
$60.00
Buy Now!

Only 2 Available! The fiery fury of Fenton's furnaces creates a "liquid gold" that is captured forever in the honeyed shades of this 5-1/2" Autumn Gold Hobnail Pitcher.
IS332AS
9'' Autumn Gold Sample Vase
$65.00
Buy Now!

Just 1 Remains! This Autumn Gold 9" Vase is one of a few samples that were made with a mould Fenton acquired from Indiana Glass. The all-over pattern works well with this color.
Fenton USA Presents. . . 2011 Artist Selections

05309ME
6'' Copper Blue Perfume Bottle
with Crystal Stopper, $97.50 - Buy Now!


07707PB
6-1/2'' Key Lime Opalescent Temple Jar with Black Lid, $89.50 - Buy Now!
Fenton USA is pleased to introduce our 2011 Artist Selections. This grouping includes a 6'' Perfume Bottle, handcrafted in Copper Blue with a Crystal stopper. The bottle features a handpainted floral design by Kim Barley. The 6-1/2'' Temple Jar is handcrafted in Key Lime Opalescent glass with a Black glass lid. Michelle Kibbe's lovely design features a butterfly hovering near a flower.

To view other new glass selections from Fenton USA, click here. These Artist Selection pieces are now shipping to authorized Fenton dealers throughout the country. Be sure to check back as we will be adding pieces to this collection, including a beautiful Ruby pitcher. Can't find it online? Contact a Fenton dealer! To locate a Fenton dealer near you, click here.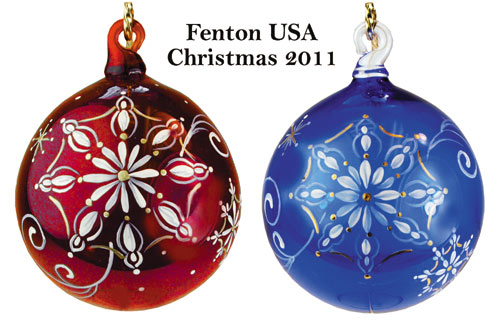 A Sneak Peek. . . Christmas 2011
It's not too early to start planning your holiday gift and home decor purchases! We have a wide selection of new items for gifts or for your holiday decorating needs. Fenton designer Michelle Kibbe created beautiful designs for these Christmas 2011 Ornament selections. The ornaments were handblown for Fenton USA by WV glass artisan Ron Hinkle. These beautiful pieces make great additions to an ornament collection, or hang them on your tree or display them all season long! Make sure your local Fenton dealer has these two beauties available for you for the upcoming holiday season. Click here to locate an authorized Fenton dealer near you.
Fenton USA on QVC.com
Be sure to mark your calendar and set your alarms for our next QVC shows! Fenton USA handcrafted glass will be featured on QVC on July 14 at 6:00 a.m. (Eastern Time) and on July 16 at 4:00 a.m. (Eastern Time). Watch this newsletter for a preview of items to be offered!

For an excellent reference book on Fenton Art Glass and QVC, click here. Fenton Glass, Especially for QVC catalogs the history of glass produced exclusively for QVC from the first show in 1988 through Bill Fenton's retirement show and highlights items featured through August 2002. $24.95 postage-paid.

Fenton eBay Auctions
Own a unique Fenton creation, including rare, one-of-a-kind pieces, through our weekly eBay Auctions! Items featured this week...


94003 - 4'' Crystal Votive w/tea light
Party, Party, Party, Party design
$12.00 - Buy Now!
Handpainted Crystal Votives
from Fenton International
A fun way to decorate for your upcoming festivities. . . Crystal votives from Fenton International.

Gift Boxed for the special moments in life! Our Votive collection includes seven votives, each with a different saying. The sparkling crystal votive is handcut with special wheels and then handpainted with a festive, whimsical design by Fenton artist Stacy Williams. Each votive includes a tea light and is packed in an attractive and sturdy Hold that Thought gift box The message on this votive is: Party, Party, Party, Party.

Fenton International features artistic handcrafted gifts from around the world. Click here to view more glass gift ideas from Fenton International.