FENTON GIFT SHOP
SPECIAL OFFERINGS!
215861
7-1/2''
Blue Burmese Vase
$72.50
Buy Now!


Preferred Second. Pastel shades of rose and powder blue blend beautifully to form this Blue Burmese Vase.
213305
4-1/4''
Black Glass
T-Shirt Paperweight
$17.50
Buy Now!

Preferred Second. Our Black
T-Shirt makes a unique paperweight for your desk.


211767
4-1/2''
Indigo Blue Candy Dish
$16.00
Buy Now!
Preferred Second. Indigo Blue is a timely color with global appeal. Translated into lustrous Fenton glass, Indigo Blue imparts a lively personality.
222997
6-1/2'' Buttercup Iridized
Candy Dish
$25.00
Buy Now!
Preferred Second. This 6-1/2" Buttercup Iridized Candy Dish is a pretty accent for any home.
EXTREMELY LIMITED QUANTITIES!

C3200AO
8'' Autumn Gold Opalescent
Tumble Up, $84.00, Buy Now!
Only two remain! Lovely and refreshing by your bedside! Our 8" Tumble Up, handcrafted in Autumn Gold Opalescent glass, features a straight rib optic pattern. Inscribed with Shelley Fenton's signature.
310003
12'' Autumn Gold Stretch
Ribbed Bowl, $119.50, Buy Now!

Just Four Remain! This lovely 12" Autumn Gold Stretch Ribbed Bowl will add beauty and charm to your home décor.
Fenton USA Presents. . . Handcrafted Glass Slippers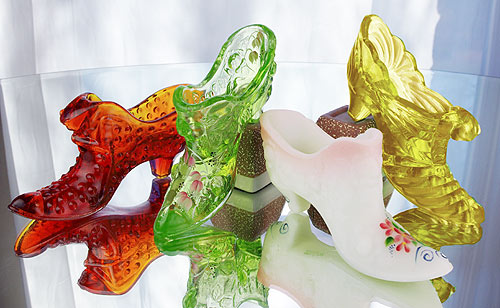 Prince Charming awaits with the glass slipper! You have lovely selections to choose from with our new slippers for 2011. Handcrafted in a rainbow of colors in our most popular patterns, these slippers are great for the Princess on your gift list! Add a special message or small candies inside the slipper for a unique gift. The grouping above includes our Hobnail Slipper, handcrafted in new, vibrant Orange Slice. Hobnail is one of the best known and collected patterns, and has been in and out of the Fenton line since the late 1930s.
Our Rose Slipper is handcrafted in refreshing Key Lime glass and also in Opal Satin. Each slipper features a handpainted design by Michelle Kibbe. Each handpainted slipper is signed by the artist who completed it.

The Cat Slipper on the right is handcrafted in Buttercup, a vibrant yellow hue made with special ingredients. Buttercup glass captures the warmth of Spring sunshine and the excitement of nature's awakening.

Collector's Note: Due to a recent large increase in the cost of the rare earth mineral that creates the Buttercup color, we will curtail production of this color once our current supply of the mineral is gone.

To view more new items from Fenton USA, click here. Can't find it online? Contact one of our authorized Fenton dealers! To locate a dealer near you, click here.

Free Shipping on Internet Specials!
Get a jump on gifts for special occasions with a Free Shipping on Internet Specials from Fenton USA! Click here to view available items. Choose from selections
in the Internet Special category and receive FREE shipping for a limited time! Internet Specials include handcrafted glass with any of the following: special treatments, handpainted designs, special pricing, or very low available quantity. Shown here is our Princess Slipper in timeless Burmese glass.

This Free Shipping Offer is valid from 5 p.m. on Sunday, May 1 through 5 p.m. on Wednesday, May 4 (Eastern Time) on Internet Specials only (previous orders not included). Regular shipping charges will be apply to all other items. So don't delay. . . place your order today!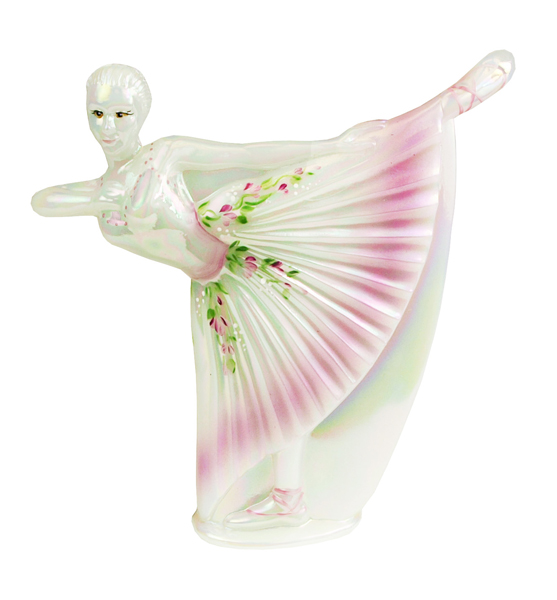 Fenton USA on QVC.com
Click here to see new Spring Limited Editions for the Shelley's Keepsakes series, made exclusively for QVC. These items are individually numbered Limited Editions, all handcrafted and handpainted by the skilled glassworkers at Fenton Art Glass. Shown at left is the Opal Iridized Ballerina figurine, which is individually numbered and limited to 150 pieces. Be sure to watch this newsletter for our next QVC show date!

Fenton eBay Auctions
Own a unique Fenton creation, including rare, one-of-a-kind pieces, through our weekly eBay Auctions! Items featured this week...
---


High Relief Fused Glass
Designed by Anne Nye

Our High Relief Fused Glass creations by Anne Nye are pure, kiln-fired glass, sculpturally layered for texture and vibrant color! Red glass is challenging to achieve and is a more expensive process. Click here to view more Fenton International glass.


92037 - Buy Now! - $69.50
Poppies 14-1/2'' Round Bowl

Fenton International features
artistic handcrafted gifts from around the world.