FENTON GIFT SHOP
SPECIAL OFFERINGS!
221692
10'' Cobalt Carnival Holly Plate
$47.25, Buy Now!

Preferred Second. This 10" Cobalt Carnival Holly Plate will make a stunning accent piece for your home.
224324
3-1/2'' Crystal Satin Bear
$12.50
Buy Now!
Preferred Second.
This adorable 3-1/2" Crystal Satin Bear figurine is a perfect gift for someone special!
223737
8-1/2'' Aubergine Overlay Vase
$48.00
Buy Now!

Preferred Second. This pretty 8-1/2'' Aubergine Overlay vase is perfect for a fresh spring bouquet.
222975
6'' Lavender Satin Vase
$39.50, Buy Now!

Preferred Second. Lavender glass contains neodymium, so your pieces will be different colors under various lighting conditions. This characteristic is called dichroic.
EXTREMELY LIMITED QUANTITIES!
240006
10'' Blue Stretch Acanthus Plate
$85.00, Buy Now!
Only one remains! This 10'' Plate, Acanthus design, was made in Blue Stretch glass from an historic Imperial mould. The underside of the plate is embossed with ICGA 1995, Dallas.
C66259N
10-1/2'' Aquamarine Opalescent Sheffield Bowl, $49.75, Buy Now!

Just Three Left! This 10-1/2" Sheffield Bowl in Aquamarine Opalescent Stretch Glass with a square crimp is a pattern from the 1930's and resembles Imperial's "Empire" line.
Fenton USA Presents. . . Drifting Floral on Blue Burmese


Our elegant Drifting Floral
on Blue Burmese 6-1/2'' Vase, limited to 750 pieces, is included in the 2011 Connoisseur Collection.

Since its inception in 1983, the Connoisseur Collection fulfills our commitment to creating rare and unusual glass treatments.

This vase is handcrafted
in Blue Burmese. Powder
Blue and pure gold in the formula combine to make Blue Burmese a priceless work of art. The pure gold allows each piece to achieve its lovely rose shading during the reheating process. The beautiful handpainted design is by Stacy Williams. Each vase is signed by the talented Fenton artist who completed it. Click on each image for details. To view more new items from Fenton USA, click here. Can't find it online? Contact one of our authorized Fenton dealers! To locate a dealer near you, click here.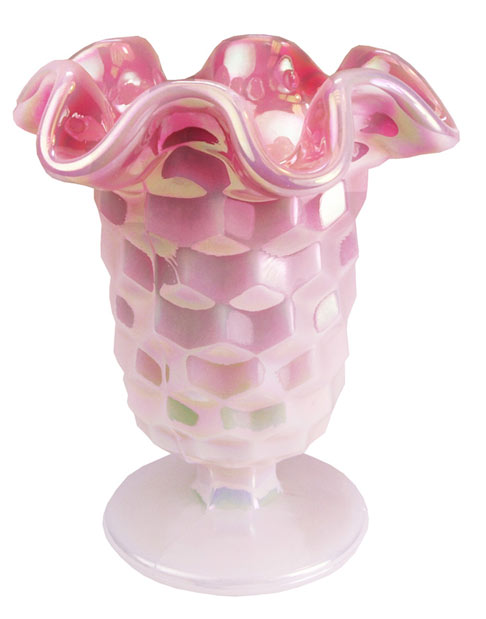 2011 Spring Fenton Family Signing Events
End This Weekend!
Meet Shelley Fenton Ash, a third generation Fenton family member, at Kay Lea's Antiques & Collectibles in Denton, Texas, on April 30, and at Christie's Collectibles in Gladewater, Texas on May 1. Shelley will personally sign your Signing Event Exclusive Vase (shown at left) and all Fenton purchases at these two events. This beautiful 4-1/2'' American pattern Rosalene iridized vase is available only at these events for $35.00 U.S. Shelley will also have samples of our new Fenton USA Beads, and you may purchase our new Fenton USA Teardrop Earrings at these events! Click here for details on Shelley's Signing Events!
Internet Special. . . Robin's Egg Blue Vase
This Internet Exclusive is a handblown Robin's Egg Blue Straight Rib Optic 10-3/4'' Vase with a graceful flared top. The Vase is handpainted with a fresh Spring floral design by award-winning Fenton designer Robin Spindler. Perfect as a Mother's Day gift with or without a floral arrangement!

The newest addition to our family of blue glass hues, Robin's Egg Blue will add just the right touch of color to any area of your home. Mix and match with unadorned pieces for an attractive tabletop display. Each Vase is signed by the talented Fenton artist who completed it. Quantity is limited, with just 11 vases available! To view all Internet Specials, click here.

Regular Price: $129.50; Internet Exclusive Price: $109.50
X6515HPE 10-3/4'' Robin's Egg Blue Vase
Fenton USA on QVC.com
Click here to see new Spring Limited Editions for the Shelley's Keepsakes series, made exclusively for QVC. These items are individually numbered Limited Editions, all handcrafted and handpainted by the skilled artisans at Fenton Art Glass. Shown at left is the Cobalt Marigold Bell, which is individually numbered and limited to 200 pieces. Be sure to watch this newsletter for our next QVC show date!

Fenton eBay Auctions
Own a unique Fenton creation, including rare, one-of-a-kind pieces, through our weekly eBay Auctions! Items featured this week...
---

Hold that Thought
Crystal Votive Collection

Gift Boxed for the special moments
in life! Our Votive collection from Fenton International includes seven votives, each with a different saying. The sparkling crystal votive is handcut with special wheels and then handpainted with whimsical designs created by Fenton artist Stacy Williams.

Each votive is packed with a tea light in an attractive and sturdy Hold that Thought gift box The message on this votive is: A Mother Understands What a Child Does Not Say. Click here to view more Fenton International glass.


94000 - Buy Now!
4'' Crystal Votive with tea light
Handpainted design with message:
A Mother Understands What a Child Does Not Say
$12.00 each


Fenton International features
artistic handcrafted gifts
from around the world.