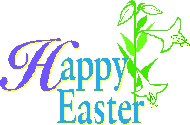 FENTON GIFT SHOP
SPECIAL OFFERINGS!
200023
4-1/2'' Chocolate Butterfly
$17.25
Buy Now!


Preferred Second. Each Chocolate Butterfly is unique in coloration due to the swirls in this beautiful classic Fenton glass color.
217877
6'' Chocolate Whitton Bell
$19.75
Buy Now!
Preferred Second. The beauty of bells. . . appealing to the
eye and pleasing to the ear, delightful to decorate with and to enjoy. This 6'' Chocolate glass Bell is in the Whitton pattern.
215862
8-1/2''
Madras Pink Candlestick
$24.75
Buy Now!

Preferred Second. This pretty 8-1/2" Candlestick, handcrafted in warm Madras Pink, is perfect for any home decor.
216129
3-3/4'' Madras Pink Dot Pitcher
$28.25, Buy Now!

Preferred Second. This pretty 3-3/4'' Dot Pitcher, handcrafted in Madras Pink, will add a touch of warm color to your tabletop.
EXTREMELY LIMITED QUANTITIES!
CV623RL
6-1/2'' Ruby Amberina Stretch Comport, $45.00, Buy Now!
Only two remain! Our Ruby Amberina Stretch Comport in the Persian Medallion pattern is ideal for serving nuts and candy or to fill with potpourri.
RS102
Fenton
Angelo Rossi Iridized
Milk Glass Vase
$210.00
Buy Now!


Just One Left! Glass artisan Angelo Rossi's contemporary style of glass is a wonder to behold! We've discovered several of his iridized Milk Glass vases that are decorated with hand-applied trim in light blue glass.
Fenton USA Presents. . . Natural Cats Figurine Collection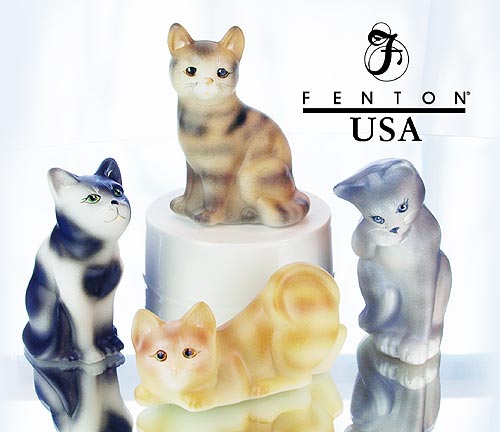 Welcome our newest figurine collection - Natural Cats! Handcrafted in Opal Satin, these adorable figurines will delight the young or young-at-heart. These figurines make great gifts for cat enthusiasts or fi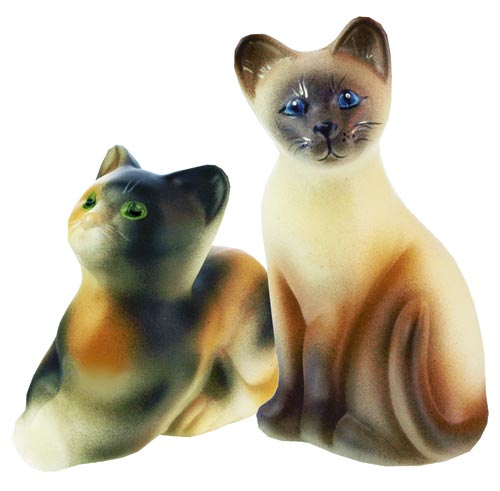 gurine collectors. The figurines feature handpainted, realistic designs by Michelle Kibbe. Each handpainted figurine is signed by the talented Fenton artist who completed it.

Our figurine assortment includes the following cat styles: Calico, Brown, Gray, and Yellow Tabby, as well as Siamese and Black and White.

Click on each image for details. To view more new items from Fenton USA, click here. Can't find it online? Contact one of our authorized Fenton dealers! To locate a dealer near you, click here.
2011 Spring Fenton Family Signing Events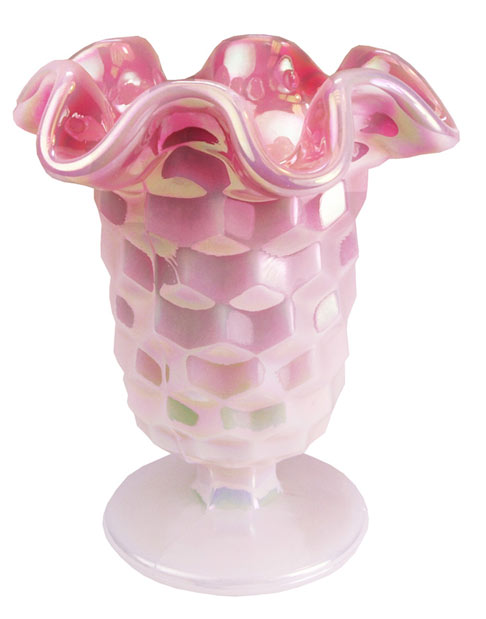 We're winding down our Spring 2011 Fenton Family Signing Events. Meet Shelley Fenton Ash, a third generation Fenton family member, at Kay Lea's Antiques & Collectibles in Denton, Texas on April 30, and at Christie's Collectibles in Gladewater, Texas on May 1. Shelley will personally sign your Signing Event Exclusive Vase (shown at left) and all Fenton purchases at these two events. This beautiful 4-1/2'' American pattern Rosalene iridized vase is available only at these events for $35.00 U.S. Shelley will also have samples of our new Fenton USA Beads, and you may purchase our new Fenton USA Teardrop Earrings at these events!
Click here for details on Shelley's Signing Events!
Internet Special. . .
Buttercup Rose Bowl
We have just ten of these lovely 3-1/2'' Rose Bowls left! Handcrafted in Buttercup, a vibrant yellow hue made with special ingredients, Buttercup glass captures the warmth of Spring sunshine and the excitement of nature's awakening.
Robin Spindler's lush handpainted floral design enhances this piece. Perfect for potpourri, a floating flower, candies, and more! Collector's Note: Due to a large increase in the cost of the rare earth mineral that creates the Buttercup color, we will curtail production of this color once our current supply of the mineral is gone. To view all Internet Specials, click here. X2759HPC 3-1/2'' Buttercup Rose Bowl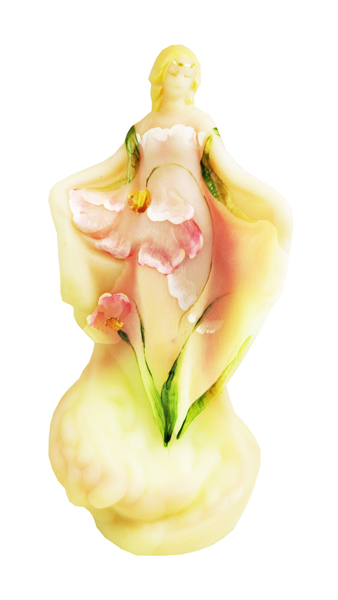 Fenton USA on QVC.com
Click here to see new Spring Limited Editions for the Shelley's Keepsakes series, made exclusively for QVC. These items are individually numbered Limited Editions, all handcrafted and handpainted by the skilled glassworkers at Fenton Art Glass. Shown at left is the Burmese Satin handpainted Water Nymph figurine, which is individually numbered and limited to 150 pieces. Be sure to watch this newsletter for our next QVC show date!

Fenton eBay Auctions
Own a unique Fenton creation, including rare, one-of-a-kind pieces, through our weekly eBay Auctions! Items featured this week...
---
High Relief Fused Glass
Designed by Anne Nye

Here's a great impulse gift or a unique selection for the birdwatcher in your life. . . High Relief Fused Glass Bird Suncatchers from Fenton International.




92064
Buy Now!
5'' Fused Glass
Bird Suncatcher
$10.00




Our High Relief Fused Glass creations by
Anne Nye are pure, kiln-fired glass, sculpturally layered for texture and vibrant color! The cheery suncatchers shown here feature bright yellow wings with polka dot accents and yellow details on the tail feathers. Available in Blue or Red glass colors.




92065 - Buy Now!
5'' Fused Glass Bird Suncatcher $10.00


Fenton International features artistic handcrafted gifts from around the world.

Click here
to view more glass from Fenton International.