FENTON GIFT SHOP
SPECIAL OFFERINGS!
Z5171HPA
4-3/4''
Key Lime Butterfly
$39.50
Buy Now!
This Key Lime Butterfly on Stand is handpainted with dramatic black accents. Produced as a new Gift Shop Exclusive for 2011.

Z5276HPC
5'' Key Lime Rainbow Fish
$45.00 Buy Now!
This Rainbow Fish in Iridized Key Lime glass is a new Gift Shop Exclusive and an outstanding addition to any collection.
Z5228HPV
7'' Key Lime Raspberry Doll
$69.50, Buy Now!
Produced as a new Gift Shop Exclusive, this Key Lime Satin Bridesmaid Doll is handpainted with a cheerful raspberry motif. Handpainted and signed by the artist, she is sure to be sought after for years to come.

Z5228HPW
7'' Key Lime Holly Doll
$65.00, Buy Now!
Produced as a new Gift Shop Exclusive, this Key Lime Satin Bridesmaid Doll features a delicate handpainted holly motif and is signed by the talented Fenton artist who completed it.
EXTREMELY LIMITED QUANTITIES!

310011
5'' Key Lime Opalescent Blown Egg
$75.00, Buy Now!
Only 3 remain! Produced as part of the Good Fortune Collection, this handpainted Key Lime Opalescent Blown Egg is a striking beauty. Inscribed with the signature of Shelley Fenton.
C58585V
8'' Milk Glass Wheat Vase
with Emerald Green Ring
$48.75
Buy Now!
Only 3 remain! Perfect for your spring floral arrangement. Our ever popular Milk Glass in the Wheat Vase design with an Emerald Green ring is handpainted with dainty greenery and small red berries to add a finishing touch.
Fenton USA Presents. . . The Artistry of Fenton Glass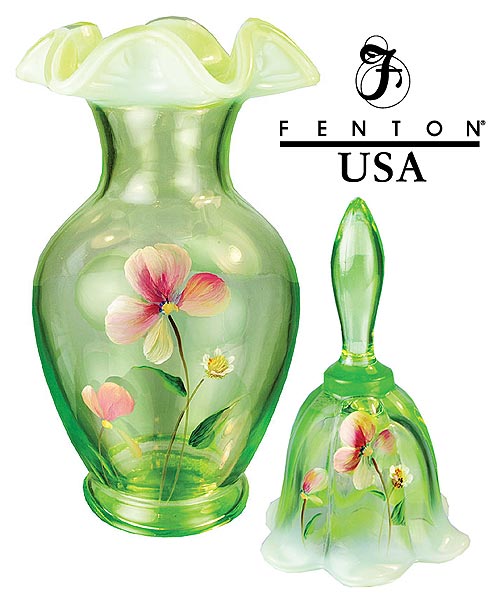 Our handpainted Windblown on Key Lime Opalescent pieces shown here are fine examples of the skill it takes to create a work of art in glass. Note the subtle beauty of the handpainted floral design by Stacy Williams. See the beauty and depth of our refreshing Key Lime glass color.

All Fenton opalescent glass contains special ingredients. During the glassmaking process, the hot glass item must be allowed to chill briefly before it is reheated to create the marvelous opalescent effect. Our glassworkers have mastered the techniques, and Fenton opalescent glass continues in the great tradition of American glassmaking.

Glassmaking is a complex process. Every piece of glass is touched, directly or indirectly, by dozens of pairs of hands. Each individual is truly a craftsman at his or her trade. . .from chiseling the cast iron moulds, working with molten glass in the furnace room, adding a satin finish to the glass surface, to handpainting the glass surface with intricately detailed designs. Fenton's glass artisans bring their passion and their talents to an age-old art. Fenton produces more colors than any glass company in the world. Our chemists accept the challenges of working with pure gold and other rare elements to create wonderful shadings within a single piece of glass.

Click on each image for details. To view more new items from Fenton USA,
click here. Can't find it online? Contact one of our authorized Fenton dealers!
To locate a dealer near you, click here.
2011 Spring Fenton Family Signing Events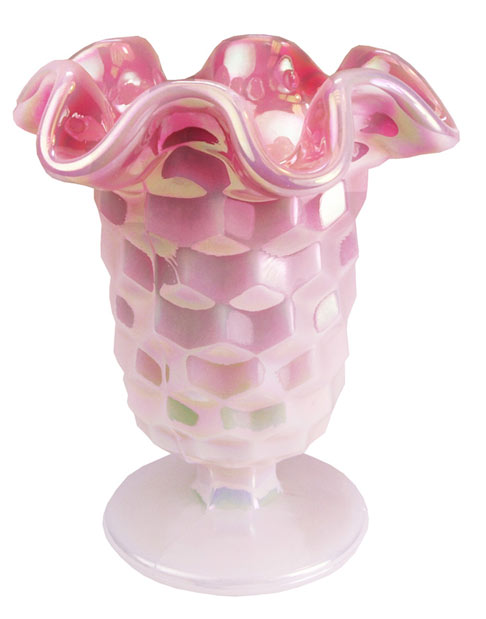 We're winding down our Spring 2011 Fenton Family Signing Events. Meet Shelley Fenton Ash, a third generation Fenton family member, at Kay Lea's Antiques & Collectibles in Denton, Texas on April 30, and at Christie's Collectibles in Gladewater, Texas on May 1. Shelley will personally sign your Signing Event Exclusive Vase (shown at left) and all Fenton purchases at these two events. This beautiful 4-1/2'' American pattern Rosalene iridized vase is available only at these events for $35.00 U.S. Shelley will also have samples of our new Fenton USA Beads, and you may purchase our new Fenton USA Teardrop Earrings at these events!
Click here for details on Shelley's Signing Events!
Internet Special. . . Cobalt Aurora Vase
Cobalt glass, a decorating favorite, provides the perfect canvas for Robin Spindler's lovely handpainted florals. Her design features white flower sprigs with leaves and a hovering dragonfly. Each piece is signed by the talented Fenton artist who completed it.

There are more than 60 different Blues in the Fenton product line. Cobalt creates a dark blue and copper imparts a light blue. In combination with each other or with additional coloring agents, cobalt and copper are used for almost all of our blue colors. To view all
Internet Specials, click here.

X2712HPD 9-1/4'' Aurora Vase in Cobalt Blue $69.50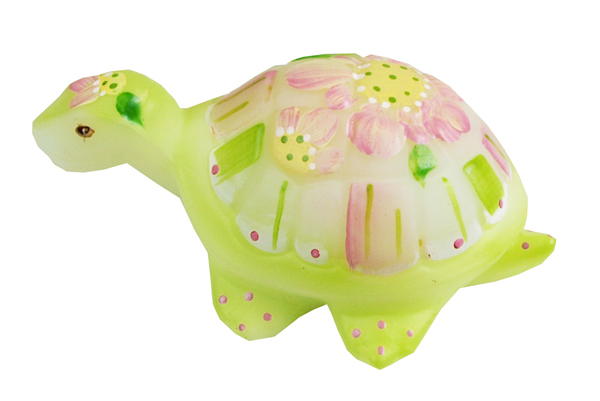 Fenton USA on QVC.com
Click here to see new Spring Limited Editions for the Shelley's Keepsakes series, made exclusively for QVC. These items are individually numbered limited editions, all handcrafted and handpainted by the skilled glassworkers at Fenton Art Glass. Shown at left is the Turtle figurine, which is individually numbered and limited to 175 pieces. Be sure to watch this newsletter for our next QVC show date!
---
Fenton eBay Auctions
Own a unique Fenton creation, including rare, one-of-a-kind pieces, through our weekly eBay Auctions! Items featured this week...
---
High Relief Fused Glass
Designed by Anne Nye

92061 - Buy Now!
6'' Fused Glass Suncatcher, $24.00

Hope Comes with the morning.


Send warm wishes to someone special
with our "message" High Relief Fused Glass Suncatchers from Fenton International. Our High Relief Fused Glass creations by Anne Nye are pure, kiln-fired glass, sculpturally layered for texture and vibrant color!



92063 - Buy Now!
6'' Fused Glass Suncatcher, $24.00
There is Joy in the journey


Fenton International features artistic handcrafted gifts from around the world. Click here to view more selections of Fenton International glass.