FENTON GIFT SHOP
SPECIAL OFFERINGS!
I5041HPB
4'' Opal Satin Zebra Finch
Figurine, $37.00, Buy Now!
A perfect companion to the Natural Birds collection, this figurine is handcrafted in Opal Satin glass and features a realistic Zebra Finch design. Each figurine is signed by the talented Fenton artist who completed it.
C5163DC
4'' Songbird in Ruby Satin
$39.50 Buy Now!
This 4'' Songbird in Ruby Satin glass will make an eye-catching addition to your feathered friends figurine collection! Signed by the talented Fenton artist who handpainted it.

Z9499IP
4-3/4'' Plum Opal Iridized Logo
$41.75, Buy Now!
Produced as a Gift Shop Exclusive, this Plum Opalescent Iridized Fenton Logo is a perfect addition to any collection.
DS197I1
5 1/2'' Plum Opalescent Satin Christmas Compote
Originally $150, Now $100
Buy Now!
Our Plum Opalescent Satin Christmas compote is 5-1/2" tall and 9-1/2'' in diameter. The Fenton Gift Shop acquired the remaining stock of this beautiful piece, which was a special order item. The mould is an original (ca. 1910) from the Dugan Glass Company. Quantities are limited, so order today!
EXTREMELY LIMITED QUANTITIES!
Z5245RU
5'' Ruby Amberina
Cardinal Figurine
$26.25, Buy Now!
Only 6 remain! This 5" Ruby Amberina Cardinal figurine is
a lovely gift to give or to receive. Ruby is a very heat-sensitive glass and this feature creates the wonderful Amberina effect. Color may vary as a result.
Z5228HPIP
7'' Plum Opalescent Iridized Doll
$68.25
Buy Now!

Only 8 remain! Produced as a new Gift Shop Exclusive, this Plum Opalescent Iridized Bridesmaid Doll figurine is handpainted with a delicate butterfly motif. Proudly handcrafted by the artisans
at Fenton.
Fenton USA Presents. . . "Natural Birds" Collection!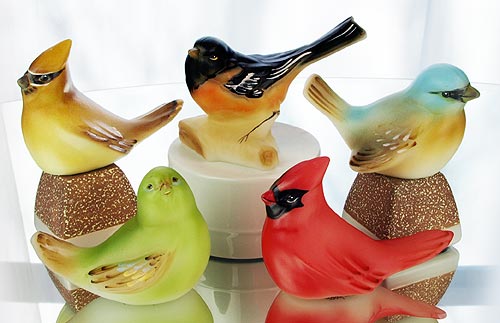 The Natural Birds figurine collection from Fenton USA has hatched new designs!
For 2011, we have updated and added new birds to these adorable feathered friends figurines. These bird figurines are handcrafted in Opal Satin glass, and each is handpainted to resemble their real-life counterparts. Michelle Kibbe's meticulous detail on the individual bird's design allows you to see the paint strokes in the feathers. Each bird figurine is signed by the talented Fenton artist who completed it.

This grouping includes a Cedar Waxwing, Yellow Warbler, Baltimore Oriole, Lazuli Bunting, and Cardinal, as well as a Golden-tailed Sapphire Hummingbird and Pine Grosbeak (not shown). Perfect gift for a birdwatcher or figurine collector! Click on each image for details. To see what else is new from Fenton USA, click here. Can't find it online? Contact one of our authorized Fenton dealers! To locate a dealer near you, click here.
2011 Spring Fenton Family Signing Events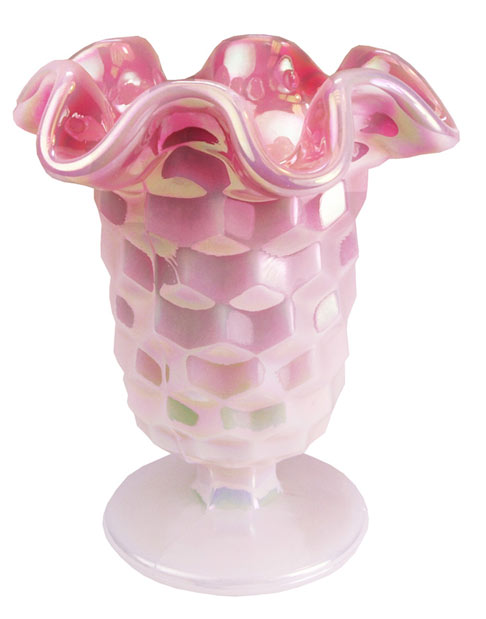 We're winding down our Spring 2011 Fenton Family Signing Events. Meet Shelley Fenton Ash, a third generation Fenton family member, at two Fenton dealer locations in Texas on April 30 and May 1. Shelley will personally sign your Signing Event Exclusive Vase (shown at left) and all Fenton purchases at these two events. The beautiful 4-1/2'' American pattern Rosalene iridized vase will be available only at these events
for $35.00 U.S.

Shelley will be on hand at Kay Lea's Antiques & Collectibles in Denton on April 30 and at Christie's Collectibles in Gladewater on May 1. She'll also have samples of our new Fenton USA Beads, and you may purchase our new Fenton USA Teardrop Earrings at these events! Click here to view Shelley's event details!
Internet Special. . . Plum Opalescent Vase
This Plum Opalescent Vase has been iridized for a sparkling effect. Robin Spindler's handpainted berries and floral design only enhances its beauty. The iridescence is a challenge to photograph, but you can see
the rainbow of colors from top to bottom.
Just 15 of these vases remain in stock,
so don't delay . . . place your order early!
To view all Internet Specials, click here.


Plum Opalescent 7-1/2'' Vase, $127.50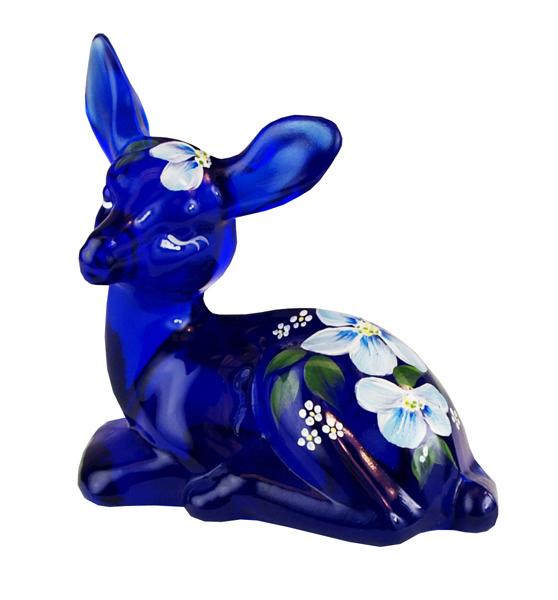 Fenton USA on QVC.com
Click here to see new Spring Limited Editions for the Shelley's Keepsakes series, made exclusively for QVC. These items are individually numbered limited editions, all handcrafted and handpainted by the skilled glassworkers at Fenton Art Glass. Shown at left is the Cobalt Fawn figurine, which is individually numbered and limited to 150 pieces. Be sure to watch this newsletter for our next QVC show date!
Fenton eBay Auctions
Own a unique Fenton creation, including rare, one-of-a-kind pieces, through our weekly eBay Auctions! Items featured this week...
Send sunny wishes to someone special or treat yourself with cheery message plaques from
Fenton International.

Fenton International features artistic handcrafted gifts from around the world. Our High Relief Fused Glass creations by Anne Nye are pure, kiln-fired glass, sculpturally layered for texture and vibrant color!

This 8'' round plaque has the message:
Hope comes with the morning.
Click here to view more International Glass.


92060 - Buy Now!
8'' Fused Glass Plaque with stand
$39.00

Hope Comes with the morning.