FENTON GIFT SHOP
SPECIAL OFFERINGS!
214893
9-1/2'' Hyacinth Vase
$42.50, Buy Now!
Preferred Second. This
9-1/2'' Hyacinth Vase is perfect for a Spring bouquet!
214904
4-1/4'' Hyacinth Pitcher
$16.25 Buy Now!
Preferred Second. This
4-1/4" Pitcher, handcrafted in Hyacinth glass, will go with pinks, yellows and greens.

220043
9-3/4'' Buttercup Overlay
Basket with Cherry Design
$60.00, Buy Now!
Preferred Second. Our lovely Buttercup Overlay Basket with a handpainted cherry design will make a wonderful addition to your Fenton collection. Buttercup is a vibrant yellow made with special ingredients and captures the warmth of Spring sunshine.
220064
5-3/4'' Buttercup Ghost
$23.25, Buy Now!
Preferred Second.
This 5-3/4" Buttercup handpainted Ghost figurine features a happy expression and a black witch design that will add a touch of whimsy to your Halloween decorating.
EXTREMELY LIMITED QUANTITIES!
IS176CC
4-1/4'' Cranberry Vase
$75.00, Buy Now!
Only 3 remain! The perfect addition to any collection! Enjoy this classic Cranberry Swirl Vase with a flat finish top. Proudly made in West Virginia by the artisans of Fenton.
218229
5-1/2'' Pansy Fairy Light
$42.50, Buy Now!

Only 4 remain of this Fenton Gift Shop Exclusive! The delicate handpainted pansies on Milk Glass blend well with the soft pink hue of the Rosalene base.
Fenton eBay Auctions
Own a unique Fenton creation, including rare, one-of-a-kind pieces, through our weekly eBay Auctions!
Items featured this week...
Fenton USA Presents. . . ˝It's a Colorful Life" Figurines!
The It's a Colorful Life figurine collection from Fenton USA is growing! For 2011, we have new designs for our adorable animal figurines.
The 2011 figurines are handcrafted in our newest colors of Buttercup, Rose, and Orange Slice, as well as in popular Fenton colors such as Cobalt Blue, Key Lime, Robin's Egg Blue, and Violet.
The bright and fun handpainted designs are by Michelle Kibbe. Each figurine is signed by the talented artist who completed it. These pieces are also available unadorned, so mix and match for an attractive display! To view new products available from Fenton USA, click here. Can't find it online? Contact an authorized Fenton dealer! To locate a dealer near you, click here.

05165ZM
3-3/4'' Cat Figurine in Orange Slice, $39.50


05363SN
3-3/4'' l. Songbird Figurine
in Key Lime, $32.50


05063YM
4'' Hippo Figurine in Cobalt Blue, $35.00


05057Y6
4'' Horse Figurine
in Buttercup, $42.50
2011 Spring Fenton Family Signing Events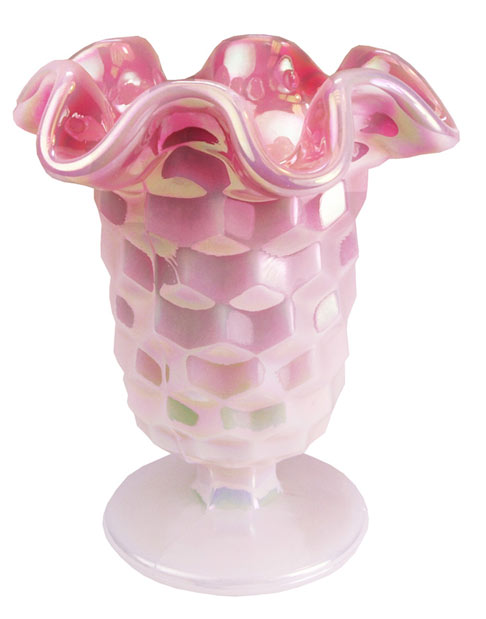 Meet a member of the Fenton family and learn more about Fenton Art Glass during our Spring 2011 Fenton Family Signing Events. A Fenton family member will be on hand at each event to personally sign your Signing Event Exclusive Vase (shown at left) and all Fenton purchases. This beautiful 4-1/2'' American pattern Rosalene iridized vase will be available only at these events for $35.00 U.S.

Meet Scott Fenton at Fenton dealer locations in Georgia on April 14-15 and in Tennessee on April 16. George Fenton will be on hand at Fenton dealers in Iowa on April 14-16 and in Minnesota on April 17. On April 16, Mike Fenton will be at locations in Ohio and in Pennsylvania. See samples of our new Fenton USA Beads and purchase new Fenton USA Teardrop Earrings at these events! Click here to view the complete schedule!
Internet Special. . . Handpainted Eggs on Stand
Award-winning Fenton designer Robin Spindler created a lovely handpainted design for this Lotus Mist Burmese Satin Egg on Stand.

The formula for our Lotus Mist Burmese includes a chromium compound which gives the glass the green color. To the best of our knowledge, Lotus Mist Burmese is a genuine innovation, the very first made from a
heat-sensitive batch containing gold to create the pink!


Bright Daisies with polka dots grace this Robin's Egg Blue Egg
on Stand. As you can see, each handpainted design splendidly suits the glass color. The top view design of each Egg is shown on the inset image at the left.


X5146HPC Lotus Mist Burmese, $48.50
X5146HPG Robin's Egg Blue Egg on Stand, $38.50

To view all Internet Specials, click here.
A limited quantity is available of each
Egg on Stand, so order early!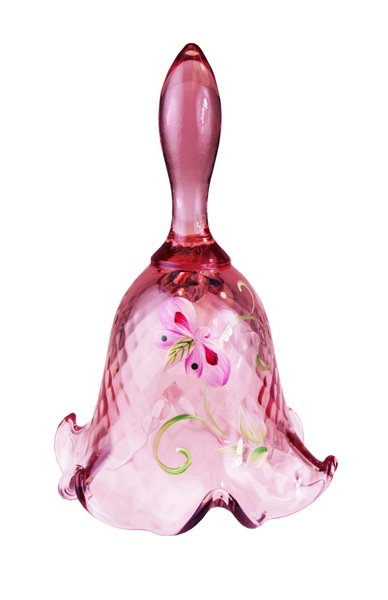 Fenton USA on QVC.com
Click here to see new Spring Limited Editions for the Shelley's Keepsakes series, made exclusively for QVC. These items are individually numbered limited editions, all handpainted and handcrafted by the skilled glassworkers at Fenton Art Glass. Shown at left is the Empress Rose Bell Diamond Optic Bell, which is limited to 150 pieces. Be sure to watch this newsletter for our next QVC show date!
Add a vibrant splash of Spring to your home decor with these heart-shaped pieces from Fenton International. Fenton International features artistic handcrafted gifts from around the world. Our Fenton International line of high relief Fused Glass by Anne Nye is pure, kiln-fired glass, sculpturally layered for texture and vibrant color!

Anne layers individually handcut glass chips over a glass base to form brilliant pieces with a nature theme. When the pieces are carefully layered in place, it is then placed in a kiln. When the glass reaches 1400 degrees, it begins a long, slow cooling process. The sharp glass edges become softly rounded, the colors with the layers are fused together to form depth, texture, detail, and personality. Click here to view more International Glass.


92033 - Buy Now!
8-1/2'' Heart-shaped Dish, $35.00


92026 - Buy Now!
15-1/2'' Heart-shaped Platter, $59.50