FENTON GIFT SHOP
SPECIAL OFFERINGS!
224890
12-1/2'' Key Lime Satin Handpainted Love Birds Vase
$89.75, Buy Now!

Preferred Second. The touching beauty of two love birds graces this mould
created by Verlys of France.
In the 1930s, Verlys created moulds that are now recognized for timeless, elegant designs that appeal to both traditional and contemporary settings.
224877
5-1/2'' Fish Paperweight
$23.25, Buy Now!
Preferred Second. This
5-1/2" Robin's Egg Blue Fish Paperweight has a "drop" of Aubergine through it, resulting in a unique two-toned look.
221662
8-3/4'' Robin's Egg Blue
Opalescent Vase
$47.50, Buy Now!
Preferred Second. This pretty 8-3/4" Vase, handcrafted in our Robin's Egg Blue Opalescent, is perfect for a fresh Spring bouquet!
224298
3-1/2'' Crystal Iridized Bear
$10.50, Buy Now!

Preferred Second. This adorable 3-1/2" Crystal Iridized Bear will make the perfect gift for someone special!
Fenton eBay Auctions
Own a unique Fenton creation, including rare, one-of-a-kind pieces, through our weekly eBay Auctions!
Items featured this week...
New ''Blessings Bowls'' from Fenton USA!

04388HG
Full of God's Love
Blessings Bowl in Buttercup, $39.50


04388HB
Smile, God Loves You
Blessings Bowl in Key Lime, $39.50



Blessings Bowl Gift Box


04388HD
My God is an Awesome God
Blessings Bowl in Orange Slice, $44.50
Who doesn't need a blessing now and then? Remember your blessings each day by putting them in your special Blessings Bowl from Fenton USA. We offer a choice of cheerful colors, and the uplifting messages are daily reminders of God's love. Each bowl arrives in a pretty gift box and retails from $39.50 to $44.50. The perfect gift for confirmations or as a Thank You gift for a pastor.
Collector's Note: Due to a large increase in the cost of the rare earth mineral that creates the Buttercup color, we will curtail production of this color once our current supply of the mineral is gone. To view more new items from Fenton USA, click here. Can't find it online? Please contact an authorized Fenton dealer! To locate a dealer near you, click here.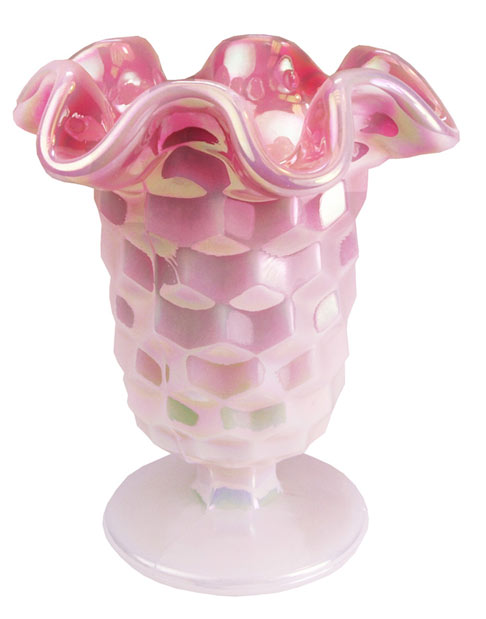 2011 Spring Fenton Family Signing Events
Meet a member of the Fenton family and learn more about Fenton Art Glass during our Spring 2011 Fenton Family Signing Events. A Fenton family member will be on hand at each event to personally sign your Signing Event Exclusive Vase (shown at left) and all Fenton purchases. This beautiful 4-1/2'' American pattern Rosalene iridized vase will be available only at these events for $35.00 U.S.

Meet Scott Fenton at Fenton dealer locations in Georgia on April 14-15 and in Tennessee on April 16. George Fenton will be on hand at dealer locations in Iowa on April 14-16 and in Minnesota on April 17. On April 16, Mike Fenton will be at locations in Ohio and in Pennsylvania. Click here to view the complete schedule!
Internet Special. . . Buttercup Elephant Figurine
This 3-1/2'' Buttercup Elephant figurine is sure to bring a smile!
A vibrant yellow hue made with special ingredients, Buttercup glass captures the warmth of Spring sunshine and the excitement of nature's awakening. Robin Spindler's handpainted floral motif is both bright and fun... and just look at those Blue eyes! To view all Internet Specials, click here. X5058HPM Buttercup Elephant Figurine - Internet Special: $42.50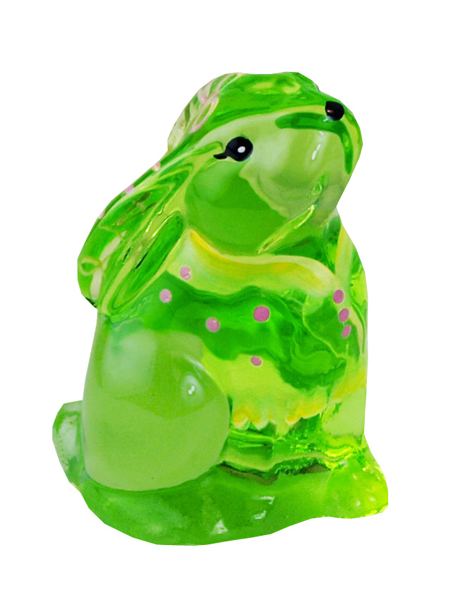 Fenton USA on QVC.com
Click here to see new Spring Limited Editions for the Shelley's Keepsakes series, made exclusively for QVC. These items are individually numbered limited editions, all handpainted and handcrafted by the skilled glassworkers at Fenton Art Glass. Shown at left is the Bunny figurine, handcrafted in Key Lime and limited to 250. Be sure to watch this newsletter for our next QVC show date!