FENTON GIFT SHOP
SPECIAL OFFERINGS!
08127BE
4-1/2''
Burmese Football Paperweight
Originally $13.50
Now $10.00
Buy Now!

This Football Paperweight, handcrafted in
our classic Burmese glass, will make
a unique addition to your Fenton collection.
CV2261H
6-1/2'' Burmese Vase with
George Fenton Signature
Limited time... Originally $96.00
Now $72.00, Buy Now!

Inscribed with the signature of George W. Fenton, this Burmese vase is the perfect way to display flowers. A flowing triple-crimped edge and handpainted wildflowers finish this piece.
X4364HP
10-1/2''
Burmese Vase
Originally $99.00
Now $75.00
Buy Now!
Sleek and contemporary, this 10-1/2" Burmese Vase is sure to spark conversation in any room setting. With pure Gold in the formula to create the pink blush, Burmese is a classic Fenton color.
Z1804HPB
4-1/2''
Handpainted
Log Cabin Burmese Blown Ornament with Stand, $85.00
Buy Now!
Our Burmese Ornament was handblown for Fenton USA by WV glass artisan Ron Hinkle. This ornament is handcrafted in Burmese glass. Our classic Log Cabin handpainted pattern is a collector favorite. Ornament includes stand.

EXTREMELY LIMITED!
Only two remain of this Mosaic Teapot by master glass artisan Dave Fetty. The teapot has a striking mosaic combination of reds, greens, yellows and oranges. Bold black glass is used for the foot, handle and spout - a perfect finish to this unique piece. Embossed with Dave's personal stamp and signed by Dave ("Dave Fetty '08").
260070 - Buy Now!
5 1/2'' Dave Fetty Mosaic Teapot
Originally $230.00, Now $161.00
Z5266HPA - Buy Now!
4'' Burmese Turtle Figurine, $48.00

Don't miss out, only two remain! Only 48 of these 4" long Burmese Turtle figurines were made, so we're pleased to offer those remaining in stock. The handpainted floral motif has a touch of whimsey, and the Turtle seems to be smiling because of the flowers that grace its shell. Each Turtle is personally signed by the talented Fenton artist who handpainted it.
Mother's Day Limited Edition from Fenton USA!
It's not too soon to start thinking about a keepsake gift for someone special in your life! The 2011 Mother's Day Vase is a continuation of our "Loving" Mother's Day Series. The heartwarming design of a Lioness nestling her baby Cub was designed by Robin Spindler. The vase is mouthblown classic Burmese glass, which contains pure gold in the formula. Burmese glass shades to a lovely pink blush when reheated. As you can see, Burmese provides a lovely background for this beautiful design.
This Vase is limited to 1,250 pieces.
Each handpainted vase is signed by the talented Fenton artist who completed it and also has the signatures of Nancy, Shelley and Lynn Fenton inscribed on the bottom. To view more new items from Fenton USA, click here. Can't find it online? Please contact an authorized Fenton dealer! To locate a dealer near you, click here.
08812CF
10-1/2'' Mother's Day Burmese Satin Vase
Signatures of Nancy, Shelley and Lynn Fenton - Limit: 1250, $189.00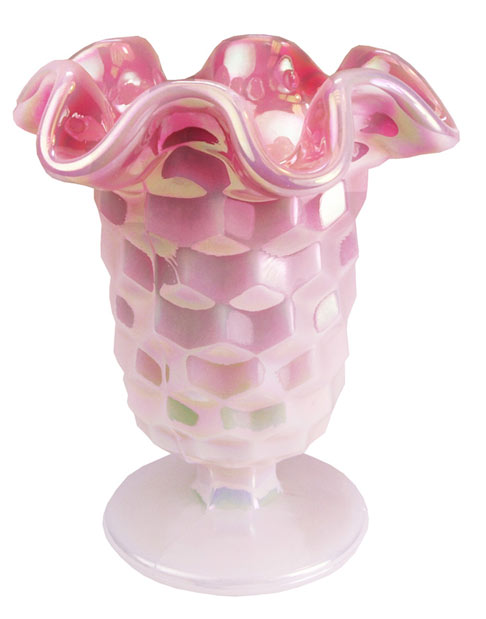 2011 Spring Fenton Family Signing Events
Meet a member of the Fenton family and learn more about Fenton Art Glass during our Spring 2011 Fenton Family Signing Events. A Fenton family member will be on hand at each event to personally sign your Signing Event Exclusive Vase (shown at left) and all Fenton purchases. This beautiful 4-1/2'' American pattern Rosalene iridized vase will be available only at these events for $35.00 U.S.

Our first Fenton Family Signing Events will be held on April 9-10 with George and Nancy Fenton at The Bronze Look in Princeton, WV and Randy Fenton and Christine Fenton at the Fenton Gift Shop in Williamstown, WV. Click here to view the complete schedule!
Internet Special. . . Burmese Diamond Optic Vase
Burmese collectors will want to add this vase to their collection. Award-winning Fenton designer Robin Spindler's handpainted design enhances the beauty of this Diamond Optic vase. Only 14 of these Burmese Vases remain in stock. To view all Internet Specials, click here.
XV809HPB Diamond Optic Burmese Vase, Internet Special: $99.00 - Only 14 in stock!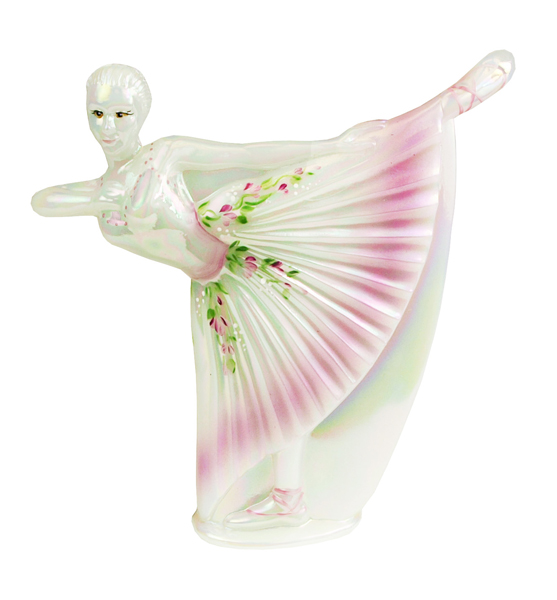 Fenton USA on QVC.com
Click here to see new Spring Limited Editions for the Shelley's Keepsakes series, made exclusively for QVC. These items are individually numbered limited editions, all handpainted and handcrafted by the skilled glassworkers at Fenton Art Glass. Shown at left is the Ballerina figurine, handcrafted in Opal Iridized and limited to 150 pieces. Be sure to watch this newsletter for our next QVC show date!

Fenton eBay Auctions
Own a unique Fenton creation, including rare, one-of-a-kind pieces, through our weekly eBay Auctions! Items featured this week...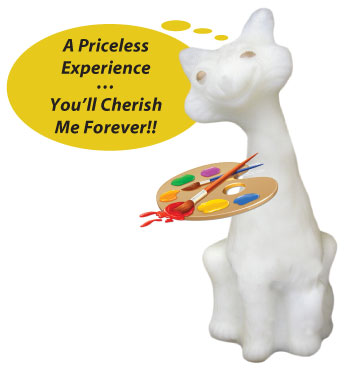 Alley Cat Decorating Workshop
April 9th
Where: Fenton Gift Shop, Williamstown, WV
Cost: $95.00 - Limited Seating!
Reservations required.
CLICK HERE to reserve your custom
Alley Cat session today!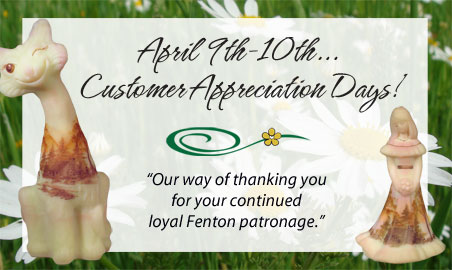 Click here for
downloadable PDF
of event schedule
for Fenton Gift Shop's
Customer
Appreciation Days.