FENTON GIFT SHOP
SPECIAL OFFERINGS!
Z5292HPA
5-1/2'' Opal Satin
''Country'' Rooster
$63.00, Buy Now!

Only 72 of these splendid
5-1/2" tall Rooster figurines were made, so we're pleased to offer those we have remaining in stock. These have a great country folk art look. Other details are carefully handpainted. Each Rooster figurine is personally signed by the talented Fenton artist who handpainted it.
Z5145HPD
3-3/4'' Opal Iridized
Rooster Egg on Stand
$41.25, Buy Now!

This handpainted folk art rooster scene on our 3-3/4 Opal Iridized Egg evokes thoughts of the country. Produced as a new Gift Shop Exclusive, this piece will be a colorful accent to your home.
Z5186ZW
5'' Indigo Blue Hen on a Nest
$55.75, Buy Now!
Don't miss adding this Gift Shop Exclusive Indigo Blue Hen on the Nest to your collection. Indigo Blue is a timely color with global appeal, this deep, natural blue can be seen worldwide in beautifully handmade fabrics. Translated into lustrous Fenton glass,
Indigo Blue imparts a lively personality.
C730022
5-1/2'' Chick Fairy Light
$59.75, Buy Now!
This 5-1/2" Fairy Light features a whimsical painting of two chicks hatching from their egg. Perfect Easter gift for someone special!

EXTREMELY LIMITED!
Wow! It's a Fenton Favrene Ostrich Egg! Yes, these big beauties from master glass artisan Dave Fetty display his classic Hanging Hearts and random threading to perfection. Each Egg is personally signed by Dave Fetty, too. The Ostrich Eggs measure at least 6" tall.
260049 - Buy Now!
6-1/4'' Dave Fetty
Hanging Hearts Favrene Egg
Originally $295.0, Now $206.50
Only three remain!
Z5151IP - Buy Now!
3-1/2'' Plum Opal Iridized
Bear Figurine, $32.00

Don't miss out, only five remain! Produced as a new Gift Shop Exclusive, this Plum Iridized Bear figurine is the plum perfect addition to your collection. Proudly handmade by the artisans at Fenton.
Something to Crow About from Fenton USA!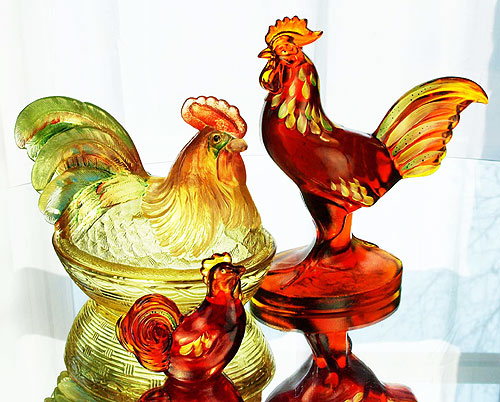 04680DR Rooster Covered Box in Buttercup, $85.00, 05257E3 8-1/2'' Standing Rooster, $195.00
and 05084E3 3-1/2'' Rooster figurine in Orange Slice.

For Spring 2011, vibrant color adds a playful note to vintage glass roosters from Fenton USA. Create a unique tabletop display with our Rooster assortment featuring handpainted designs by Michelle Kibbe. Handcrafted with historic moulds in two of our newest colors, Buttercup and Orange Slice, these colorful roosters are sure to brighten any room!

New Orange Slice is an artistic color with its own personality! What we love best about Orange Slice: vibrancy and variety! The shades
go from gold to orange at times,
and it may look as if it has an opalescence on the finished edge.

Buttercup, a vibrant yellow made
with special ingredients, captures the warmth of Spring sunshine and the excitement of nature's awakening. Collector's Note:
Due to a large cost increase for the rare earth mineral that creates our Buttercup color, we will curtail production of this color once our current supply is gone.
To view more new items from Fenton USA, click here. Can't find it online? Please contact an authorized Fenton dealer! To locate a dealer near you, click here.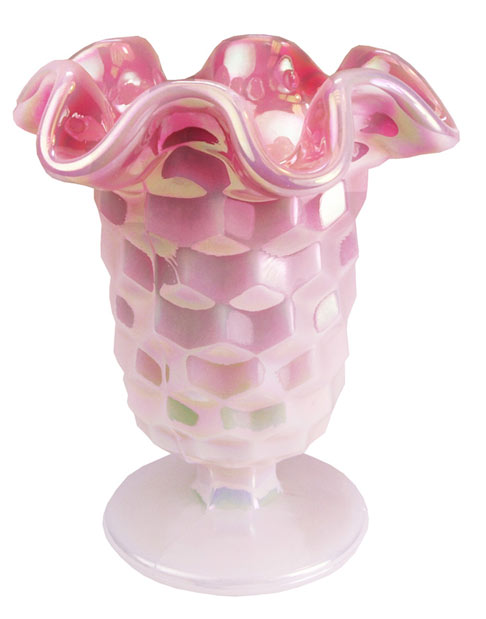 2011 Spring Fenton Family Signing Events
Spring 2011 Fenton Family Signing Events will soon be underway. Meet a member of the Fenton family and learn more about Fenton Art Glass. A Fenton family member will be on hand at each event to personally sign your 2011 Spring Fenton Family Signing Event Exclusive Vase (shown at left) and all Fenton purchases. This beautiful 4-1/2'' American pattern Rosalene iridized vase will be available only at these events for $35.00 U.S.

Our first events will be held on April 9 with George and Nancy Fenton at The Bronze Look in Princeton, WV and Randy Fenton at the Fenton Gift Shop in Williamstown, WV. Click here to view the complete schedule!
Internet Special. . . Made in USA
This beautiful 4-1/2'' tall Baby Bunny Covered Box is handcrafted in Opal Satin for the top and Black glass for the bottom. It features a handpainted design by Michelle Kibbe. Michelle used metallic gold around the top edge of the box bottom and on the eggs. The design is such that this Bunny could be displayed all year long!

This Bunny Covered Box mould originated at Indiana Glass Company. Covered animal dishes were first popular in the 1800s and continue to be a favorite of glass collectors.
To view all Internet Specials, click here.
Internet Special: $40.00 with 4 remaining in stock - click image to order!

Fenton USA and QVC
Watch this newsletter for updates on our next show! Click here to visit QVC.com and view all available handcrafted pieces made exclusively for QVC! Remember, quantities may be limited on some items!
Fenton eBay Auctions
Own a unique Fenton creation, including rare, one-of-a-kind pieces, through our weekly eBay Auctions! Items featured this week...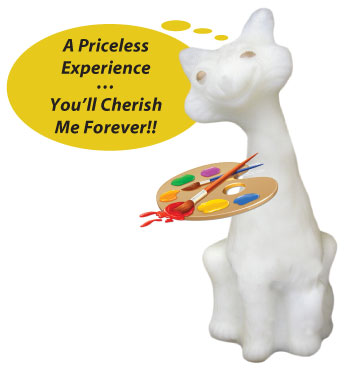 Alley Cat Decorating Workshop
with Gift Shop Featured Artist Susan Bryan.
Saturday, April 9 at the Fenton Gift Shop.
$95.00 - Limited Seating! Reservations required.
CLICK HERE to reserve your custom
Alley Cat session today!