FENTON GIFT SHOP
SPECIAL OFFERINGS!

Z5056HP
3-1/2'' Lotus Mist Burmese Dinosaur Figurine
$41.75, Buy Now!

Collectible and oh-h so cute Lotus Mist Burmese 3-1/2'' dinosaur is enhanced with an upbeat, fun floral design. This Fenton Gift Shop Exclusive is a dino-mite gift or addition to your Fenton Figurine collection.
Z5165HPB
3-3/4'' Lotus Mist Burmese
Cat Figurine with Floral Design
$41.75, Buy Now!

MEOW! Upbeat, whimsical florals handpainted on a precious Lotus Mist Burmese collectible cat. This Fenton Gift Shop Exclusive is the purr-fect gift for that special collector!
Collectible and oh-h so cute! These 2009 Fenton Gift Shop Exclusive Sea Mist Green Bear figurines will make a beary special gift or addition to your Fenton Figurine collection!
Z5151HPV6
3-1/2'' Sea Mist Green Bear
$42.75, Buy Now!
Z5251HPA
2-3/4'' Sea Mist Green Mini Bear $25.50, Buy Now!

EXTREMELY LIMITED!
Only two remain of this beautiful 2-1/4" Rosemilk Iridized Egg handpainted with a lovely winter scene. Proudly signed by the artist and inscribed with Collectors' Showcase logo on the bottom. SOLD OUT!

DS795HP - Buy Now!
2-1/4'' Rosemilk Iridized Handpainted Egg, $38.50
Z51511G - Buy Now!
3-1/2'' Frank Workman
Multi-Colored Frit Handblown
Bear Figurine, $150.00

Don't miss out, only one remains! Glass artisan Frank Workman used multi-colored frit to make fabulous blown Bear figurines with our popular Birthstone Bear mould. No two are exactly alike, but each is a unique beauty! Frank's personal stamp is on the underside!
Collectible Eggs from Fenton USA!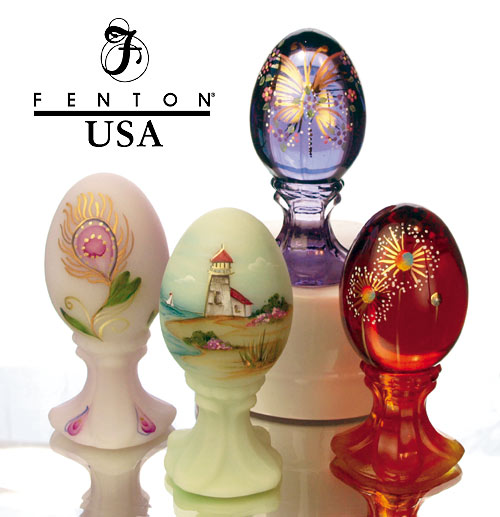 Fenton USA 3-3/4" Egg on Stand figurines retail for $49.50 each.
05146HA Lavender Satin, 05146H1 Lotus Mist, 05146H8 Violet,
and 05146H5 Orange Slice.

Fenton Eggs have been a collector favorite for many years. For Spring 2011, we offer unique creations
by Fenton designer Kim Barley. These
3-3/4'' Egg on
Stand figurines
are handcrafted in Lavender Satin, Lotus Mist, Violet, and new Orange Slice. Each handpainted egg is personally signed by the artist who completed it.
Peacock Feather: 22k gold feathers are applied and fired to a burnished finish, then handpainted in Kim's classic design of the eye of a peacock feather.

Lighthouses are one of Kim's favorite themes. Her highly detailed art on Lotus Mist glass adds to the beauty of this piece.

Spring Sparkle! Kim has captured our excitement at Spring's first blooms on bright, happy Orange Slice glass, a new color! The 22k gold is fired, and then the blooms are handpainted.

Butterfly – this lovely symbol of rebirth is rendered in 22k gold that is fired and then highlighted with colorful accents. It is handpainted on Violet glass, which provides the perfect background for Kim Barley's lovely butterfly.
Our new Sun-Ray Basket for Spring 2011 is handcrafted in Robin's Egg Blue. Each basket is inscribed with the signature of Scott Fenton and signed by the Fenton decorator who handpainted it. The Sun-Ray Basket retains its original name and is made with a mould that originated at the Fostoria Glass Co. in Moundsville, WV.
04287T1 10'' dia. Sun-Ray Basket, $99.50
To view more new items from Fenton USA, click here. Can't find it online? Please contact an authorized Fenton dealer! To locate a dealer near you, click here.
2011 Spring Fenton Family Signing Events
Spring 2011 Fenton Family Signing Events will soon be underway. Meet a member of the Fenton family and learn more about Fenton Art Glass. A Fenton family member will be on hand at each event to personally sign your 2011 Spring Fenton Family Signing Event Exclusive Vase and all Fenton purchases. This beautiful 4-1/2'' American pattern Rosalene iridized vase will be available only at these events for $35.00 U.S.

Our first events will be held on April 9 with George and Nancy Fenton at The Bronze Look in Princeton, WV and Randy Fenton at the Fenton Gift Shop in Williamstown, WV. Click here to view the complete schedule!
Internet Special. . . Handcrafted Burmese Basket
8'' Burmese Basket
Robin Spindler design, $129.50
+ Free Shipping

This square inverted 8'' basket is handcrafted in our classic Burmese glass that contains pure gold in the formula to create the soft pink blush.

Each basket features the basket handler's mark on either side of the handle. Award-winning Fenton designer Robin Spindler's handpainted lush floral really sets off this piece! Each basket is signed by the artist who handpainted it. Internet Exclusive Price: $129.50 and Free Shipping! To view all Internet Specials, click here.

Fenton USA and QVC
Watch this newsletter for updates on our next show! Click here to visit QVC.com and view all available handcrafted pieces made exclusively for QVC! Remember, quantities may be limited on some items!
Fenton eBay Auctions
Own a unique Fenton creation, including rare, one-of-a-kind pieces, through our weekly eBay Auctions! Items featured this week...

Alley Cat
Decorating Workshop

with Gift Shop Featured Artist Susan Bryan on Saturday, April 9 at the Fenton Gift Shop. $95.00 - Limited Seating! Reservations required. CLICK HERE to reserve your custom Alley Cat session today!