FENTON GIFT SHOP
SPECIAL OFFERINGS!

GS510HP
Cinderella Doll and Mouse
Figurine Set
Limit: 100 Sets
$125.00 Buy Now!

Second in the Storybook Series from the Fenton Gift Shop is this Cinderella Doll and her Helper Mouse figurine. These are limited to 100 sets.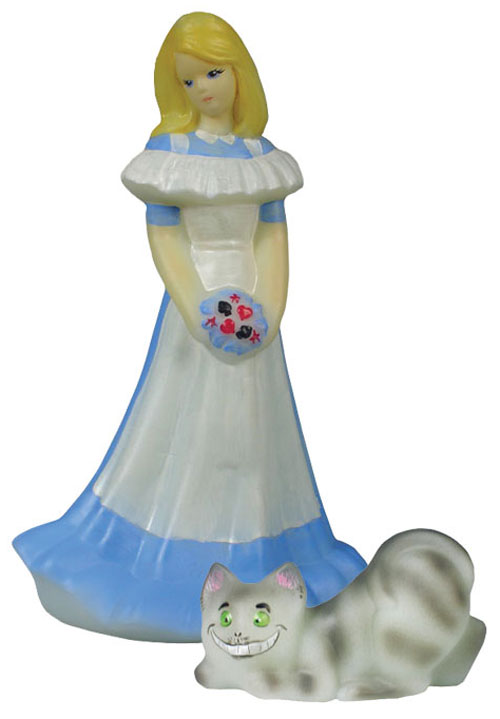 GS508HP
Alice in Wonderland
Doll and Cheshire Cat
Figurine Set
Limit: 100 Sets
$119.00, Buy Now!

First in the of Storybook Series from Fenton Gift Shop, our Alice in Wonderland and Cheshire Cat figurines are limited to 100 sets. A fun and whimsical set, followed by more popular storybook characters.
Z5148HPD
3'' Rosalene Natural Mouse
$36.00, Buy Now!

Produced as a Gift Shop Exclusive, this 3" Rosalene Mouse features adorable handpainted details for a natural look. His expressive blue eyes will make this little guy the perfect keepsake for someone special.
Z5065HPPJ
5'' Madras Pink Stylized Cat
$41.25
Buy Now!
We're proud to support research toward a cure for breast cancer. This handpainted stylized Madras Pink Cat figurine is a great way to show your support and the purr-fect gift for the special survivor in your life! A portion of all proceeds of this special Gift Shop Exclusive will be donated to our local Relay for Life event.

213660 - Buy Now!
8'' Indigo Blue Flip Vase
$43.50 - Preferred Second

U5078HP1 - Buy Now!
3-1/2'' Indigo Blue
Elephant Figurine
$25.00 - Preferred Second
New Rose Color from Fenton USA!

Add Rose to your list of Fenton's pink hues! Rose is our newest pink and provides the perfect canvas for the Playful Blossom on Rose design by Kim Barley.
This vase is 7-1/2'' tall and will make a lovely tabletop display with or without an arrangement!
Appealing to the eye, pleasing to the ear, and delightful to decorate
with and to enjoy. . .
that's the beauty of bells. Handcrafted and handpainted with care by the artisans of Fenton.
The bell measures 6-1/4'' tall and features a lovely diamond optic pattern.
Each handpainted piece is signed by the artist who completed it. Handpainted items are also available unadorned to mix and match for an attractive display in your home. To view more new items from Fenton USA, click here. If you can't find it online, please contact an authorized Fenton dealer! To locate a dealer near you, click here.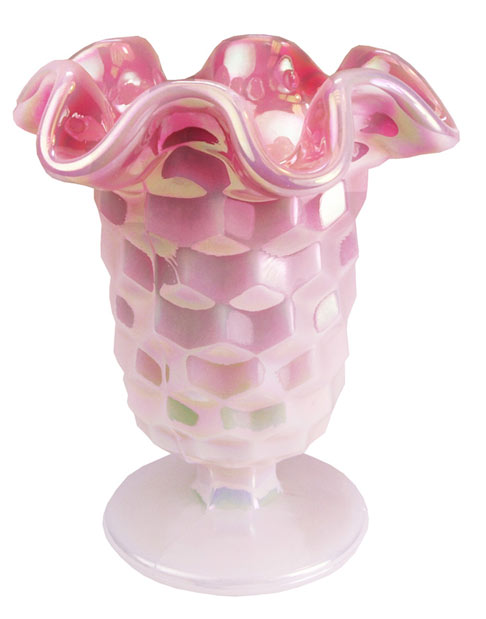 2011 Spring Fenton Family Signing Events
Spring 2011 Fenton Family Signing Events will soon be underway. Meet a member of the Fenton family and learn more about Fenton Art Glass. A Fenton family member will be on hand at each event to personally sign your 2011 Spring Fenton Family Signing Event Exclusive Vase (shown at left) and all Fenton purchases. This beautiful 4-1/2'' American pattern vase is handcrafted in Rosalene glass and iridized for a sparkling finish. This vase will be available only at these events for $35.00 U.S. Click here to view the Fenton Family Signing Event schedule!
Internet Special. . . Handcrafted Playful Puppy Figurines
Fenton USA and QVC
Watch this newsletter for updates on our next show! Click here to visit QVC.com and view all available handcrafted pieces made exclusively for QVC! Remember, quantities may be limited on some items!
Fenton eBay Auctions
Own a unique Fenton creation, including rare, one-of-a-kind pieces, through our weekly
eBay Auctions! Items featured this week...
Fenton Gift Shop's Alley Cat
Decorating Workshop
The purr-fect way to express your
creativity with the aid of our Gift Shop
Featured Artist, Susan Bryan.

Saturday, April 9
at the Fenton Gift Shop
in Williamstown, WV.
$95.00 - Limited Times Available
Reservations required.

CLICK HERE to reserve
your custom Alley Cat session today!