FENTON GIFT SHOP
SPECIAL OFFERINGS!
A4178HPB
8-1/2'' Burmese Basket with
Handpainted White Floral Design
$95.00, Buy Now!

This lovely 8-1/2" Burmese Basket is decorated with a delicate white floral design and accented with sponged gold highlights in the center and on the base of this beautiful basket. A great piece to add to a Burmese or basket collection.
Z5228HPIE
7'' Handpainted Burmese Bridesmaid Doll Figurine
$76.50, Buy Now!
Don't miss adding our Gift Shop Exclusive Burmese Bridesmaid Doll to your collection. Delicate roses and hearts and a flowing ribbon adorn her skirt. Proudly handcrafted by the artisans at Fenton.
C5739K6
8-1/2'' Aubergine Stretch
Curtain Basket
$89.75, Buy Now!

This 8-1/2" Aubergine Stretch Curtain Basket with a zipper crimp and rib twist handle was inspired by the Northwood "Drapery" Pattern.
Z5151IP
3-1/2'' Plum Opal Iridized
Bear Figurine
$32.00, Buy Now!
Produced as a new Gift Shop Exclusive, this Plum Opal Iridized Bear will be the plum perfect addition to your collection. Proudly handmade by the artisans at Fenton.
Fenton eBay Auctions
Own a unique Fenton creation, including rare, one-of-a-kind pieces, through our weekly eBay Auctions! Items featured this week...
92028
Fenton International
High Relief Fused Glass
8-1/2'' Heart-shaped Dish
$35.00, Buy Now!
Fenton International
High Relief Fused Glass
The Fenton International High Relief Fused Glass line is designed by Anne Nye, a Chicago-based artist who has been creating fused glass pieces since 1997. Fused Glass is colorful, vivid and bright! Fenton International features artistic handcrafted gifts from around the world.
Hop into Spring with New Bunnies from Fenton USA!
Now you can Hop into Spring with our new selection of handcrafted Bunnies in a splendid assortment of shapes and colors! As the saying goes, they are as cute as a button and sure to be popular with figurine and bunny collectors.
The Easter bunny has
its origin in pre-Christian fertility lore. Bunnies (Rabbits and Hares)
were symbols of new life during the returning Spring season.
Collector's Note:
Due to a large increase in the cost of the rare earth mineral that creates our Buttercup color, we will curtail production of this color once our current supply is gone.
To view more new items for Spring, click here. If you can't find it online, please contact an authorized Fenton dealer! To locate a dealer near you, click here.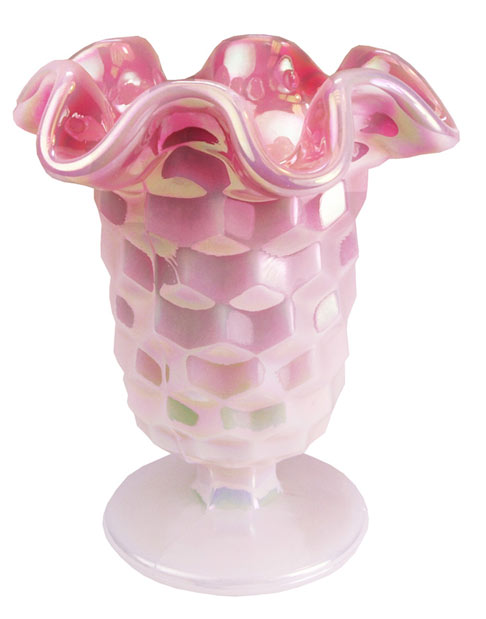 2011 Spring Fenton Family Signing Events
Spring 2011 Fenton Family Signing Events will soon be underway. Meet a member of the Fenton family and learn more about Fenton Art Glass. A Fenton family member will be on hand at each event to personally sign your 2011 Spring Fenton Family Signing Event Exclusive Vase (shown at left) and all Fenton purchases. This beautiful 4-1/2'' American pattern vase is handcrafted in Rosalene glass and iridized for a sparkling finish. This vase will be available only at these events for $35.00 U.S. Click here to view the updated Fenton Family Signing Event schedule!
---
---
Fenton USA and QVC
Watch this newsletter for updates on our next show! Click here to visit QVC.com and view all available handcrafted pieces made exclusively for QVC! Remember, quantities may be limited on some items!
---