FENTON GIFT SHOP
SPECIAL OFFERINGS!
Z5148HPI
3'' Exclusive April Calendar
Mouse Figurine
$37.50, Buy Now!

"Don't Miss Out...Mark Your Mouse Calendar Now!" Our new series of 12 handpainted mice...this one above is for April and the one below is for May. Limited in quantity and signed by the artist, these adorable creatures will create quite a stir among our
avid Fenton figurine collectors.
Z5148HPL
3'' Exclusive May Calendar
Mouse Figurine
$37.50, Buy Now!

Z5058HPA
3-1/2''Exclusive March
Elephant Figurine
$45.00, Buy Now!
Have you "herd" about our newest Gift Shop Exclusives? Shown above is our "lucky" March Elephant figurine. Fourth in our new monthly series is the adorable, handpainted April baby elephant shown below.
Z5058HPB
3-1/2'' Exclusive April
Elephant Figurine
$45.00, Buy Now!
Fenton eBay Auctions
Own a unique Fenton creation, including rare, one-of-a-kind pieces, through our weekly eBay Auctions! Items featured this week...
Spring Lamp Collection from Fenton USA!
Beautiful lamps in a wide variety of colors and decorations can be found in today's Fenton line. Each Fenton lamp is mouth blown by a skilled craftsman in the 104-year-old Fenton glass factory. Decorated shades are handpainted by the talented Fenton artists who proudly sign each completed piece.
Our Spring 2011 Lamp Collection includes the lamps shown above. Click on each image or on the ware# above for details. Fenton handcrafted lamps are available in a variety of styles, ranging from Gone with the Wind and Pillar Lamps to Ruffled Shade and Student Lamps. To view more Fenton USA lamps, click here. Can't find it online? Contact one of our authorized Fenton dealers! To locate a Fenton dealer near you, click here.
Internet Special. . . Burmese Cardinal Figurine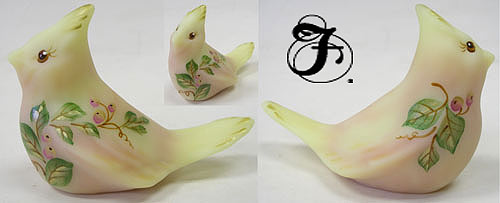 Our Internet Exclusive Cardinal figurine is handcrafted in one of Fenton's classic colors: Burmese! Burmese glass contains pure gold in the formula which creates the soft pink blush on this figurine. Award-winning Fenton designer Robin Spindler's handpainted motif features berries on a vine with gold accents on the bird's crest and tail feathers. Each piece is personally signed by the artist who completed it. A great gift for a bird watcher, figurine collector or someone special, including yourself!

Internet Exclusive Price: $42.50 with free shipping! Click on the image to order. To view more Internet Specials, click here.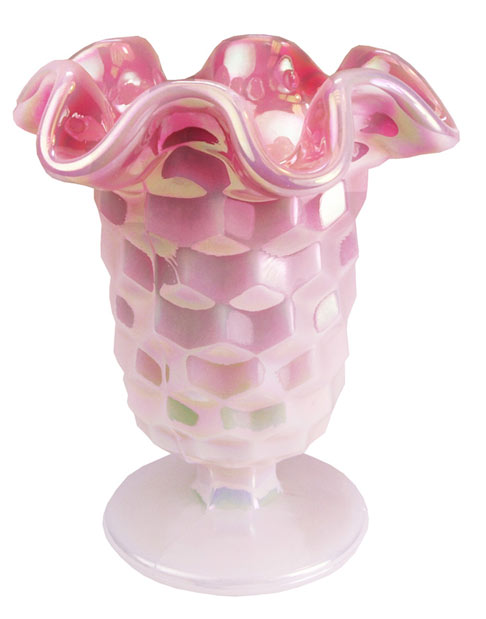 2011 Spring Fenton Family Signing Events
We have scheduled our Spring 2011 Fenton Family Signing Events. Several events are scheduled for April. A member of the Fenton family will be on hand at each event to personally sign your 2011 Spring Fenton Family Signing Event Exclusive Vase and all Fenton purchases. Click here for the schedule. This beautiful 4-1/2'' American pattern vase is handcrafted in Rosalene glass and iridized for a sparkling finish. This vase will be available only at these events for $35.00 U.S.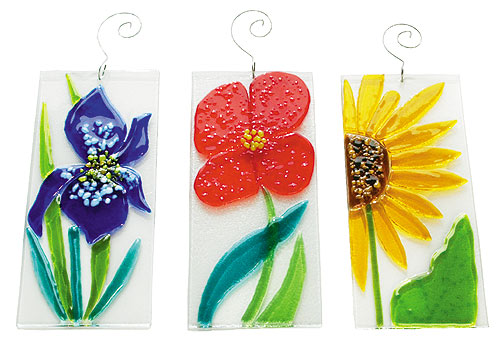 Introducing New Fused Glass from Fenton International
No need to wait for Spring blooms with new floral suncatchers from Fenton International. These vibrant suncatcher styles include an Iris, a Wild Rose or a Sunflower... and each comes with a hook ready for hanging!
Our line of High Relief Fused Glass by Anne Nye is kiln-fired glass, sculpturally layered for texture and vibrant color! Anne layers individually handcut glass chips over a glass base to form brilliant pieces with a nature theme. When the heating/cooling process is complete, the glass edges become softly rounded and the colors with fused layers form depth, texture, detail, and personality. Fenton International features handcrafted artistic gifts from around the world. Click here to view more glass creations from Fenton International.